Whether you're visiting to catch a live music festival, immerse yourself in its thriving art scene, or experience the unique and creative culture that gave birth to the slogan "Keep Austin Weird," there is definitely no shortage of things to do and see in the city of Austin, Texas.
Whether you're visiting or a local, you might be wondering about Austin's tap water quality, especially given the many public health boil water notices that have been popping up in Texas over the past several years. Let's take a closer look and see whether Austin water is safe to drink (TL;DR: it's generally fine, but it's still a good idea to filter it before you drink it).
Key Takeaways: Is Austin Texas tap water safe to drink?
Austin's tap water is managed by Austin Water and goes through a long series of treatments and monitoring to ensure that it holds up to state and federal water quality standards.
Unfortunately, issues with aging water infrastructure, "forever chemicals," and other potentially hazardous contaminants in the water have led to several questions of the drinking water quality over recent years.
Because of the potential presence of PFOA/PFAS, disinfection byproducts, and ongoing issues with water boil notices, make sure to run your Austin tap water through a filtering water bottle or filtering water pitcher before taking a sip.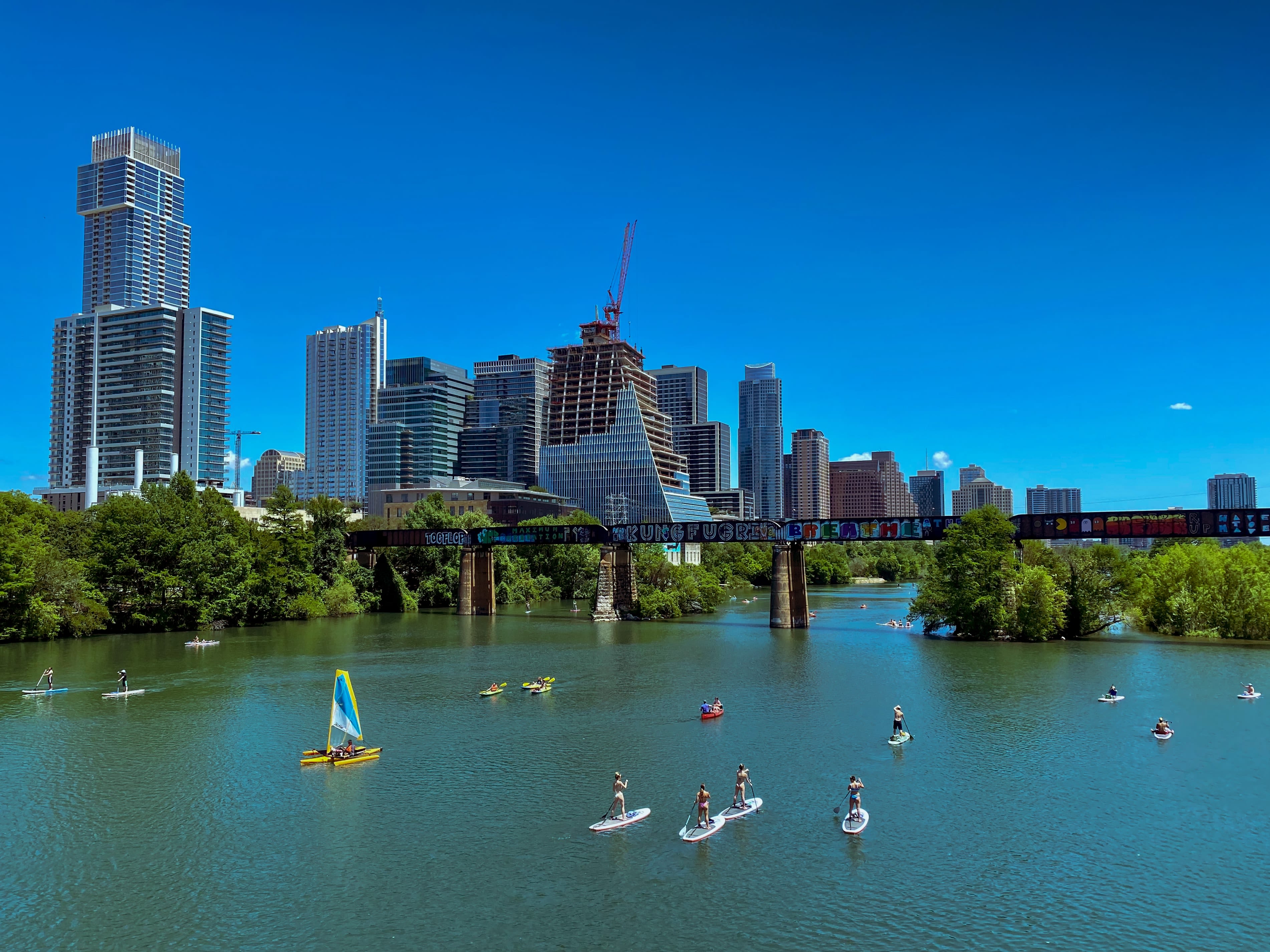 Austin tap water quality issues
Austin, Texas's drinking water is treated, monitored, and distributed by Austin Water. The city's tap water source is the Colorado River, and is then distributed to different water treatment plants in the area, which run several treatment steps to ensure that the water distributed through Austin taps adheres to local, state, and federal standards.
As a result, the drinking water that reaches your tap has gone through several treatment and monitoring phases, making it technically safe for consumption. In fact, Austin Water has been rated among the best in the country, having earned awards like the President's Award from the American Water Works Association and accolades from Forbes Magazine.
However, even though the tap water is legally safe to drink, there are still some serious questions about Texas's water infrastructure, with aging pipes causing the state to lose billions of gallons of water every year. Even worse, it's estimated that the state of Texas issued almost eight boil water notices per day, including some major ones in the city of Austin.
Let's take a look at some of the unique issues that may be present in Austin's tap water.
Disinfection byproducts
Chlorine is a common disinfectant that is used to kill bugs and microbes in tap water. While it is important to disinfect drinking water to prevent the growth of potentially dangerous microbes, chlorine can sometimes interact with naturally occurring substances in nature to produce disinfection by-products like haloacetic acids and trihalomethanes that are sometimes linked to health issues like cancer.
Instead of chlorine, Austin disinfects its water with chloramine, which is made from a combination of chlorine and ammonia. Chloramine is believed to produce fewer disinfection by-products than chlorine alone, according to the CDC.
Even still, Austin's tap water may have more disinfection byproducts than some believe is safe. For example, the Environmental Working Group (EWG) sets much stricter guidelines for the amount of disinfection byproducts it believes to be safe than the Environmental Protection Agency's standards. As a result, Austin's tap water has:
471 times the amount of haloacetic acids (HAA9) the EWG believes to be safe
162 times the amount of haloacetic acids HAA5) the EWG believes to be safe
268 times the amount of total trihalomethanes (TTHMS) the EWG believes to be safe
This is a prime example of how some health experts do not necessarily believe that legal standards are the safest — although the amount of disinfection byproducts in Austin's tap water is safe according to legal standards, it might not be good enough for everyone.
PFAS
PFAS are becoming an increasingly pertinent concern in Texas and at large. In March of this year, a report by the Physicians for Social Responsibility outlined concerns that PFAS are used in oil and gas drilling in the state of Texas, leading to 6.1 billion pounds of chemicals that have been injected into Texas wells without the general public being aware of it.
According to its annual Water Quality Report, Austin's tap water does not have any significant amount of PFAS. However, it's important to note that their previous testing only tested for six kinds of PFAS chemicals, and there are several more out there. This year, Austin will be running a different test to test for a total of 29 different PFAS.
Turbidity
In February of 2022, Austin's tap water became a topic of national attention when authorities issued a three-day-wide citywide boil water notice after noticing murkiness and sediment in its drinking water. Unfortunately, this wasn't an isolated incident: the city council stated that Austin Water experienced five significant negative water quality events or interruptions in less than five years.
But the issues are even worse when you look beneath the surface: the state of Texas issued almost 3,000 boil water notices in 2022 alone. It once again raises questions about the state's aging water infrastructure and how closely it is monitored and maintained after drinking water leaves the water treatment plants.
The bottom line: run your Austin drinking water through filters first.
In general, Austin, Texas's tap water should be safe to drink from the tap. However, issues with high-profile boil notices, PFAS, and the presence of disinfection byproducts may leave you wondering whether you should actually take that at face value.
So if you want to drink the tap water in Austin, but do so safely, it's well worth running your water through a water filter first! Using a filtering water bottle like LARQ'S Bottle Filtered or filtering water pitcher like the LARQ Pitcher PureVis can eliminate many of the common contaminants that are found in tap water like PFAS/PFOA, heavy metals, and other particulates. When it comes to "forever chemicals" and questionable murkiness in your water, taking this extra step can help you feel better about the water that you're putting in your body while exploring the Texas state capital.