Día de los Muertos, or Day of the Dead, is celebrated by millions across Mexico and beyond. It's not the Mexican version of Halloween, as some might think. It originates in Aztec and other pre-Hispanic cultures with these ancient peoples known for honoring their deceased loved ones with lengthy celebrations. Their traditions have evolved over time and unfold over the first two days of November, All Saints' Day and All Souls' Day on the Catholic calendar. Traditionally, November 1st honors deceased children, while November 2nd honors deceased adults.
While the theme of Día de los Muertos is death, it's not a somber celebration. It's a colorful, life-affirming joyous one, demonstrating respect and love for those who have passed. You can expect revelers donning costumes and makeup with lots of live music and dances, parades, offerings to the deceased, and plenty of tasty food and drink.
Mexico or the United States?
For the best Day of the Dead celebration, you'll want to head to Mexico. A trip here brings the opportunity for the most authentic experience for truly immersing yourself in the culture while enjoying other attractions too. As you're probably aware, tap water throughout the country is not safe to drink, but most hotels offer bottled or filtered water for guests and many Airbnbs have a secondary filtered water dispenser by the sink (check before booking). Those with sensitive stomachs should consider bringing a water bottle that can purify the water while eradicating 99.9999% of contaminants such as bacteria like E. coli. The LARQ Bottle PureVis™ is ideal as all you have to do is double-click the button and it will be purified within a few minutes.
If an international trip isn't possible, there are also cities right in the United States that celebrate Day of the Dead. While tap water is generally considered safe in most destinations, if taste is a concern, we recommend bringing your LARQ Bottle Filtered with a Nano Zero filter. It will improve the taste and purity of the water by removing heavy metals, lead, and even chlorine so you can fill up, enjoy the celebration, and avoid buying bottled water.
Best Places to Visit During Day of the Dead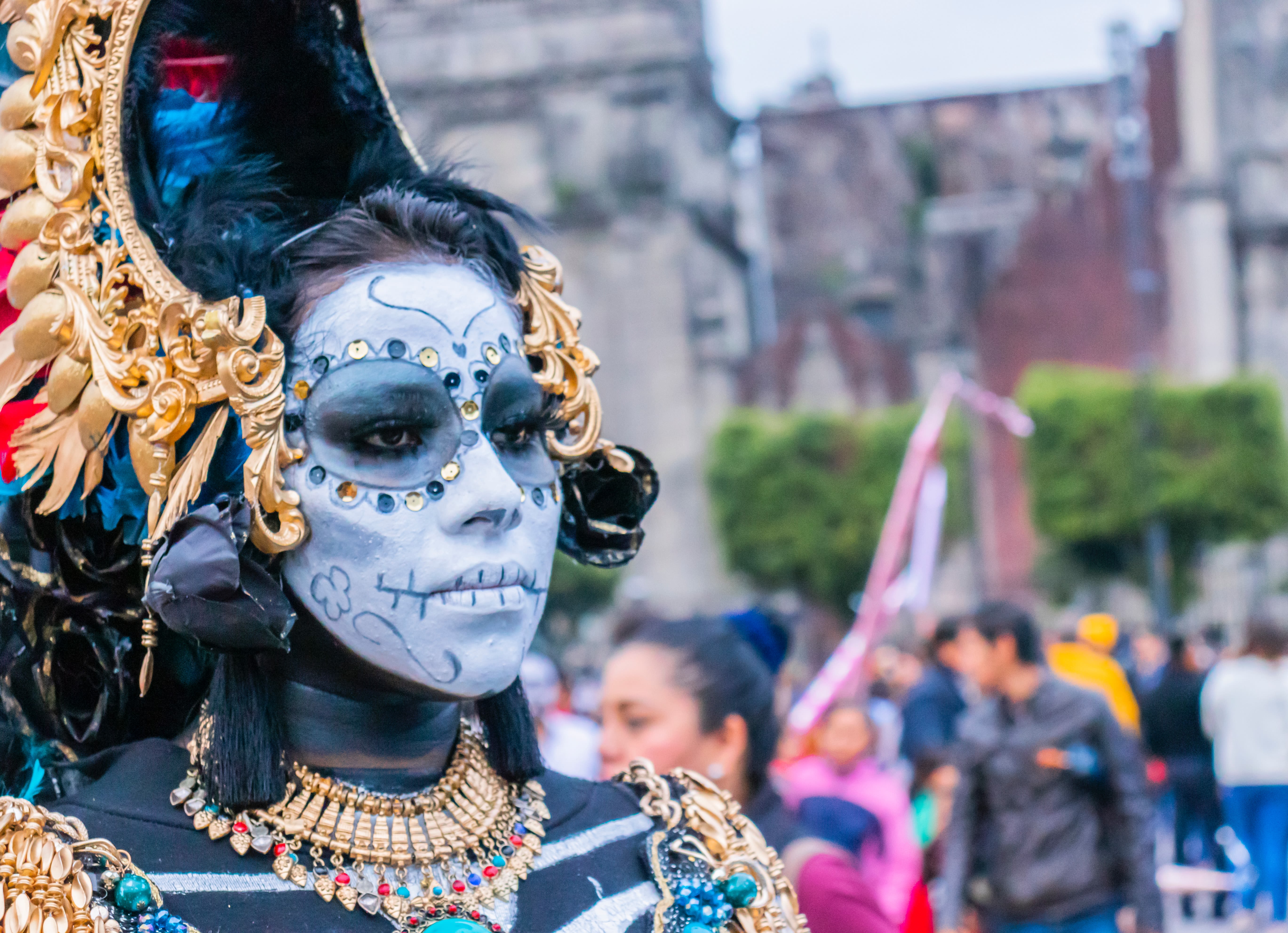 Mexico City
There is no place that does it bigger than Mexico's capital. The sheer size of Mexico City allows for massive celebrations, with colorfully costumed entertainers, magnificently painted skeletons referred to as la catrina, giant floats, skeleton puppets, and dancing throughout the streets. That said, the festivities here tend to be geared with tourists in mind, so it is more commercialized than what you'll find in smaller towns. There's no doubt that you'll have a good time, with the Day of the Dead parade stretching from the Estela de Luz (Pillar of Light) monument to the main square, Zócalo. Every block is lined by spectators with locals and visitors alike joining in on the fun.
Oaxaca
One of the most authentic celebrations in Mexico can be found in the city of Oaxaca, which includes more spiritual traditions and ancient rituals that have been preserved over centuries. Families can be seen decorating the altars with marigolds, known as the cempasúchil or "flower of 400 lives," which holds great symbolic value. The altars are also covered with family photos, the favorite foods and drinks of their loved ones, and sugar skulls (decorated skulls covered in chocolate or sugar). Local musicians serenade deceased souls with their favorite songs and you'll see women in colorful dresses joining marching bands. Parades take over the streets, with the biggest the Grand Parade or Magna Comparsa, while families gather at the local cemeteries for all-night vigils in the late evening hours.
Throughout the city, you'll see gorgeous Day of the Dead tapestries, Tapetes de Arena, created by local artists, and many places that offer face painting, with faces painted like the skulls of the deceased. In Oaxaca's main square, there will be food markets, concerts, sculptures of mythological creatures, and plenty of catrina on display.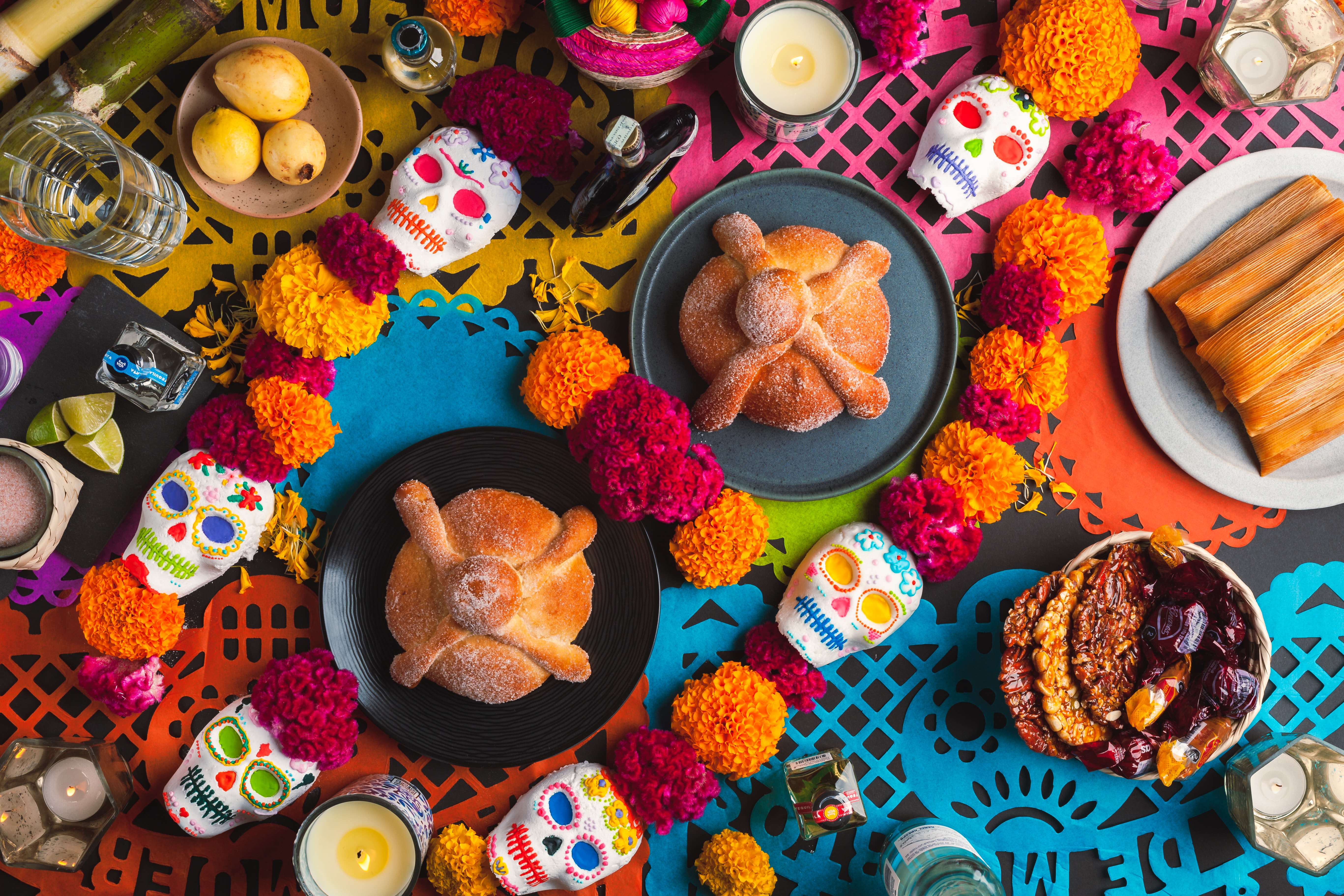 San Miguel de Allende
The colonial city of San Miguel de Allende has become one of Mexico's most popular tourist destinations. One of the most beautiful in Mexico, it has a southern European feel with narrow cobbled streets, leafy courtyards, and well-preserved buildings from the 17th and 18th centuries. The Day of the Dead festivities are a four-day-long celebration of family, history, arts and culture, food and fun, known as La Calaca, which translates to the figure of a skeleton or skull, commonly used during Festival de los Muertos. Costumed revelers with skulls painted on their faces will make their way through the city streets, ending in the main square at Parroquia de San Miguel Arcángel, the 17th-century cathedral.
In addition to the parade, there are many other events, including free evening shows in the squares like concerts, dances, and movies along with plenty of tamales, tacos, and gorditas sold in street carts. You'll see children taking over the streets with painted faces holding pan de muerto (bread decorated with bones in the shape of a cross) and bags of candy. Families will be lining up to visit cemeteries together too, cleaning, decorating, and praying at the graves of their loved ones.
Guadalajara
Mexico's second-largest city, Guadalajara is in the state of Jalisco, known for its mariachi, charros, and tequila which will be going non-stop during the Day of the Dead celebration. While there are multiple celebrations to enjoy, the place to be for the event is Tlaquepaque, an Instagrammable colonial neighborhood six miles southeast of the city center. It's known for its colorful, umbrella-lined cobbled streets and numerous shops, but for Día de los Muertos, it will be filled with festivities during a five-day event that begins on October 28.
Tlaquepaque visitors are encouraged to paint tributes on a community remembrance wall with paints and brushes provided while the previous years' murals will be on display. There's also a fantastic Catrinas Brides Fashion Show, a contest with the local women dressing up in bridal gowns with skull face paint makeup, along with face painting, sugar skull decorating, and lots of tasty food and drink, including Dia de Los Muertos bread.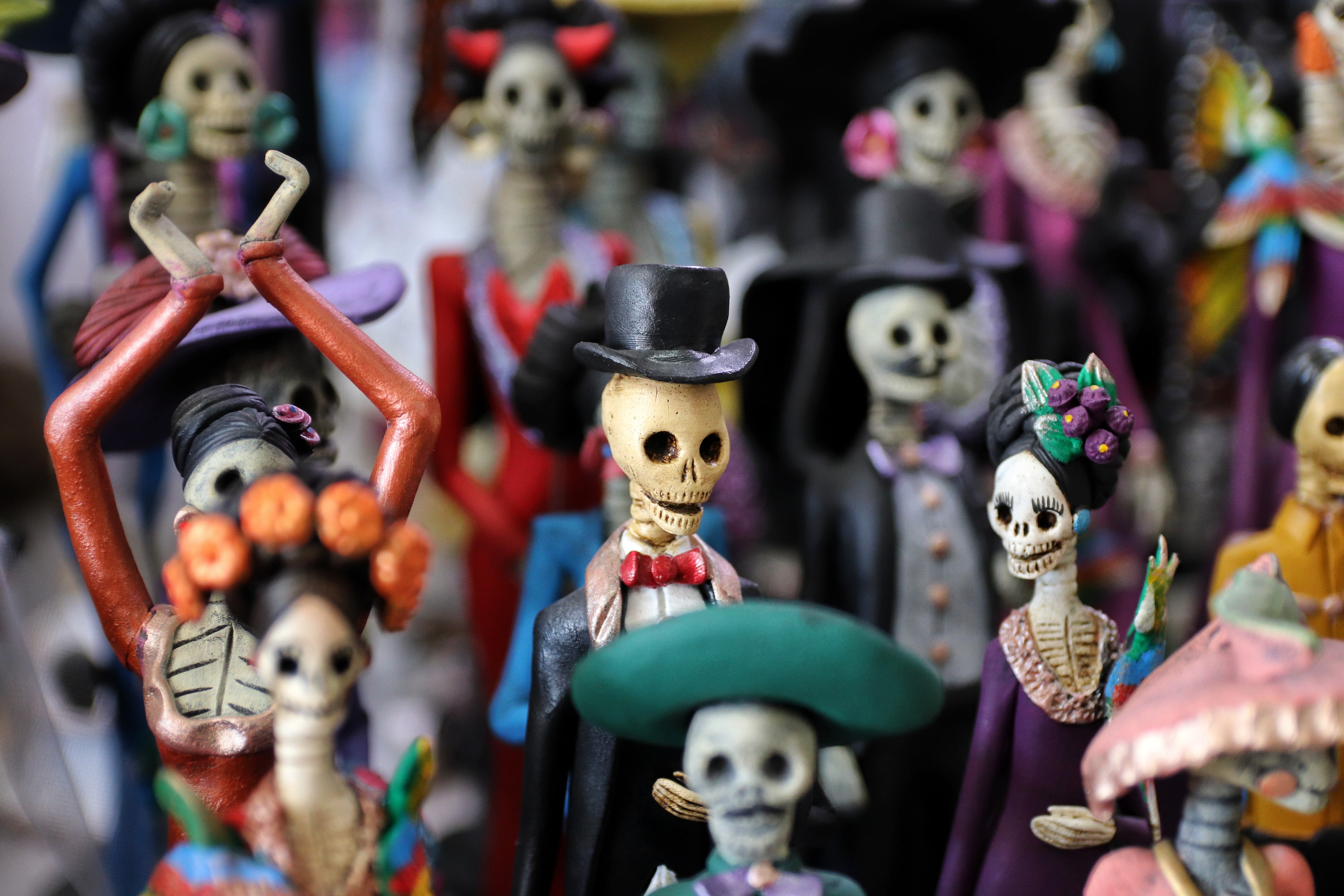 Albuquerque, New Mexico, USA
Albuquerque is famous for its hot air balloon festival that takes place in early to mid-October but it also offers a full month of festivities for Day of the Dead that begin around the same time and runs through early November. There are workshops offered on everything from making sugar skulls to traditional paper mache creations heading up to the big day. The Dia de los Muertos Marigold Parade starts at the Gutierrez Hubbel House in the historic South Valley area, which often hosts an exhibit featuring community ofrendas (offerings placed at a home altar during the Day of the Dead celebration).
Los Angeles, California, USA
Home to one of the country's largest Mexican diasporas, Los Angeles hosts multiple Día festivities. For more than three decades, Olvera Street has been one of the most popular places for Day of the Dead. The birthplace of the city, this is the oldest area of downtown, settled in 1781 when it was part of northern Mexico. There will be stalls selling churros, fruit, and tacos along with colorful nightly parades, community altars, and places for face painting. After each procession, the Mexican sweet bread called pan dulce is passed out to the crowd.
Another big celebration here is the LA Day of the Dead, hosted at the Hollywood Forever Cemetery on the Saturday closest to Halloween. It includes traditional rituals, cultural performances, live music, an art exhibit, and more.
San Diego, California, USA
San Diego's Dia de los Muertos celebration is held in the historic Old Town. It's one of the nation's biggest with over 40 contemporary and traditional altars, and attendees are welcome to bring photos of their loved ones to add to a public altar. On the plaza, there will be traditional craft and face painting booths, music, and food, while a procession travels to the El Campo Santo cemetery on November 2.
Northeast of San Diego in Escondido, California Center for the Arts typically hosts an impressive festival that retains Day of the Dead traditions with altars, dance performances by an Aztec dance group, craft tables, an artisan craft market, and an outdoor DJ.