There are many reasons to visit Europe in the fall, from destinations with brilliant autumn colors to the wealth of food and wine festivals, pleasant weather, and fewer crowds. Many feel it's the best time of the year to travel across the Big Pond and enjoy the natural beauty of the season.
Whether you're looking to crunch through leaves while capturing colorful photos, take advantage of the festivities, or just enjoy a more tranquil, budget-friendly trip, these are the best European cities to visit in the fall.
Ljubljana, Slovenia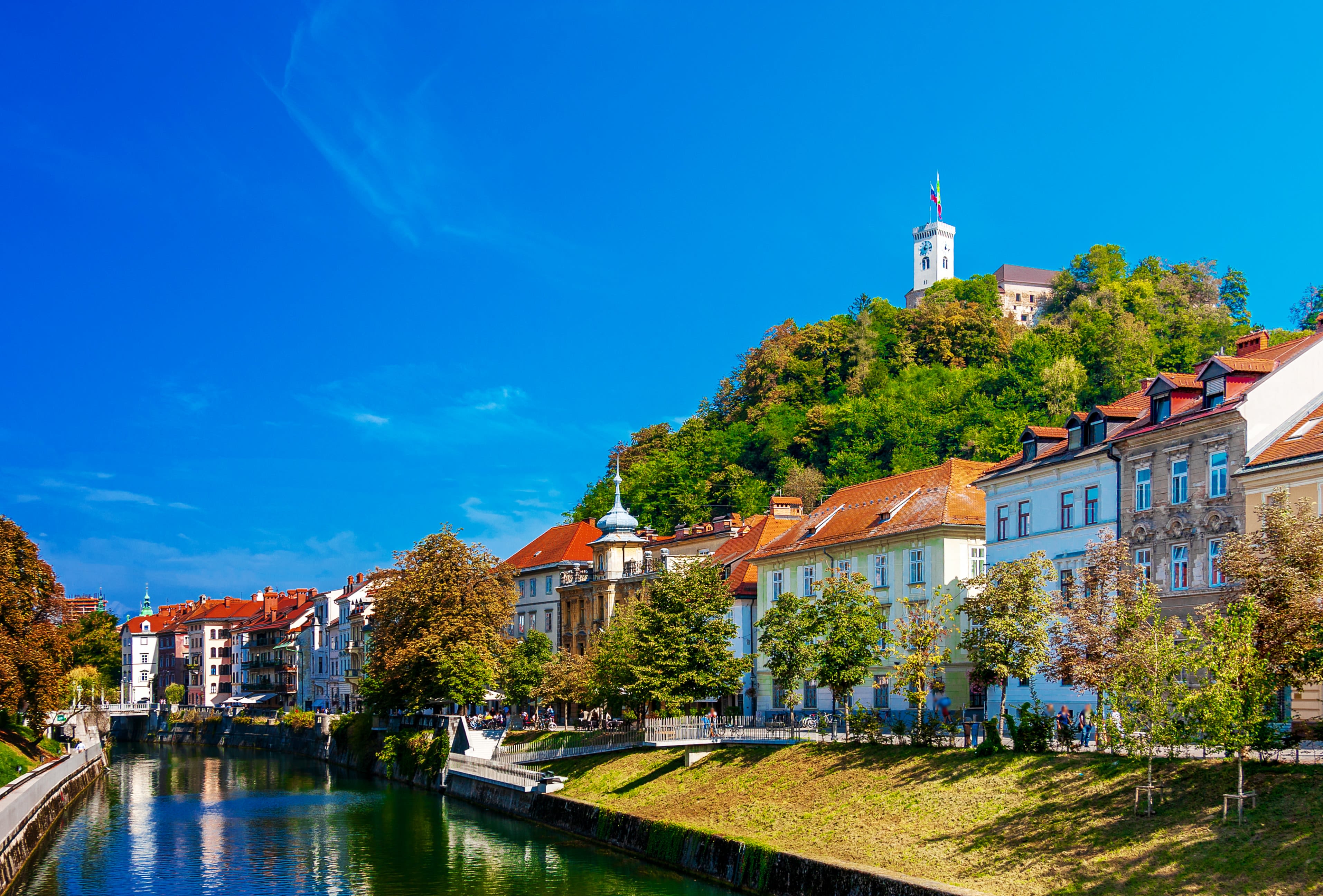 Slovenia is one of the best European vacation ideas for fall to consider. It falls under the radar for most while offering magnificent autumn colors along with sunny, clear crisp days that are ideal for hiking in the spectacular Julian and Kamnik-Savinja Alps. The capital city of Ljubljana with its fairytale-like medieval old town and cobbled streets that are overlooked by a castle provides an ideal base. Lake Bled is an easy day trip just a 40-minute drive away. At the heart of the sapphire waters is a tiny islet topped by a church providing idyllic photo ops that are even more stunning when framed by fall colors. From here, head to the Kamniška Bistrica Valley where the turquoise river Kamniška Bistrica flows and a scenic cable car travels to the Veliki Predaselj for more jaw-dropping panoramic vistas.
Tip: The best time to visit Slovenia for autumn foliage is late September through early October. When hiking in the mountains, most streams are drinkable, although some caution is advised. Use your LARQ Bottle PureVis to fill up only from a running stream that is clear to the eyes with no heavy sediments.
Polignano a Mare, Italy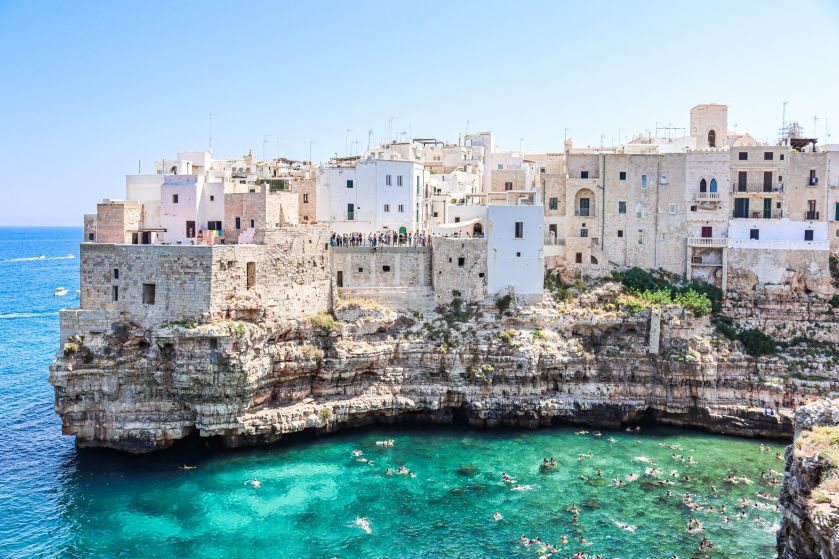 While the beaches in southern Italy are jam-packed with visitors and Italians alike in the summer, early fall is a great time to enjoy them without the crowds. Plus, the sea stays warm enough for swimming through mid-October. Polignano a Mare in the Puglia region (the heel of Italy's "boot") is particularly lovely with soft golden sands and crystal-clear aquamarine water. The town sits atop limestone cliffs and just below is a hidden beach called Cala Porto that's ideal for sunbathing and refreshing dips. You might see locals leaping in from the cliffs too. In between enjoying the sand and the sun, the historical center is lovely to stroll with photogenic cobblestone streets lined with charming cafes and little shops for buying souvenirs. Polignano a Mare is also home to a world-famous restaurant, Grotta Palazzese, which is set within a natural cave carved right into the cliffs for a unique dining experience with a sea view.
Tip: Book a boutique hotel with a spa in Polignano a Mare to up the relaxation factor during your stay with multiple options available, including some with Turkish baths and outdoor pools.
Kalmbaka/Meteora, Greece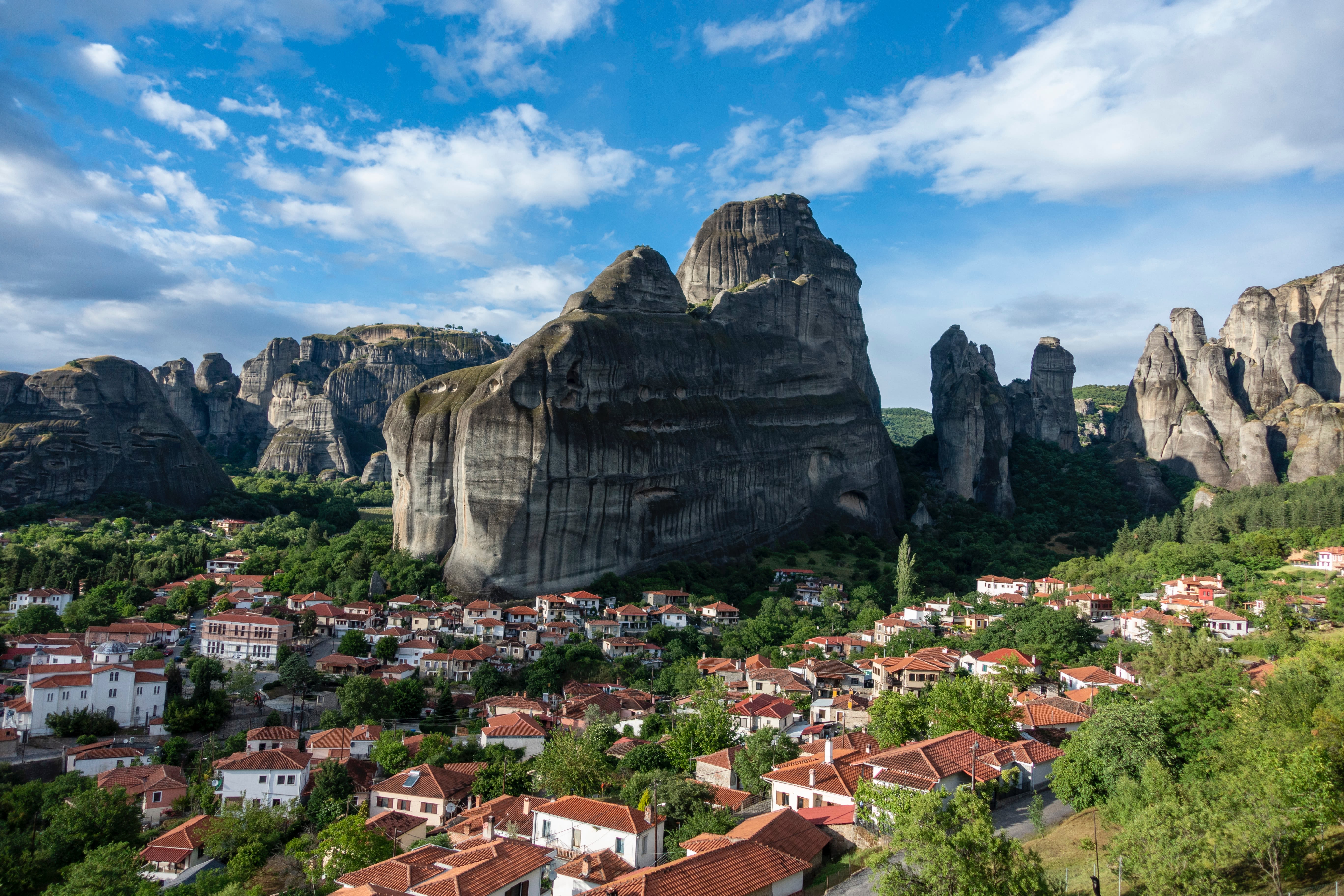 Meteora overlooks the villages of Kastraki and Kalambaka on mainland Greece, known for its dramatic cliffs that tower over 1,200 feet and are topped by a huge Eastern Orthodox monastic complex. While summer is scorching hot and crowded, autumn is the best season for capturing colors and the entire scene with the historic monasteries on the cliffs dating back to the 14th century. Standing above the steep rocks with the trees displaying their golden hue splashed with brilliant orange against the backdrop of a nearly always bright blue sky is surreal. The views are dazzling in every direction and six of the monasteries are open for exploring. While they're easy to reach today, the monks had to access them by using wooden ladders or by sitting in a basket hung on a rope.
Tip: The best time to visit for fall color is in October. While tap water throughout Greece is considered safe to drink, it can pick up contaminants due to the old piping. Bring your LARQ Bottle Filtered to ensure the best tasting water that's free from heavy metals, lead, chlorine, and more. It'll also come in handy as there are no restaurants or other facilities at the top of Meteora.
Munich, Germany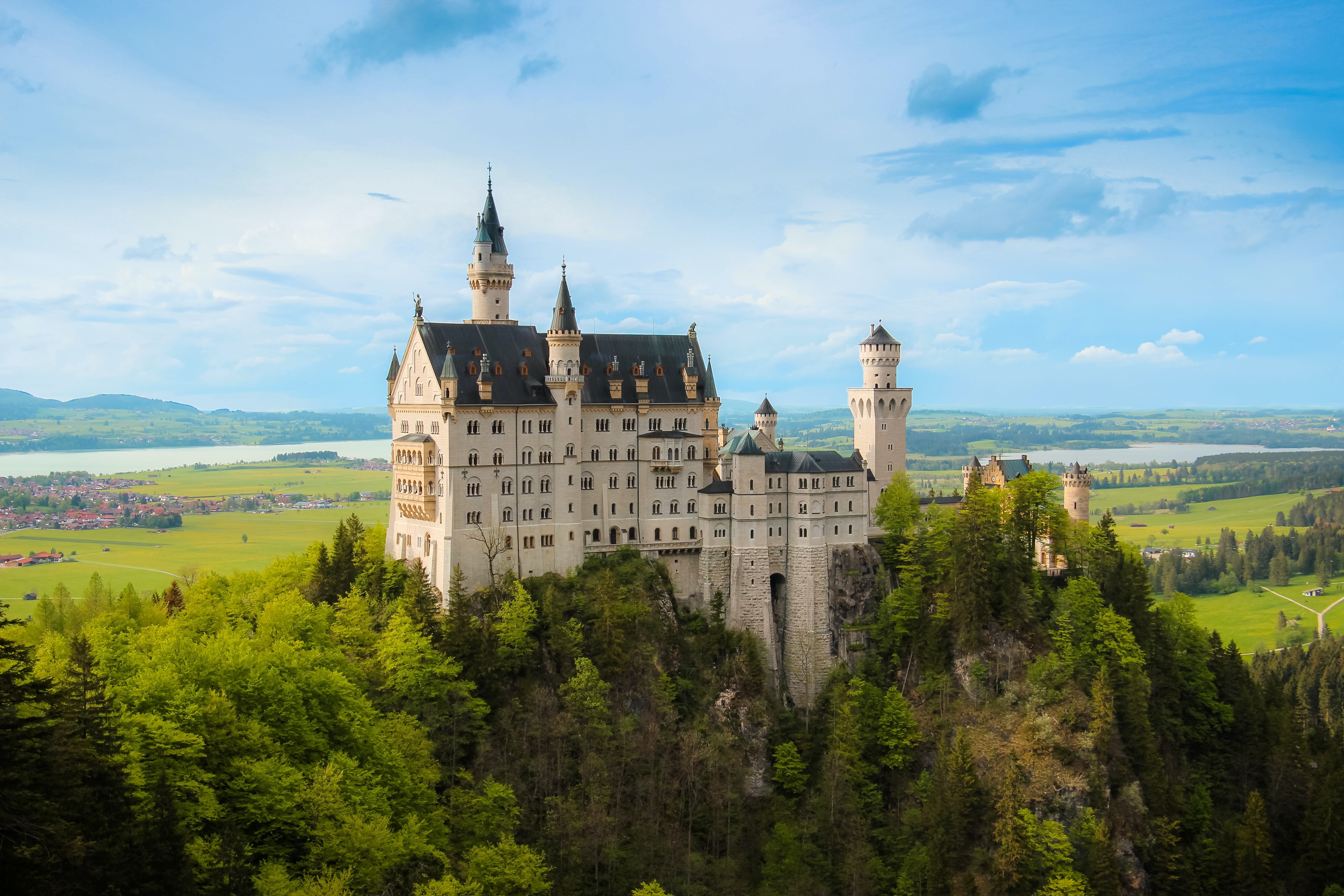 Munich is located in the heart of Bavaria, a region known for its breathtaking scenery that includes mountains covered with alpine forests and bathed in glorious shades of orange, red, and yellow in autumn. Sometimes referred to as the "Vermont of Europe," the deciduous trees provide a scene that might make you think you've stepped into a Bob Ross painting. Plus, fall is the perfect time for hikes through the Alps, romantic horse-drawn rides, and visits to Neuschwanstein Castle with its many towers and turrets providing inspiration for Walt Disney's Sleeping Beauty Castle.
With its grand architecture, Munich itself is one of the most beautiful cities in Europe. By visiting in late September/early October, you can also enjoy one of the world's largest and most famous festivals, Oktoberfest.
Tip: Oktoberfest, a traditional German harvest celebration and the world's biggest beer festival, attracts visitors from across the globe so you'll want to book your accommodation well in advance. While it isn't cheap, there are more affordable tent camping options available just outside the city center. Peak fall color is usually from early to mid-October.
Buzet and the Istria Peninsula, Croatia
If you're dreaming of Tuscany but want to avoid the crowds, consider Croatia's Istrian peninsula. It's often compared to the much busier Italian region yet it's much more relaxed without the tourist hordes. Medieval hilltop towns abound and are surrounded by gorgeous autumn colors. This is the season for gastronomy too, with the small hilltop town of Buzet known as the "City of Truffles. It dates to the Middle Ages and celebrates its famous delicacy at the Subotina Festival in October. This autumn festival will be filled with stalls offering truffle tastings and all sorts of truffle-inspired dishes. The Gnam-Gnam Fest in nearby coastal Novigrad hosts a food and wine festival in October featuring local wines and Istrian delicacies.
Tip: Plitvice Lakes National Park, about 120 miles southeast of Istria, is well worth visiting while you're here. One of the top attractions in Croatia, it's much less crowded in the fall, known for its 16 lakes that are connected by hundreds of waterfalls and surrounded by forests that will be displaying stunning shades of orange, red, and yellow. The most beautiful colors can typically be seen from late September through mid-October.
Wicklow, Ireland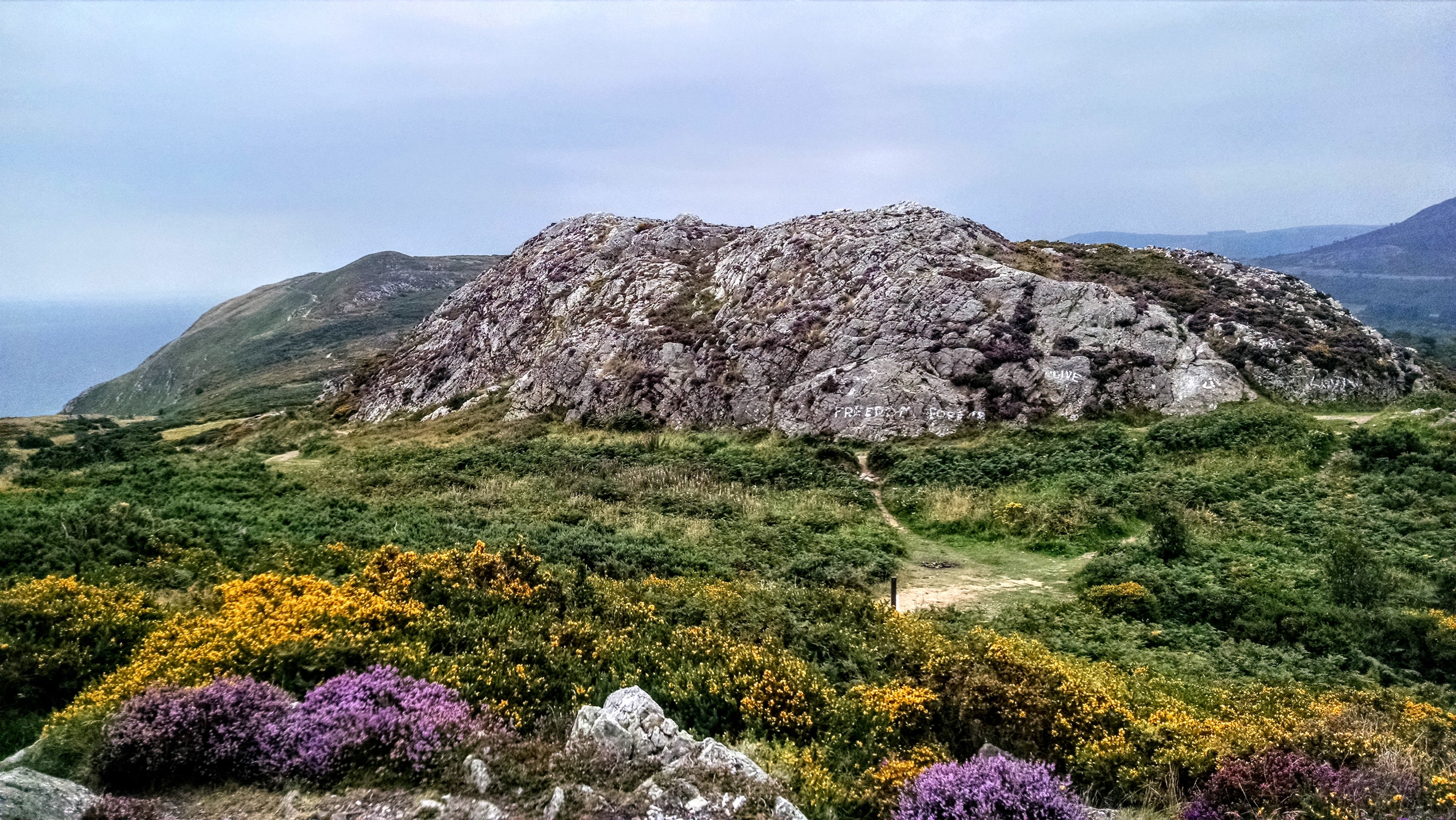 Fall is one of the best times of the year to visit Ireland, with the summer crowds gone and the weather cool but frequently sunny, especially early in the season. For the best color plan to be there in early October when Powerscourt Estate will be particularly stunning. There are hundreds of tree species on the grounds, from the beech-lined drive to the trees that frame Triton Lake. The botanic garden and arboretum just outside Wicklow Town, a satellite of the National Botanic Gardens, offers guided autumn walks through the wooded areas so you can capture photos and soak up the beauty of the seasonal colors. Nearby Glendalough, one of Ireland's most picturesque spots is even more breathtaking in autumn with the trees and their red and gold leaves will be reflected in the lakes when the waters are still.
Tip: If you fly into Dublin International Airport, plan to take a stroll through Phoenix Park in Dublin as well. It's the perfect way to beat jet lag and offers many places to marvel at the changing autumn colors and watch for the park's herd of 600 fallow deer.