Covering more than 16,000 miles near the Canadian border in northwestern Montana, Glacier National Park is a nature lover's paradise. There are over 700 miles of scenic trails for exploring spectacular alpine lakes, rushing rivers, lush meadows, glistening glaciers, and soaring mountains. No matter where you are, you're bound to spot some of the abundant wildlife while visiting Glacier National Park. Just some of the larger mammals you might see include everything from white-tailed deer to elk, moose, bighorn sheep, mountain goats, black bears, and grizzly bears.
In a place with unspoiled wilderness where you might not see another human being for several days and such a vast area to cover, you'll want to thoroughly review this Glacier National Park Travel Guide to get the most out of your visit.
Where to Stay
There are park lodges that provide accommodation right inside the park along with 13 campgrounds in the front country with options for tent sites, RV sites, and camping with other types of vehicles.
Is There Drinking Water in Glacier National Park?
The National Park Service offers a map of water bottle-filling stations, with seven scattered throughout the park, including next to the restrooms at the Agar, Logan Pass, and St. Mary visitor centers. You'll also find them at the Many Glacier Picnic Area, the Lake McDonald Campstore, the Rising Sun Campstore, and Two Medicine Comfort Station.
If you want to fill your water bottle from a river, stream, or lake, in general, the water quality is very high as the park is located at the headwaters of the North American continent. That said, the water is vulnerable to impacts from recreational activities, road construction, and pollution that's carried in by snow, rain, and airborne particulates. That makes bringing a portable filtration system that can remove potentially harmful contaminants, such as the LARQ Bottle Filtered, a must if you'll be hiking or camping in the backcountry. When it's used in conjunction with a non-toxic UV LARQ PureVis Cap, you can be sure that you'll have pure, clean water to drink. Visit the National Park Service website beforehand to check for any warnings related to possible water contamination and drinking water so that you can stay safely hydrated while hiking or taking part in any other activities.
Top Things to Do in Glacier National Park
Going-to-the-Sun Road Trip
One of the top things to do in Glacier National Park is to take a scenic drive on Going-to-the-Sun Road, a 50-mile highway that crosses the Continental Divide, bisecting the park east and west. If you're here for just a short period of time, it should be your No. 1 priority. This epic road trip delivers breathtaking views of diverse landscapes, including sapphire glacial lakes, cedar forests, dramatic mountain peaks, and windswept alpine tundra at the nearly 6,700-foot-high Logan Pass. Right alongside the roadway at the summit, mountain goats and bighorn sheep are almost always seen soaking up the sun on a nice summer day.
Hit the Trails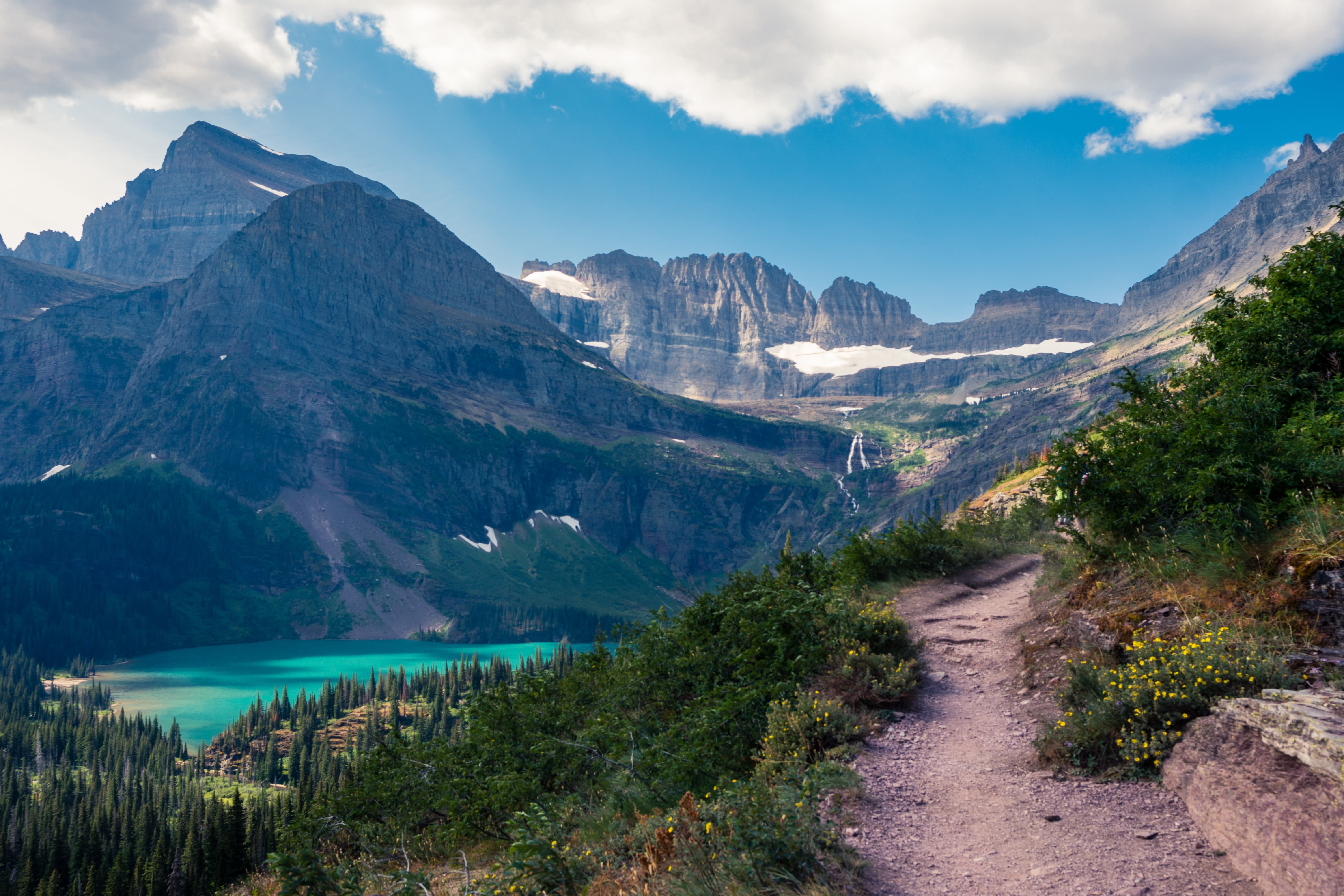 There is plenty of incredible scenery to enjoy from behind the wheel in this national park, but it's best to do some exploring on foot too. You'll find many hiking routes with details available at the National Park Service website and the park's visitor centers. That includes short but sweet nature trails like the Trail of the Cedars, a 1-mile-loop paved path that can be accessed from Going-to-the-Sun Road (5.5 miles east of Lake McDonald Lodge) revealing giant, over 80-foot-tall cedar trees. The Hidden Lake Overlook Trail starts just behind Logan Pass Visitor, offering an easy, 2.6-mile round-trip trek that leads to an observation point over the tranquil lake.
One of the most highly recommended hikes will bring you to St. Mary and Virginia Falls. The 3.6-mile round-trip hiking trail starts from St. Mary Falls Trailhead a quarter-mile east of the St. Mary Falls Shuttle Stop along Going-to-the-Sun Road. Although encounters with violent bears are extremely rare, no matter where you hike in the park, and especially in the backcountry, carrying bear spray is critical as it's the most effective deterrent. If you forget to bring it, you can purchase it at any of the park lodge retail locations.
Glacier National Park Lodge retail locations
Join a Scenic Boat Tour
Glacier National Park is home to multiple glacier-carved lakes where visitors can join scenic boat tours to get a different perspective of the scenery from the water. One of the most popular leaves from the boat dock at Lake McDonald Lodge. The one-hour-long cruises are hosted on a historic wooden boat and explore the emerald waters of Lake McDonald. Another option is the boat tour from the Many Glacier Dock that will bring you to both Swiftcurrent Lake and Josephine Lake, with a short hike between the two required.
Paddle Around a Tranquil Lake
Two Medicine Lake, which borders East Glacier on the east side of the park, offers the chance to escape the crowds and enjoy one of the less-visited areas. Kayaks, canoes, and other watercraft are available for rent through a concessionaire at the lake, allowing visitors to immerse themselves in tranquility along the calm, brilliant turquoise waters surrounded by snow-capped mountains while reflecting the towering spires.
Take a Red Bus Tour
The park is renowned for its historic, cherry-red buses. Dating back to the 1930s, the locals call them the "Red Jammers" which comes from the days when all of the buses had standard transmissions and drivers often "jammed" the gears while traveling the rugged mountain terrain. Red bus tours provide a great way to travel Going-to-the-Sun Road and see some of the most unspoiled wilderness without having to get behind the wheel.
Best Time to Visit Glacier National Park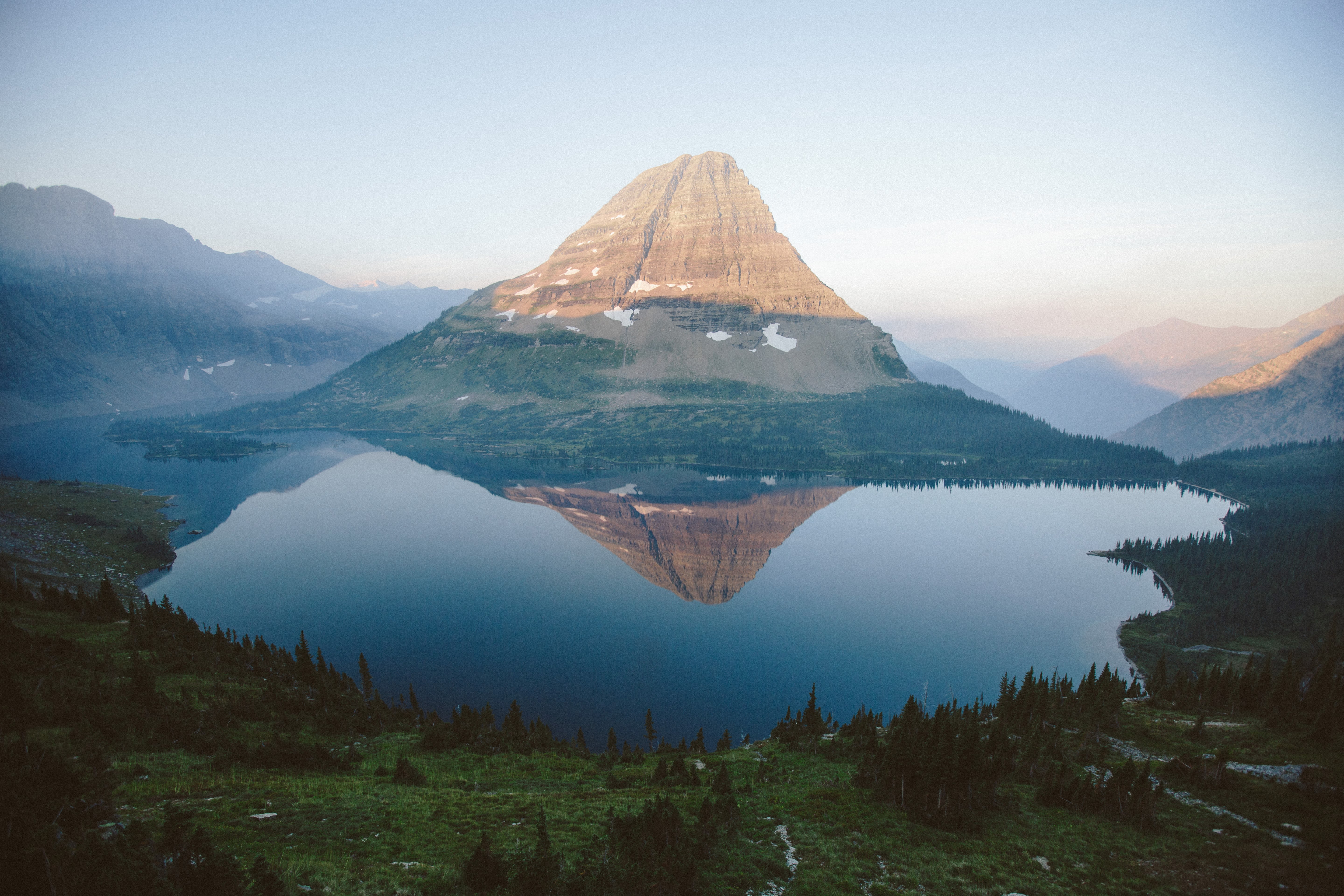 For most visitors, late June through early September is the best time to visit Glacier National Park. Due to the high elevation, snow is possible outside of that relatively short period which closes Going-to-the-Sun Road. Summer is also the time for a family-friendly whitewater rafting trip on the Middle Fork of the Flathead River. Those seeking big water will want to come in May through mid-June with powerful rapids to ride thanks to the spring snowmelt. The brilliant colors of autumn make September through mid-October a great time to enjoy fall's beauty without the crowds, but you'll be risking the chance of heavy snowfall that can occur as early as mid-September.
For those who want to experience a winter wonderland, the Apgar Visitor Center is open on the weekends throughout the season and it's possible to snowshoe or cross-country ski both Camas Road and Going-to-the-Sun Road.
What to Pack
Typical attire for an active vacation (hiking pants/shorts/a mix of short- and long-sleeve shirts – synthetic layers are ideal)
Rain jacket
Hiking boots
Wool or synthetic hiking socks
Bathing suit
Water shoes for lake and river swims
Daypack for hiking
Bear spray
Sunhat, sunglasses, and sunscreen
Insect repellant
To help you prepare, be aware that during the summer, the park's main visitor season, you can expect warm days and chilly nights in the park's lower altitudes with an average high temperature of 80 degrees Fahrenheit. If you plan to hike in the higher elevations, snow is possible year-round, requiring lots of layers. Afternoon storms are common but they're usually short-lived, with days typically filled with bright blue skies and sunshine.