As a lover of wildlife and incredible scenery, I'd visited Alaska many times but had somehow never made it to Denali National Park. Just before the official start of summer, I was finally able to check it off my bucket list.
The park, which can be reached via an epic ride on the Alaska Railroad or by driving, is focused around North America's tallest mountain and is one of the largest national parks in the country, covering more than six million acres. The mountain rises over 20,310 feet, so tall that it can even be seen from many vantage points in Anchorage, nearly 240 miles south. As it's often hidden behind clouds, entirely covered about a third of the time thanks to the ability to make its own weather, the mountain can re-emerge into a bright blue sky without warning. That means that it can pay to keep an eye out while traveling the Parks Highway (named for George A. Parks, territorial governor of Alaska). If you're in the region for more than a day or two, you're likely to enjoy a breathtaking view.
Of course, one of the primary reasons people have visited Denali beyond the scenery, is the wildlife. The abundant array of creatures includes everything from grizzly bears to Dall sheep, moose, caribou, and wolves.
After exploring the park in-depth and taking part in many different activities thanks to Aramark and Denali Park Village, I'm able to share this Denali National Park travel guide so that you can make the most out of your experience.
Where to Stay
Outside the park:
Inside the park:
Privately owned lodging is offered both inside and outside the park close to the entrance. One of the best options is Aramark's Denali Park Village, which is where I enjoyed my stay, and it more than exceeded my expectations, complete with a balcony overlooking the Nenana River. Just about everything you need can be found on-site, from retail shops to four food and beverage outlets, including the very impressive Gold Rush Dining Room which served some of the best dishes I've had in the state. Plus, departures for all the popular tours are available from here, and there's even a fun dinner theater.
Denali also hosts six campgrounds, three of which are tent-only, including the Sanctuary River, Igloo Creek, and Wonder Lake campgrounds. Riley Creek, Teklanika River, and Savage River campgrounds have tent and RV sites.
Is There Drinking Water in Denali National Park?
Drinking water can be found in Denali National Park at all campgrounds except Sanctuary River and Igloo Creek. The Indoor Picnic Area, a heated building across from the Denali Visitor Center has a water bottle filling station. You can also refill water bottles at Eielson Visitor Center, but it is currently closed due to a rock landslide on Denali Park Road at Mile 43 and is not expected to be accessible for several years or more.
Do be aware that while Denali's tap water meets the legal standards for being safe to drink, the Environmental Working Group (EWG) drinking water quality report shows that there are multiple contaminants exceeding its health guidelines. That includes HAA5 (the five compounds of haloacetic acids) which is 46X over the EWG health guideline. Prolonged exposure to HAA has been linked to injury to multiple organs from the liver and kidney to the reproductive system, eyes, nerves, and various types of cancers in addition to being harmful to fetal growth and development. Using your LARQ Bottle Filtered in conjunction with a non-toxic UV LARQ PureVis Cap is a good idea to ensure, healthy, higher quality water.
The backcountry presents some other issues, such as the park's many silt-filled rivers. For tap water, you can use your LARQ Bottle Filtered and LARQ PureVis Cap, but for refilling in Denali's rivers and streams, it's best to take extra precautions as recommended by the national park service.
Top Things to Do in Denali National Park
Tundra Wilderness Tour
Taking the Tundra Wilderness tour is one of the top things to do in Denali. It's your ticket for reaching the heart of the park as private vehicles generally aren't allowed past Mile 15. That means the only other way to explore that far is a lengthy backpacking trip.
This 5 to 5.5-hour bus tour is a classic wildlife excursion that includes informative yet entertaining narration by a certified naturalist driver/guide. You'll get insight into the geology and history of the park, as well as the wildlife while looking for everything from moose and caribou to grizzly bears and Dall sheep. The scenery is out of this world, with braided rivers, alpine tundra, the soaring peaks of the Alaska Range, and Mount Denali on a clear day.
Hiking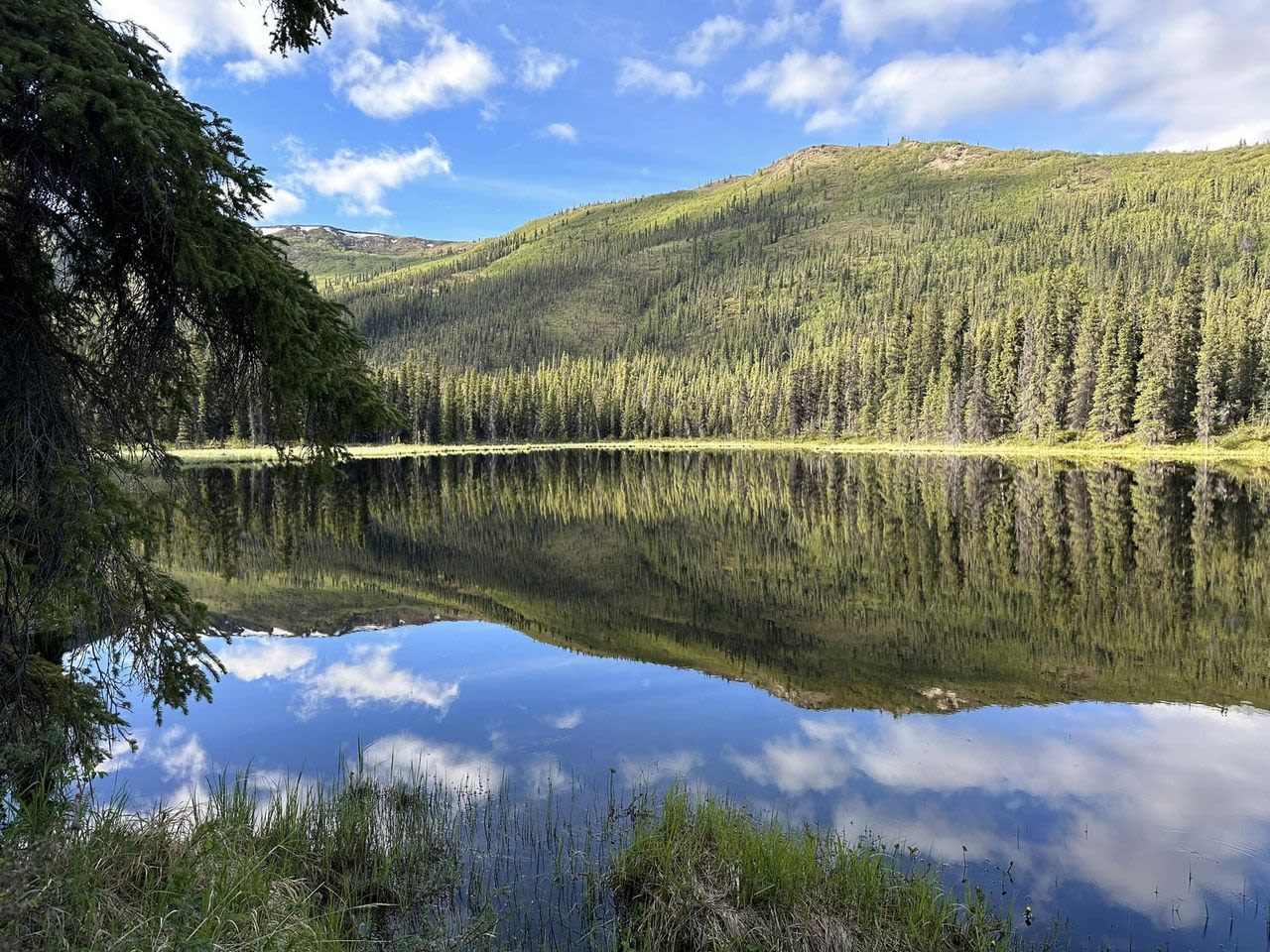 With Denali National Park and Preserve covering such a vast space, it's hard for hikers to know where to begin. There are guided options like the Triple Lakes Trail hiking tour that includes pickup from multiple hotels such as Denali Park Village and Denali Princess Lodge. Your professional naturalist guide will point out various flora, including colorful wildflowers and medicinal plants as you enjoy breathtaking views of the lakes and watch for animals like moose and beavers. The exact length depends on the abilities and interests of the group.
You can also hit the hiking trails on your own, including options like the Savage Alpine Trail which offers sweeping vistas of the park and a great view of Mount Denali when the clouds clear. It's eight miles round-trip – if that's a bit too much, you can hike one-way for a total of four miles instead and take Denali's transit bus/shuttle back. The buses are ideal for hikers as you can flag any of them down that are traveling in your desired direction. They're painted green to make them easy to identify. The tan-colored buses are narrated tour buses and don't stop to pick up hikers.
E-Bike Tour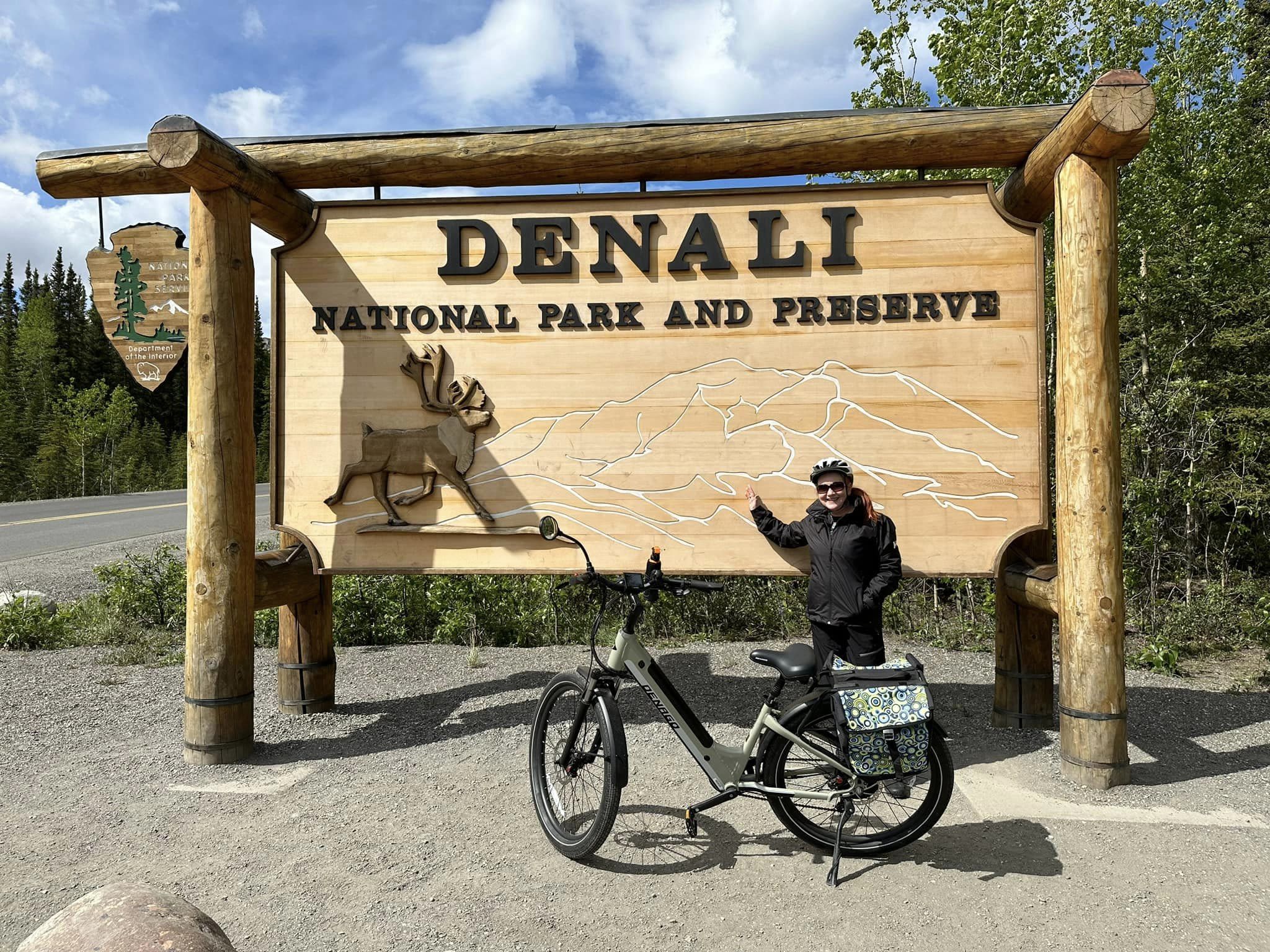 If you'd like to explore the park more actively in a way that isn't too taxing, an e-bike tour is ideal. You'll see more with less effort as you speed down a serene road immersed in the glorious scenery with few others around. When it's time to ascend a hill, you can take advantage of the battery power to climb with ease. Bike Denali offers this unforgettable experience that can be personalized with in-depth local insight provided by the owner and staff. A helmet, bear spray, your choice of panniers, a repair kit, a rain poncho, and a car rack are all included with self-guided half-day, full-day, and even multi-day rentals available for e-bike camping.
Meet the Sled Dogs
Free shuttle buses depart from the Denali Visitor Center that will bring you to meet the sled dogs and learn about the work they do in the park. Sled dog demonstrations are presented every day between mid-May and mid-September at 10 a.m., 2 p.m., and 4 p.m. with the buses leaving 40 minutes before each demonstration. Throughout the summer, the kennels are open between 9:30 a.m. and 4:30 p.m., allowing visitors to chat with the caregivers and get up close to the beautiful dogs.
Dinner Theater
You might be surprised to learn that you can even enjoy some great nightlife hosted at Denali Park Village. The Alaska Cabin Nite Dinner Theatre is performed in an authentic log cabin with a cast of talented actors that tell a real-life gold rush tale that makes for a very enjoyable, and tasty, evening. An all-you-can-eat meal is included and served family-style, complete with fresh Alaskan salmon and barbecue ribs. The berry cobbler for dessert is to die for!
Best Time to Visit Denali National Park
Denali is open year-round, but the summer season is the peak time for visitors. Most arrive between mid-June and Mid-August, but the official visitor season is from around mid-May through mid-September, or the second weekend after Labor Day. That's the only period when the transit buses and narrated bus tours will be operating in the park. In the spring or fall, as long as the snow isn't too deep, most visitors rent a vehicle and travel to the park independently, but keep in mind snow can occur as early as September and often sticks around until May.
In the winter, vehicle access to Denali is limited, with the landscapes best explored by snowshoeing, cross-country skiing, or winter biking. This season is the best time to come if you want to witness the northern lights due to the long hours of darkness.
What to Pack
Fast-drying clothing that can be layered, including both long-sleeved and short-sleeved shirts
Over-the-ankle, waterproof hiking boots
Waterproof rain jacket and rain pants
Fleece pull-over
Warm hat and gloves (wool or fleece)
Daypack for hiking
Insect repellant
Bear spray
Binoculars for wildlife watching
LARQ Bottle PureVis™
It's important to know what to pack in order to be prepared for the conditions in Denali National Park. Keep in mind that fast-drying layers made from fleece, nylon, polypropylene, or wool are best. Avoid cotton clothing as it absorbs water and sweat, which will make you feel colder in the wind.