Lake Clark National Park and Preserve is not like most national parks, as one of the most remote in the country, it can only be reached by air taxi (a small charter aircraft) or by boat. There are no roads to get to the small community of Port Alsworth along the east shore of Lake Clark. Once you arrive, exploring is done on foot or via small bush plane, although lodges here transport guests in trailers that are towed by ATVs. Its remote location with unspoiled wilderness allows wildlife to thrive, including everything from Dall sheep to its star attraction, Alaska brown bears.
Many people visit Lake Clark National Park on a day trip from Homer, taking a flightseeing bear tour with companies like Scenic Bear Viewing for bear viewings and to enjoy a bird's-eye view of Cook Inlet, Bristol Bay, two active volcanoes, dramatic snow-capped peaks in the Chigmit Mountains, glaciers, boreal forest, and the turquoise lake. But it's also possible to spend a night or multiple nights. This Lake Clark National Park guide will help you plan your own visit beyond a short day trip.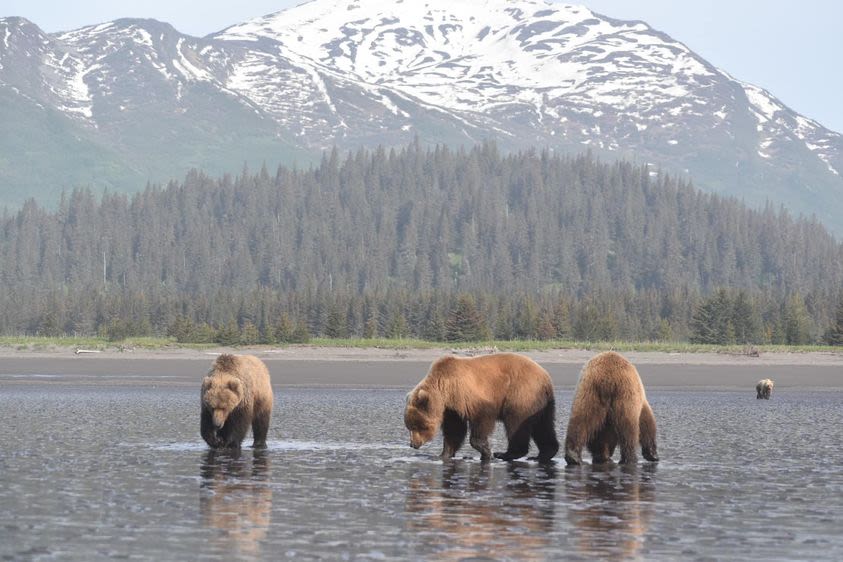 Where to Stay
All-Inclusive Lodging
Other accommodation venues
Campgrounds
Lake Clark National Park and Preserve offers a variety of lodging options but it doesn't have a concessionaire running lodging facilities on the property like many other national parks. All lodging here is privately owned and operated on private property. It includes everything from campgrounds to B&Bs, inns, and all-inclusive lodges that offer guided excursions.
Is There Drinking Water in Lake Clark National Park?
There are no water stations or park-run facilities with water at Lake Clark National Park, however, private, developed campgrounds like the Tulchina Adventures glamping campground in Port Alsworth offer potable water. When using those sources, it's a good idea to take advantage of your LARQ Bottle Filtered and non-toxic UV LARQ PureVis Cap to ensure pure, higher-quality water.
If you're planning on camping in the wilderness, you'll need to bring your own drinking water. According to the National Parks Conservation Association, the mountain streams in the park were tested and found to have a "perfect pH with very few total dissolved solids," but drinking untreated water from any national park can be a risky endeavor that's not recommended. It is still possible that the lake, river, or stream contains bacteria, viruses, and/or parasites that can make you ill. Follow the National Park Service guidelines which note even the clear, clean waters "must be filtered or boiled for human consumption" as there may be natural water-borne diseases like giardia, which isn't a pollutant.
Top Things to Do in Lake Clark National Park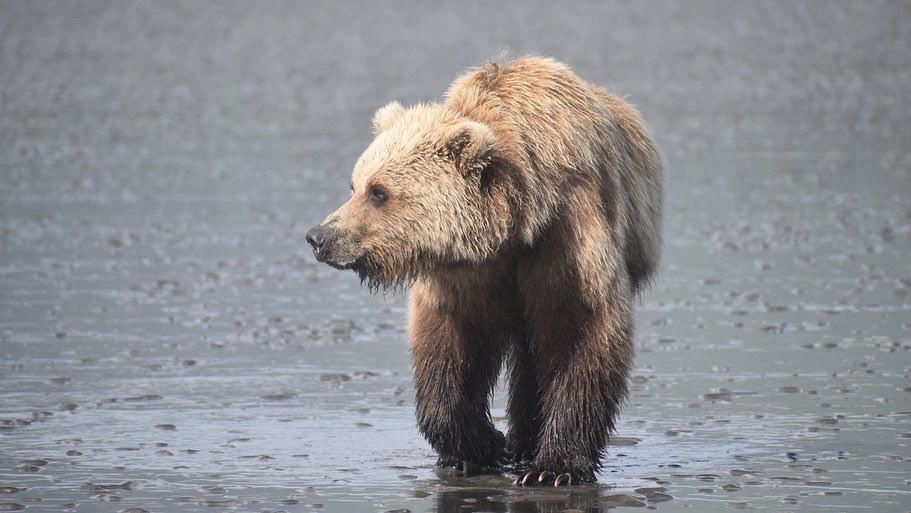 Bear Viewing
The brown bears are a big attraction and one of the top things to do in Lake Clark National Park is to go bear viewing. If you're staying in one of the all-inclusive lodges in the park, odds are, the experience is included. Otherwise, you'll want to follow the national park service recommendations for best practices when visiting one of the destinations known for its high concentration of bears.
Chinitna Bay is one of the top spots to see the coastal brown bears, especially on the beach at low tide when the animals are often seen digging for clams. Silver Salmon Creek, which is located midway down the Cook Inlet coast, is known for its exceptional sport fishing and world-class bear viewing. Crescent Lake in the Chigmit Mountains is popular during the salmon run as both black and brown bears come to search for the abundant fish along the shoreline.
Hiking
There are just two maintained trail systems in the park, although many opportunities are available for day hikes accessed by boat or plane. Access to the maintained trails is from Port Alsworth where you'll find the park visitor center which offers a trail map.
The Tanalian Trails trailhead is near the town's southernmost airstrip with the most popular trek, Tanalian Falls, just four miles round-trip. It winds through birch groves and spruce trees, leading to a breathtaking view of Lake Clark and a 30-foot-high waterfall. If you want to continue further, adding another 1.5 miles to the round-trip hike, venture past the falls to Kontrashibuna Lake where the park's rugged mountain peaks reflect in the still, brilliant turquoise water.
Fishing
Lake Clark provides outstanding fishing opportunities with some of the most pristine habitats in the national park system. Silver Salmon Creek is popular with anglers and brown bears, an ideal spot to fish for silver salmon (August and September) in the company of the animals.
As the Kvichak watershed is fed by Lake Clark, running into Bristol Bay, you'll find one of the world's most productive spawning and rearing habitats for sockeye salmon here. Both Lake Clark and Crescent Lake are excellent spots for catching the park's most prolific fish between July and October.
Boating
Many outfitters and lodges offer boat rentals, boating trips, or charters for those who want to explore the park's rugged coastal areas along Cook Inlet, Crescent Lake, or the 42-mile-long Lake Clark which is ringed by lush hanging valleys carved by glaciers and dramatic snow-capped peaks. They can be a great way to take advantage of the park's best fishing opportunities or to simply enjoy the stunning wilderness scenery.
Cultural and Historical Attractions
The Athabascan people called Dena'ina have lived in this region for thousands of years. The original name of Lake Clark was Qizhjeh Vena, which means "a place where people gathered lake" in Dena'ina. Visitors can learn more about its history at the Lake Clark National Park and Preserve museum which preserves objects that tell a story on a diverse range of subjects. It includes everything from birch bark baskets to fossils and historic photos.
There are also places to explore like Kijik (Qizhjeh) National Historic Landmark and Archeological District which hosts over a dozen archaeological sites, including an abandoned village. Priest Rock, called Hnitsanghi'iy, "the rock that stands alone" by the Dena'ina people, is a 35-foot-tall monolith along the Lake Clark shoreline that has several different traditional stories linked to it.
Best Time to Visit Lake Clark National Park
Lake Clark National Park is open year-round, 24 hours a day, with the vast majority of visitors arriving between June and October when the weather is the most pleasant. This is also when a wider variety of transportation, guiding services, and transportation are available, with traditional wheeled planes, float planes, and boats, as the primary modes of transportation in summer and fall. In the winter, depending on the weather, some areas of the park can be reached by planes on skis or wheeled planes. For most, visiting Lake Clark National Park in the summer will be best. In June it's common to see the adult male brown fighting each other to gain the favor of a female. For those who want to fish, July and August bring some of the best opportunities with abundant fish. In August, the berries will be ripe too.
What to Pack
Fast-drying clothing with a mix of long-sleeved and short-sleeved shirts
Fleece pullover
Water-resistant rain pants
Waterproof rain jacket with a hood
Over-the-ankle, waterproof hiking boots
Warm hat and gloves, ideally fleece or wool
Socks made of wool or synthetic material
Sun hat
Sunglasses
Water-resistant daypack
Insect repellant
Bear spray
Binoculars for wildlife watching
LARQ Bottle PureVis™
If you plan on camping in Lake Clark National Park, your packing list will need to be much more extensive. Otherwise, the main focus will be the type of clothing and accessories you'll need. As the weather can change by the hour, it's best to bring clothing that can be layered, such as a short-sleeved shirt, a fleece pullover, and a rain jacket. Rain is always a possibility here. Brightly colored clothing should be avoided as it can draw the attention of bears. Muted earth tones are best. Avoid items with cotton material, including jeans, as they get wet and stay wet.