While the Orkney Islands rarely seem to be mentioned among Europe's highlights, that just means you can enjoy the archipelago without the big tourist crowds. They might feel incredibly remote, but the islands are easily accessible and their mysteries are intriguing, boasting the highest concentration of ancient Neolithic sites on the continent, including everything from standing stones and tombs to prehistoric villages.
The scenery throughout the 70 scattered isles is breathtaking. Heather-covered mountains with scenic trails call for a peaceful hike. Don't forget your LARQ water bottle—the streams are perfect for refilling, and the LARQ PureVis cap helps eradicate bio-contaminants so you can drink confidently. There are coastal treks winding the edges of wave-battered cliffs while towering sea stacks rise from sapphire waters and idyllic beaches look as if they've been stolen from the Caribbean. After exploring, you can always warm up with a wee dram of the local whisky as you chat with the friendly locals.
Best Time to Go
There's a reason to visit Orkney in every season as the islands are mild, never getting too hot or too cold. The wind is constant and many different types of weather can be experienced in one day no matter what the time of year. After the short, dark days of winter, the islands start waking up in April, the lambs appear, daffodils are in bloom, and before long the sun will be shining for 18 hours or more, providing plenty of time to see the sights.
May is a wonderful month to go to Orkney with more sun, the winds often calmer, while the biggest influx of visitors has yet to arrive. The landscape will be green and dotted with colorful flowers, and puffins are frequently spotted near the cliffs. The majority of tourists arrive in the summer so you'll want to book accommodation and tours well in advance, but it is a magical time of year with the sun lingering just below the horizon, providing an enchanting glow but never really getting dark.
September can also be ideal for a visit to Orkney, with visitor numbers decreasing while the weather is still pleasant, though the wind may be a bit stronger. The distinctive calls of pink-footed geese mark the start of autumn, and by October, the days are tranquil and noticeably shorter. This is when the famous "selkies" give birth, revealing the meaning behind the name Orkney, which comes from the Old Norse word Orkneyjar, translating to "Seal Islands."
How to Get There
Getting to the Orkney Islands is easy despite the very remote feel. Often referred to as the "Orkney mainland," Orkney Island is the "bustling metropolis," which is where most visitors start.
It's home to the capital of Kirkwall, which has a population of just over 9,000.
There are direct flights available to Orkney from Glasgow, Edinburgh, Inverness, and Aberdeen. Or, hop on a ferry from John O'Groats, Scrabster, or Aberdeen, with both car ferries and passenger ferries available depending on the specific departure location and season.
Once you're on Orkney, it's easy to get around by bus or car, with plenty of rental car companies available in Kirkwall. If you want to island hop, take advantage of Orkney Ferries, with 13 communities that can be reached via four ports on the Orkney mainland. There are also inter-isle flights that are available through Loganair that can bring you to six different islands from Kirkwall Airport.
Things To Do
Explore Kirkwall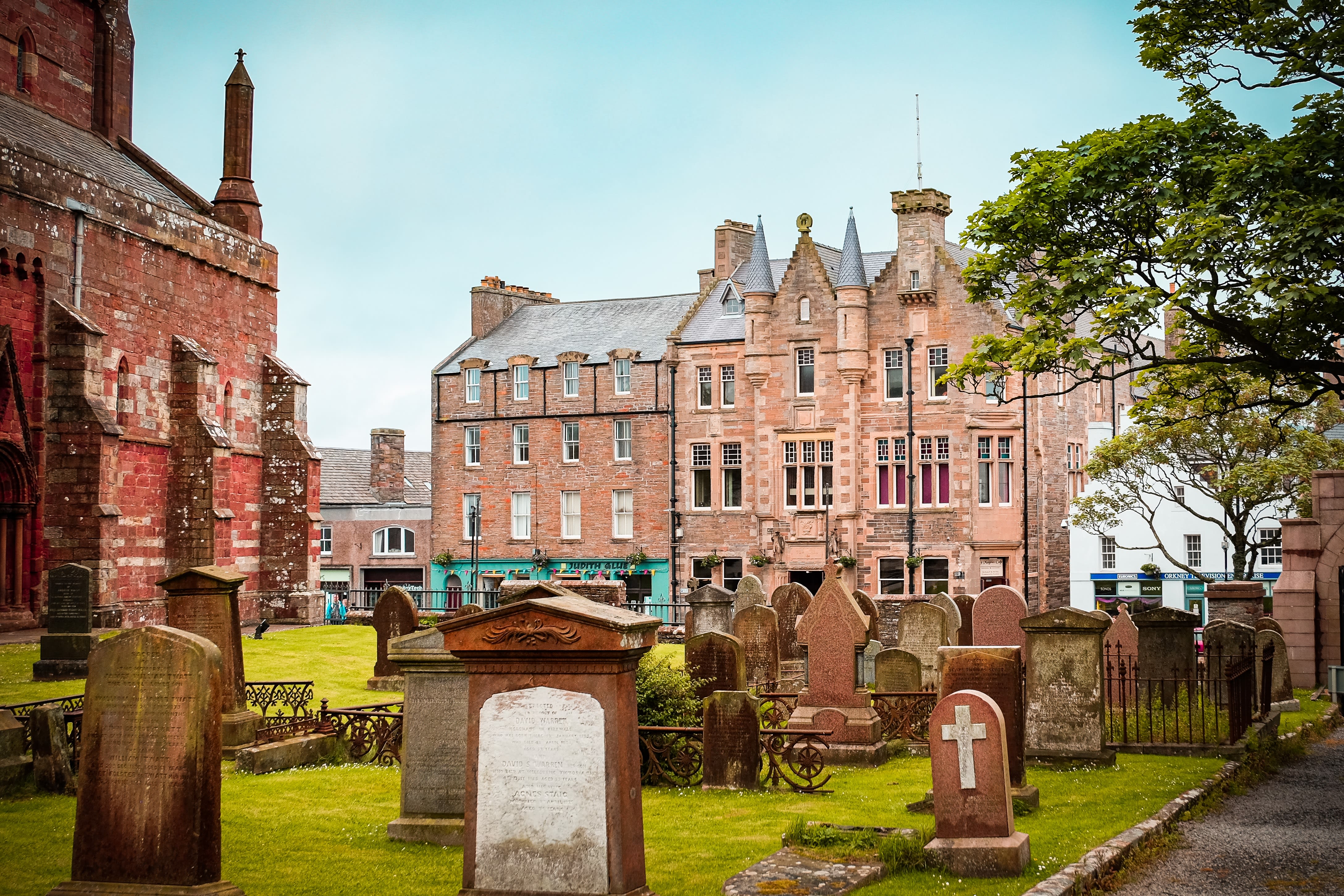 Kirkwall is a charming town with rich history and culture. As early as the 11th century, it was an important trade center and today visitors will find many shops that sell local, artisan-made crafts, restaurants, and pubs. It's also home to the magnificent Viking-era St. Magnus Cathedral, built over 300 years with the foundations laid in 1137. Guided tours that include climbing the bell tower are available.
Enjoy a Tour and Tasting at Highland Park Whisky Distillery
While there are a few distilleries throughout the islands. Highland Park is the most famous, located just outside of Kirkwall's center. Making whisky since 1798 and winning many awards throughout its history, guided tours are available allowing visitors to learn about the whisky-making process, concluding with a wee dram or two.
Visit the Standing Stones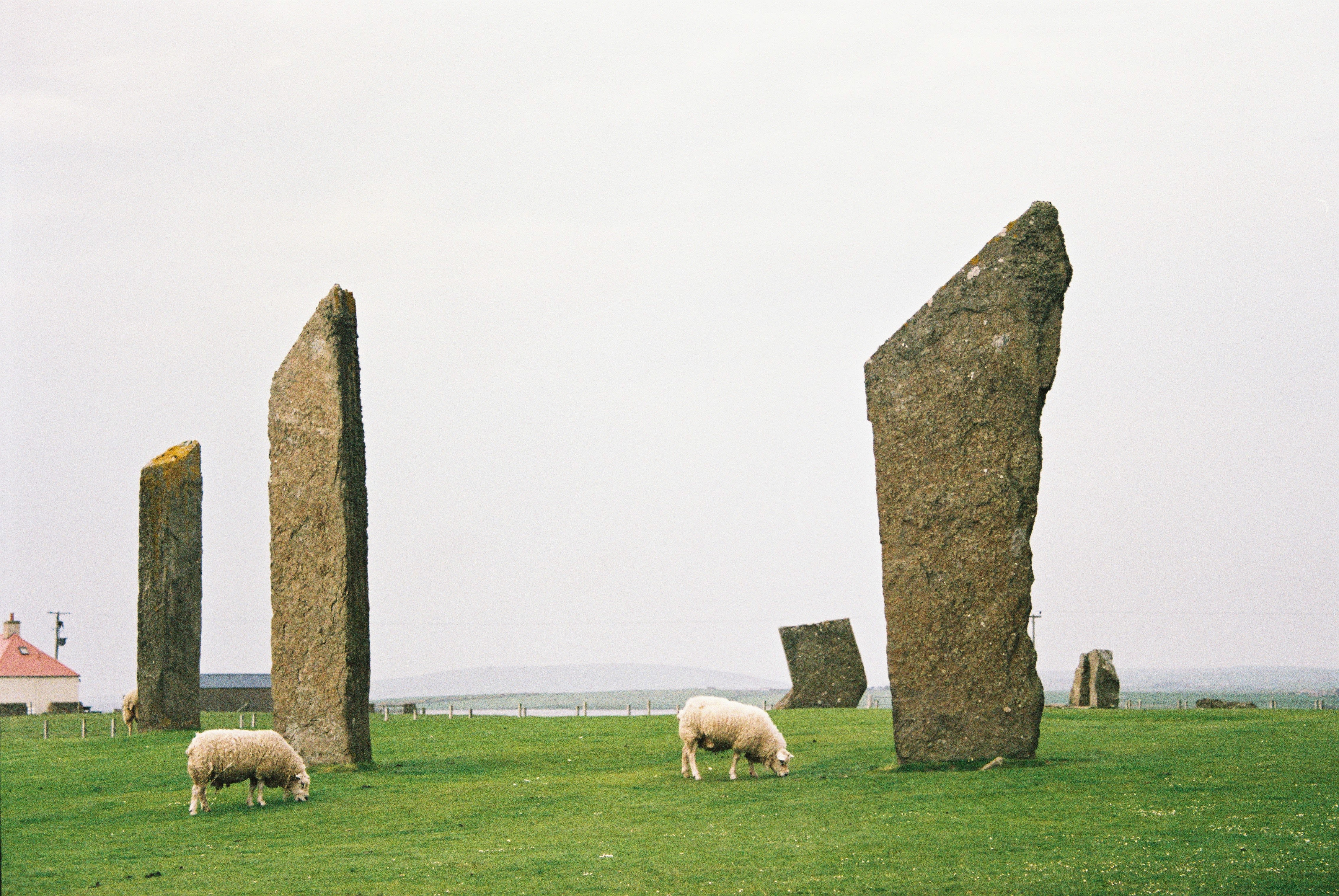 Orkney is especially beloved for its ancient treasures that include standing stones like the Ring of Brodgar, arguably the most impressive. The stone circle was built during the 3rd millennium BC, even earlier than the Egyptian pyramids and Stonehenge. It originally included 60 stones and around half have managed to remain standing after all of this time. Nearby, the Standing Stones of Stenness is believed to be the oldest henge site in the British Isles, dating to around 3100 BC.
Get a Glimpse of Prehistoric Life at Skara Brae
The Stone Age settlement of Skara Brae was discovered in 1850 after a powerful storm blew the sand away that had kept it hidden for centuries. The most complete Neolithic village in Europe, it dates back over 5,000 years, occupied from around 3180 to 2500 BC, with the walls and furnishings still visible.
Hike to the Old Man of Hoy
Hoy is the island that Orkney residents like to enjoy during their holidays. It's an easy day trip from mainland Orkney via ferry and offers lots of tranquility and spectacular nature. Those who relish the peace and quiet will want to spend at least a couple of nights here, with the Old Man of Hoy the main attraction. The imposing 450-foot-tall sea stack was carved from red sandstone and was depicted on maps as a headland in 1750. Less than a century later, the waves had battered it into a stack and arch, with two legs that led to its name.
The hike to reach the Old Man is about 4.7 miles out and back, leaving from the parking lot in Rackwick. A moderately difficult route, much of it follows the coast providing breathtaking scenery throughout. You won't want to forget to bring your reusable bottle to ensure pure water for hydration as there are no facilities in the immediate area.
Where To Stay
You'll find a wide variety of accommodation options, from campsites and hostels to guesthouses, hotels, self-catering vacation rentals, and B&Bs like the elegant Graemeshall House, a historic property in quiet, scenic surroundings just six miles from Kirkwall.
Good To Know
Large cruise ships are now stopping at Orkney in the summer, but they typically visit the major sites between mid-morning and mid-afternoon. Avoid the crowds by heading to the most popular attractions like Skara Brae early or late.