One of the world's largest and most magical cities, Mexico's vibrant capital is the best place to start if you want to get to know the country beyond its beautiful beaches. Mexico City and its Xochimilco district with famous canals, the last remnants of a massive water system built by the Aztecs where visitors cruise on colorful gondola-like boats, have both earned UNESCO designations. The past and present mix in these areas, including Aztec temples that sit side-by-side with colonial architecture and modern buildings in the city center.
In Mexico City, you'll also find a wealth of intriguing museums, mouthwatering cuisine, and lots of friendly people in a place that's surprisingly safe and affordable. Home to over 21 million residents, this sprawling metropolitan area is often ranked among the best cities in the world.
As a Mexican resident, I've been fortunate to visit multiple times, allowing me to create this Mexico City travel guide that will help you make the most of your trip.
Where to Stay in Mexico City
As Mexico City is so vast, you'll want to choose a neighborhood that will allow you to easily explore what interests you most. The historic center, or Centro Historico, will put you within walking distance of many attractions while providing a real sense of the city, its culture, history, architecture, and traditional street foods. Upscale Polanco is ideal for foodies, with lots of fine dining restaurants while being within walking distance of Chapultepec Park and the best museum in the country, Museo Nacional de Antropologia. Condesa is also popular with tourists, adjoined by Chapultepec Park and home to Parque Mexico, ideal for strolling and sampling street food.
The bohemian Roma neighborhood is highly walkable and offers a trendy place to stay with quirky art galleries, lively markets, specialty coffee shops, and hip cocktail bars, along with good transport connections to other areas of the city. San Miguel Chapultepec is a laid-back neighborhood right next to Chapultepec Park and the city's most important museums, including Museo Nacional de Antropologia. It's ideal for families and those on a tighter budget with some good but inexpensive accommodation options.
Good to Know
As you plan your visit, there are a few things that are good to know about Mexico City travel. Though the tap water is not safe to drink due to various potential bio-contaminants, most hotels provide filtered or bottled water for guests, and Airbnb's tend to have a secondary filtered water dispenser near the sink—It'd be a great idea to double-check this when booking!
If you have a sensitive stomach, we recommend bringing a water bottle that can purify it while eradicating 99.9999% of contaminants such as bacteria like E. coli. The LARQ Bottle PureVis™ is the best for this because you can click the button to purify within 1-3 minutes. If taste is a concern, we recommend bringing your LARQ Bottle Filtered with a Nano Zero filter which will also improve the taste and purity of the water by removing heavy metals, lead, and even chlorine. This way, you can fill up for your adventures and avoid buying bottled water.
You'll also want to consider the best time to visit Mexico City. March, April, October, and November are ideal for mild, dry weather with temperatures ranging, on average, from 75 to 79 degrees. It's actually pleasant year-round, but summer is the rainy season, bringing daily afternoon showers. December through February is typically the busiest period, so avoid this time for shorter lines and fewer crowds.
How to Get Around Mexico City
As the largest city in North America, the Mexican capital is known for its traffic congestion, which is why many choose to use the cheap public transport system. The metro system is the quickest way to get around with 195 stations across 14 lines with trains arriving every few minutes during rush hour. As the trains can be crowded, you'll want to keep a close eye on your belongings at all times as pickpocketing is possible.
Uber is another option and it's safer than a regular taxi as the vehicles are tracked from point A to point B. If you use a taxi, which is surprisingly affordable here, ask your hotel or accommodation host to arrange one for you. If you just want to see historical sites and other points of interest, it's easily done and inexpensive on a tour of Mexico City which will also include expert, local commentary.
Top Things to Do in Mexico City
Visit Chapultepec Park
One of the top things to do in Mexico City is to visit Chapultepec Park, the largest urban park in Latin Park covering more than 1,600 acres with many attractions, several lakes, and walking paths that wind through the forest. That includes the best museum in the country, Museo Nacional de Antropologia, and many other museums like Museo Nacional de Historia (National History Museum) which is housed in 18th-century Chapultepec Castle. From here, you'll enjoy some of the best views of the park and the city.
The Historic Center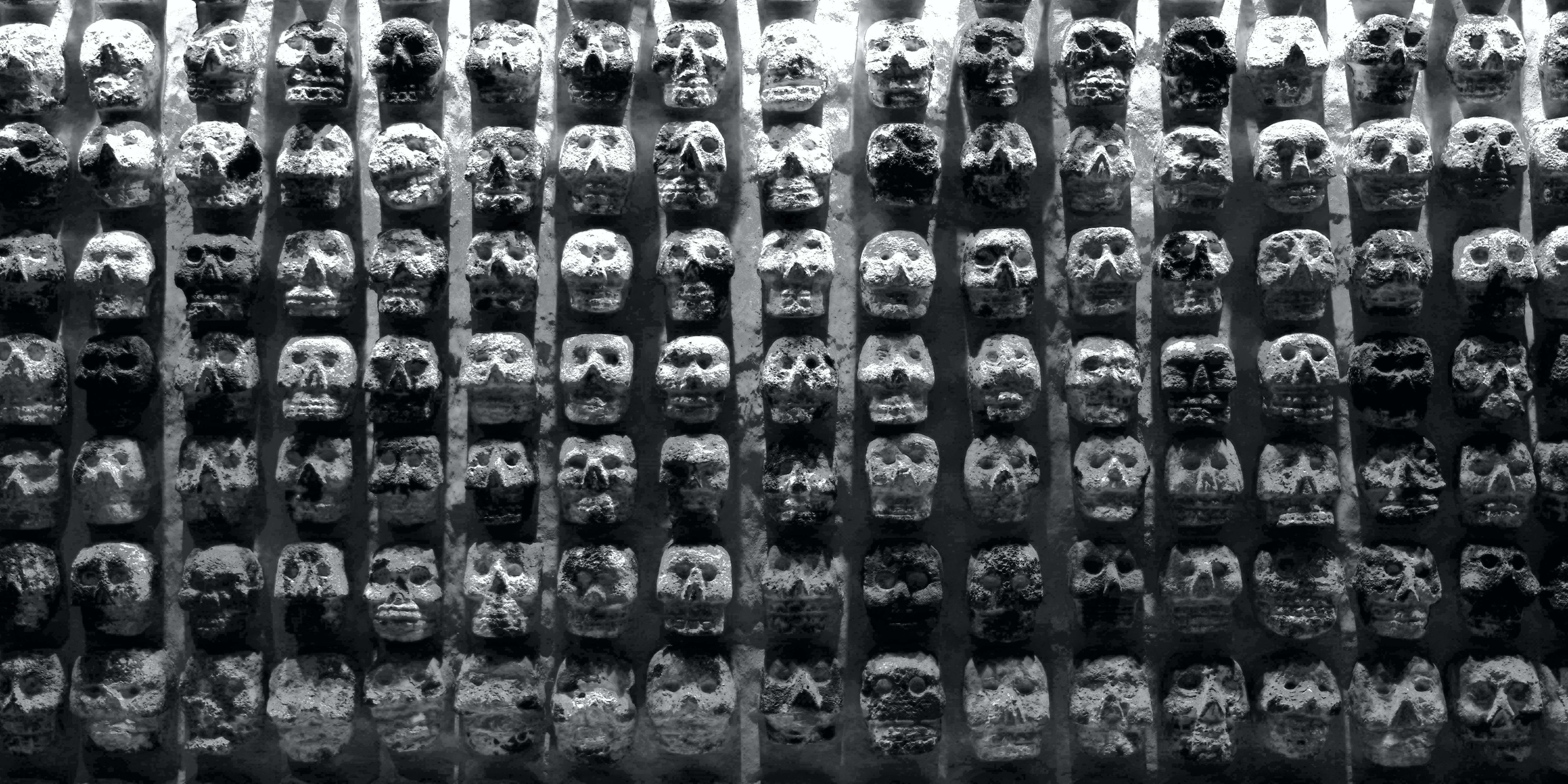 Built in the 16th century by the Spanish on the ruins of Tenochtitlan, the old Aztec capital is where it all began. The historic center is a UNESCO World Heritage Site with five Aztec temples, including Templo Mayor, the main temple of the Mexican people in their capital of Tenochtitlan which is now Mexico City, and the City Metropolitan Cathedral which took nearly 250 years to build, starting in 1573. The cathedral dominates the vast central square, Zocalo, and features three distinct architectural styles: baroque, neo-classical, and neo-renaissance. 
Palacio de Bellas Artes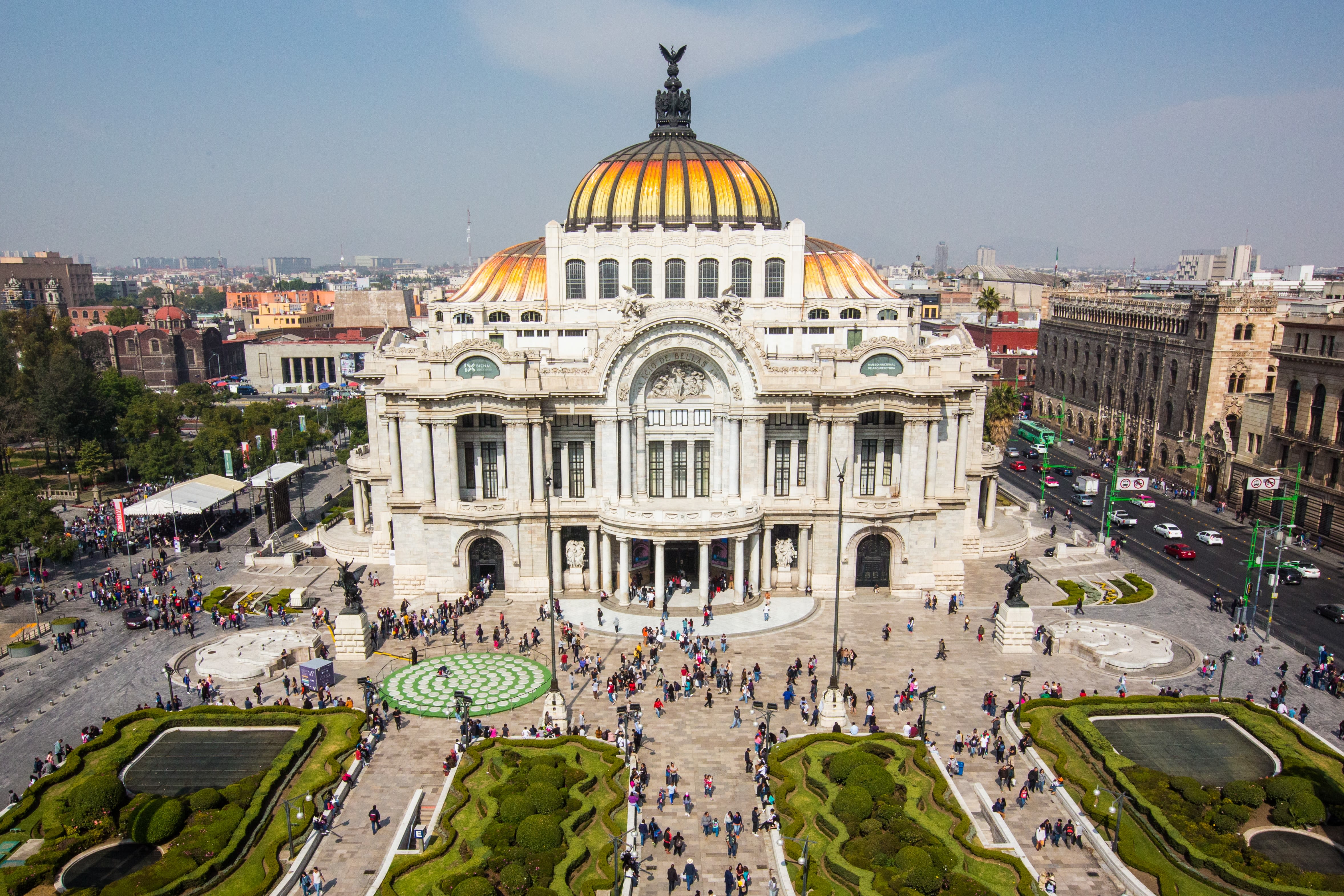 Set in a magnificent building constructed in several architectural styles, primarily art deco on the inside and art nouveau on the outside, the Palacio de Bellas Artes is one of the best art museums in the country. It's home to the National Symphony Orchestra, the Fine Arts Chamber Orchestra, the National Theater Company, the National Opera Company, the National Dance Company, and the Ballet Folklórico de México. Even if you don't have time to catch a performance, it's worth visiting just to admire the stunning beauty of the interior and exterior.
Torre Latinoamericana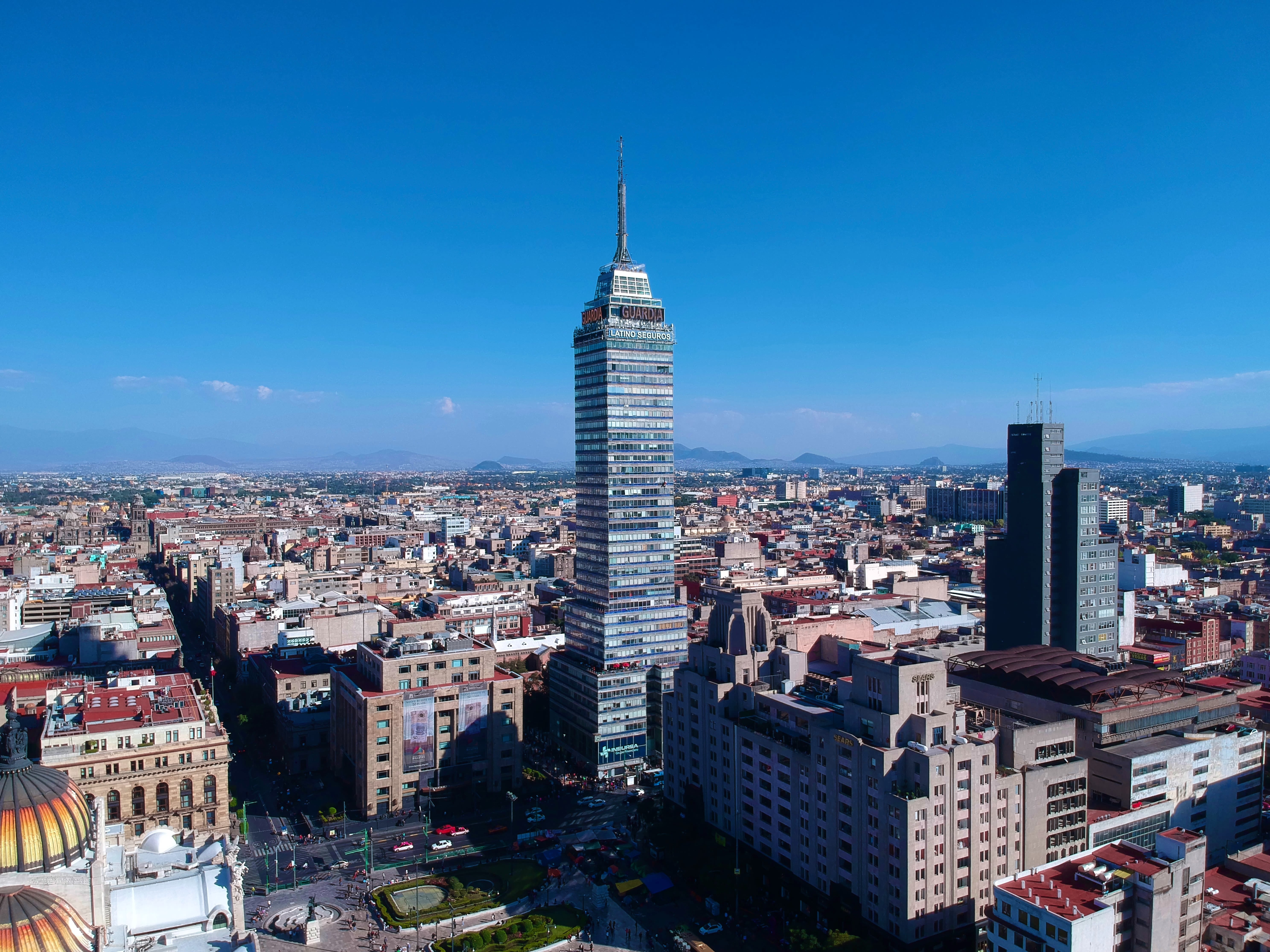 Another one of the top attractions in Mexico City, Torre Latinoamericana is the tallest building in the capital. When it was built in 1956, it was the sixth tallest in the world and the tallest in Latin America, soaring 545 feet while providing a panoramic view over the city from the open-air observation deck on the 44th floor.
Museo Frida Kahlo (Casa Azul)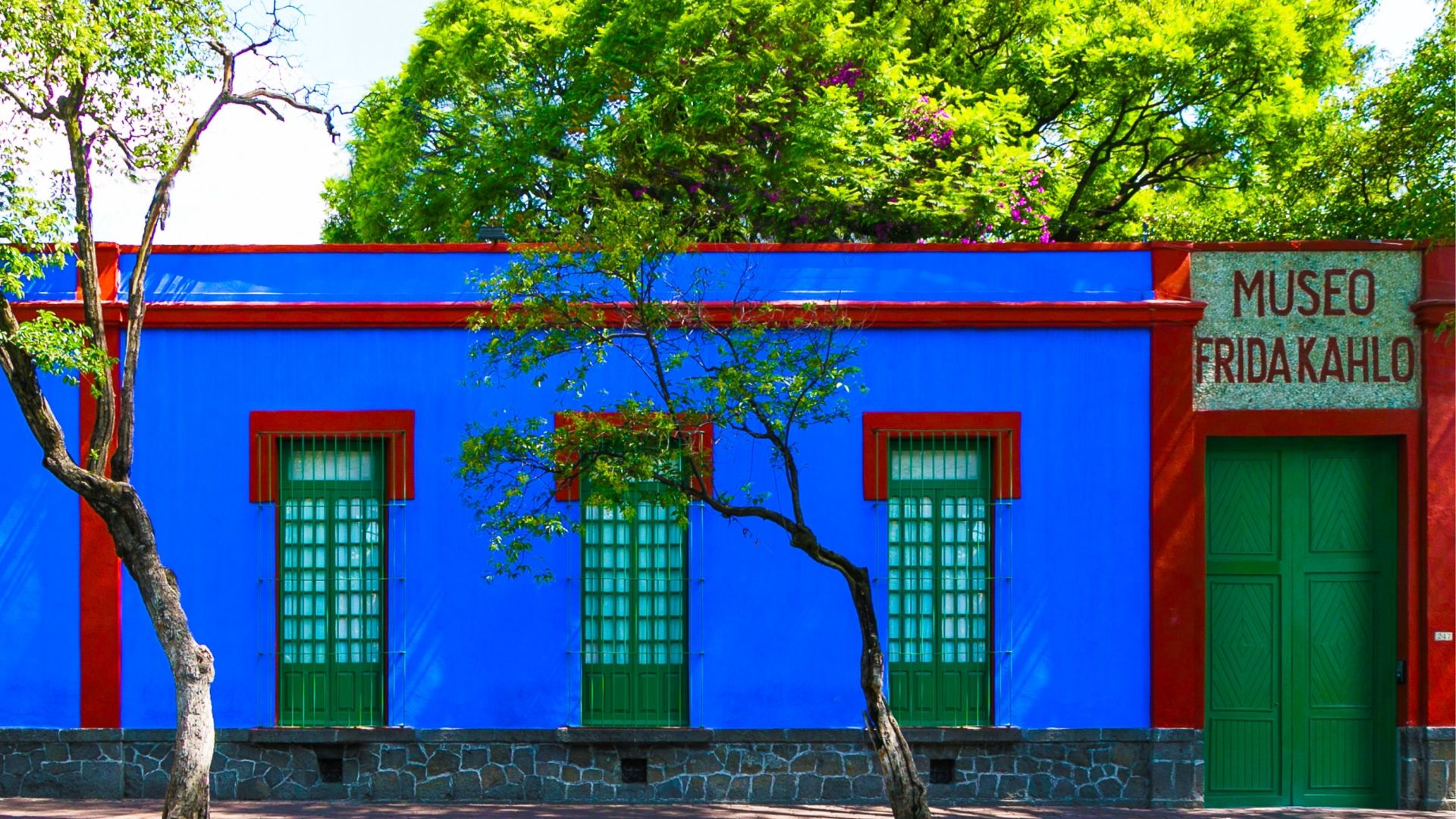 The Museo Frida Kahlo, or Casa Azul (Blue House) for the structure's cobalt blue walls. The home was built by the father of Frida Kahlo, one of the most renowned Mexican artists, in 1904. It belonged to the Kahlo family until 1958, four years after the painter's death, when it was converted into a museum. Dedicated to the life and work of Frida, it not only includes many of her works, but personal items like her clothing, photos, painting materials, bed, wheelchair, and more, preserving the home in much the same way it was found.
Museo Soumaya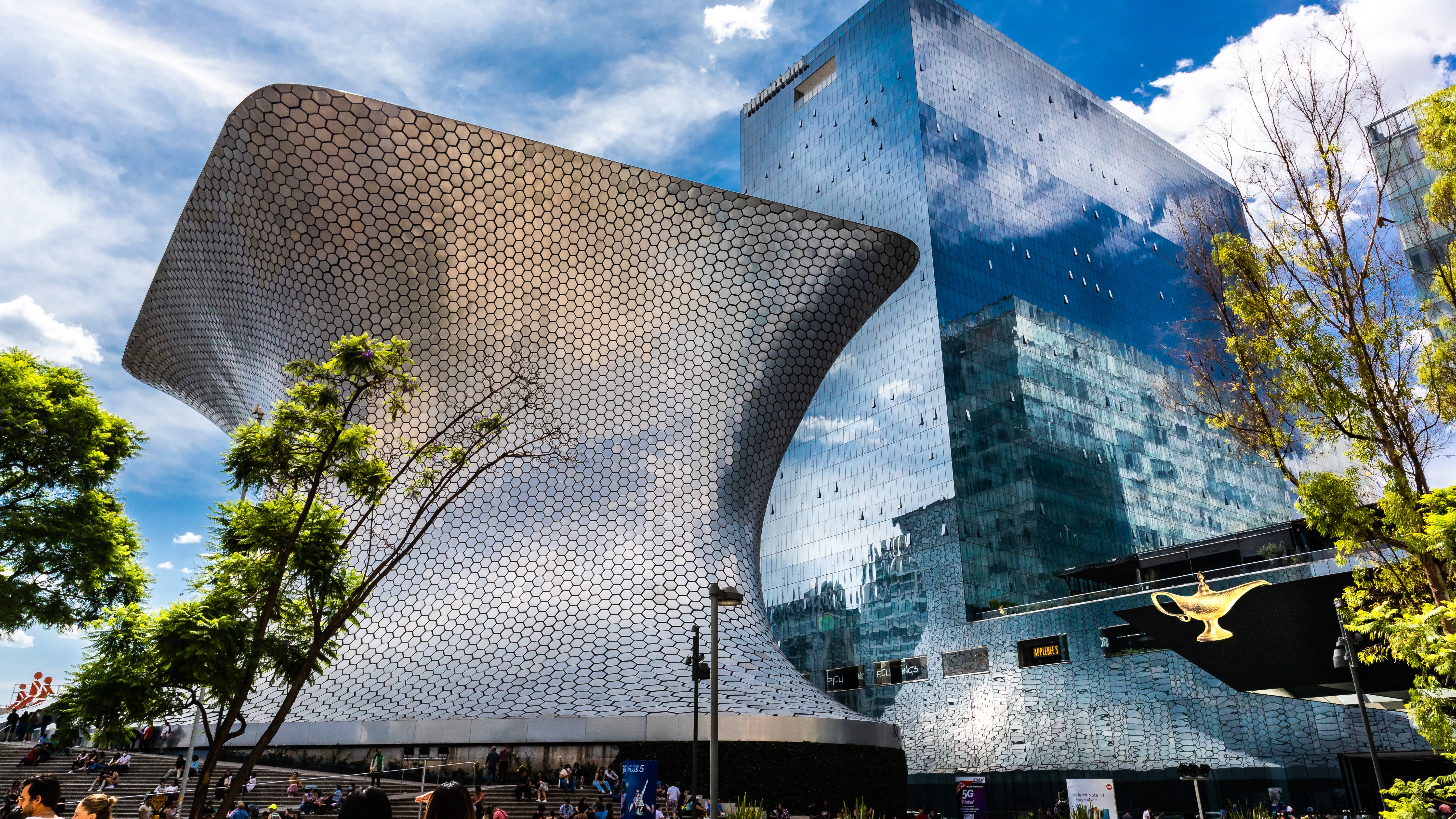 Museo Soumaya is a private museum that's instantly recognizable for its striking, unique architecture with art collections that are just as impressive, including more than 66,000 pieces ranging from Mesoamerica to modern times. The majority are European, dating from the 15th through 20th centuries, including a number by Old Masters like Rodin and more recent artists, including Dali.
Xochimilco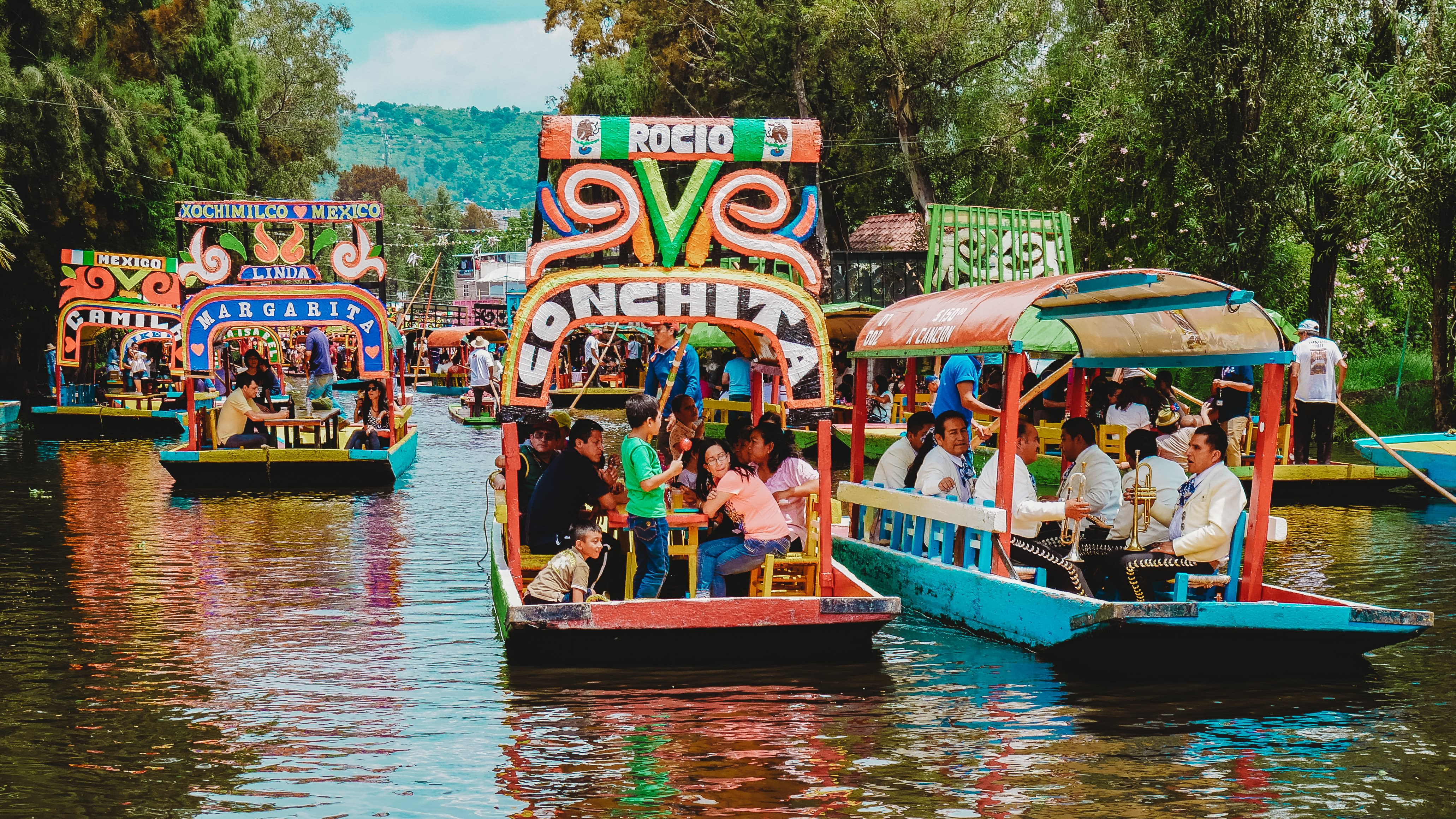 The Xochimilco neighborhood is where to go if you want to float down the Aztec-built canals in a colorful gondola-like vessel known as a trajinera. One of the most popular Mexico City excursions, it sits on the south side of the city. The easiest way to enjoy it is to book a tour that includes a driver who will pick you up at your hotel or another meeting point who will bring you there to spend a couple of hours on one of the brightly painted flat-bottomed boats.
Day Trip to Teotihuacan Pyramids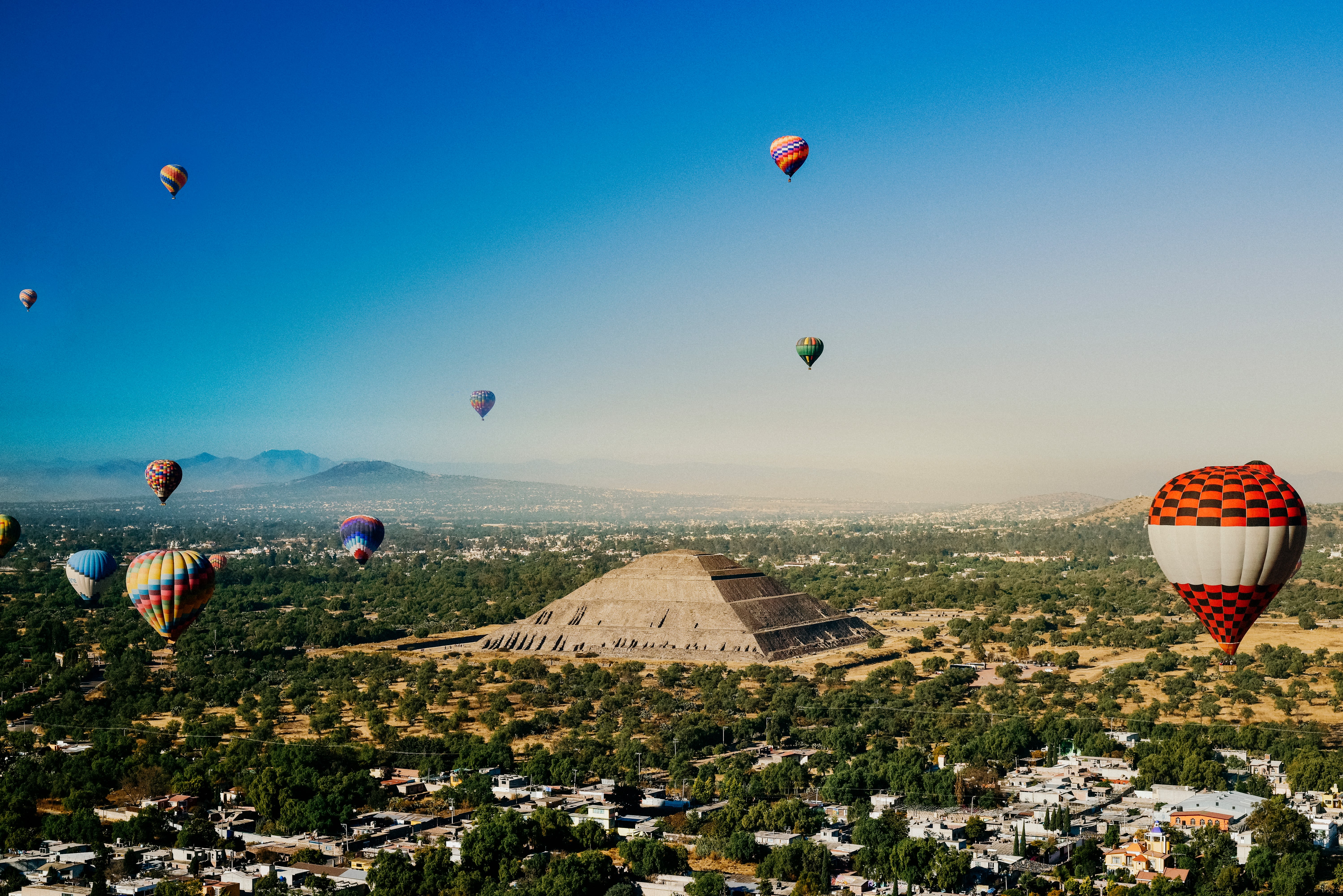 The No. 1 day trip from Mexico City is the Teotihuacan Pyramids, located less than an hour from downtown. While it's possible to visit on your own, you'll get far more out of the experience by taking a tour, which means no getting behind the wheel yourself or navigating public transport. One of the most highly rated is 5-star bilingual guide Paulina who provides private tours. Born and raised in Mexico City, she'll not only get you there but provide expert insight that brings it all to life, including the Pyramid of the Sun, the world's third-largest, dating to around 200 AD.
What to Pack
A sun hat, sunglasses, and sunscreen
Waterproof rain jacket and portable umbrella, if visiting between May and October
Sweater, light pullover, or jacket
Comfortable walking shoes
Jeans and/or long trousers, t-shirts, blouses, and tank tops
LARQ Bottle Filtered with a Nano Zero filter
Unlike many people imagine, Mexico City is not a destination that's hot like Cancun or Cabo. In fact, it has a rather cool climate as the elevation is high at 7,350 feet. Summer is the rainy season, spanning from late May through October, with heavy but often short-lived rain showers in the late afternoon. If you come now, you'll want to bring a waterproof rain jacket and a portable umbrella. From November through April, it rarely rains, with the high temperature at 73 and the low at 42 degrees Fahrenheit. Keep in mind that while it's not very hot, the sun is very strong so you'll need sun protection. Shorts, short dresses, and skirts aren't commonly worn.