Scotland is renowned for its dramatic landscapes with countless sparkling lakes, soaring mountains, and white sandy beaches, while magnificent castles are sprinkled throughout.
While most visitors arrive between June and September, early spring (March or April) is a fabulous time of year to enjoy the breathtaking scenery without the crowds or the countless tiny, biting midges that frustrate summer travelers.
Spring is a great time to visit this beautiful country, but each month is unique. Scotland in April can be especially ideal as it's one of the driest months of the year. If you come now, you're likely to enjoy quite a few sunny days with the average temperature around 53 degrees depending on the exact location, although afternoon highs often reach 59, and occasionally higher. The days are also longer than they are in March, bringing more daylight for sightseeing. Thanks to the time change, sunset is at 7:56 p.m. on April 1st and 8:59 p.m. by month's end.
You'll find many things to do in Scotland in spring, from the national parks and islands to the cities and beyond, including these.
Top Spots to Visit & Where to Stay
Cairngorms National Park
Nestled in the Scottish Highlands, Cairngorms National Park is an unspoiled mountain wilderness. It's the largest national park in the UK, and home to five out of six of the highest peaks in Scotland making it ideal for hiking. There are miles and miles of trails, with routes for everyone from beginners to those looking for a challenge, like the nearly 5-mile-long trek to Ben Macdui with its almost 4,300-foot-high summit which delivers a breathtaking panoramic view over the picturesque landscape below.
Easier options include the walk around Loch Vaa near the town of Aviemore where you'll follow the shoreline through forests of pine and birch. Or, join the guided "Hill Trip" which includes a roughly 40-minute hike to visit the park's reindeer herd with an opportunity for a hand-feeding session. Wildlife is abundant throughout the park – in addition to reindeer, watch for deer, pine martens, and golden eagles.
Where to stay
Loch Lomond & Trossachs National Park
Just 58 miles northwest of Edinburgh, Loch Lomond & Trossachs National park is centered around Loch Lomond which sits at its heart. Author Walter Scot called it the "Queen of Scottish Lakes," used by generations of Scots as a popular spot to fish with abundant salmon, trout, and whitefish. A variety of boat excursions are available that provide a beautiful perspective from the water of grand homes and castles along the shoreline, including the ancient ruins of Lennox Castle.
The loch's glacial water is also popular for "ice swimming" which is only about 40 degrees in winter, but averages around 45 degrees in the spring. If you want to try this trendy sport, you'll find plenty of places to warm up along the shore with a hot drink afterward.
Where to stay
Isle of Skye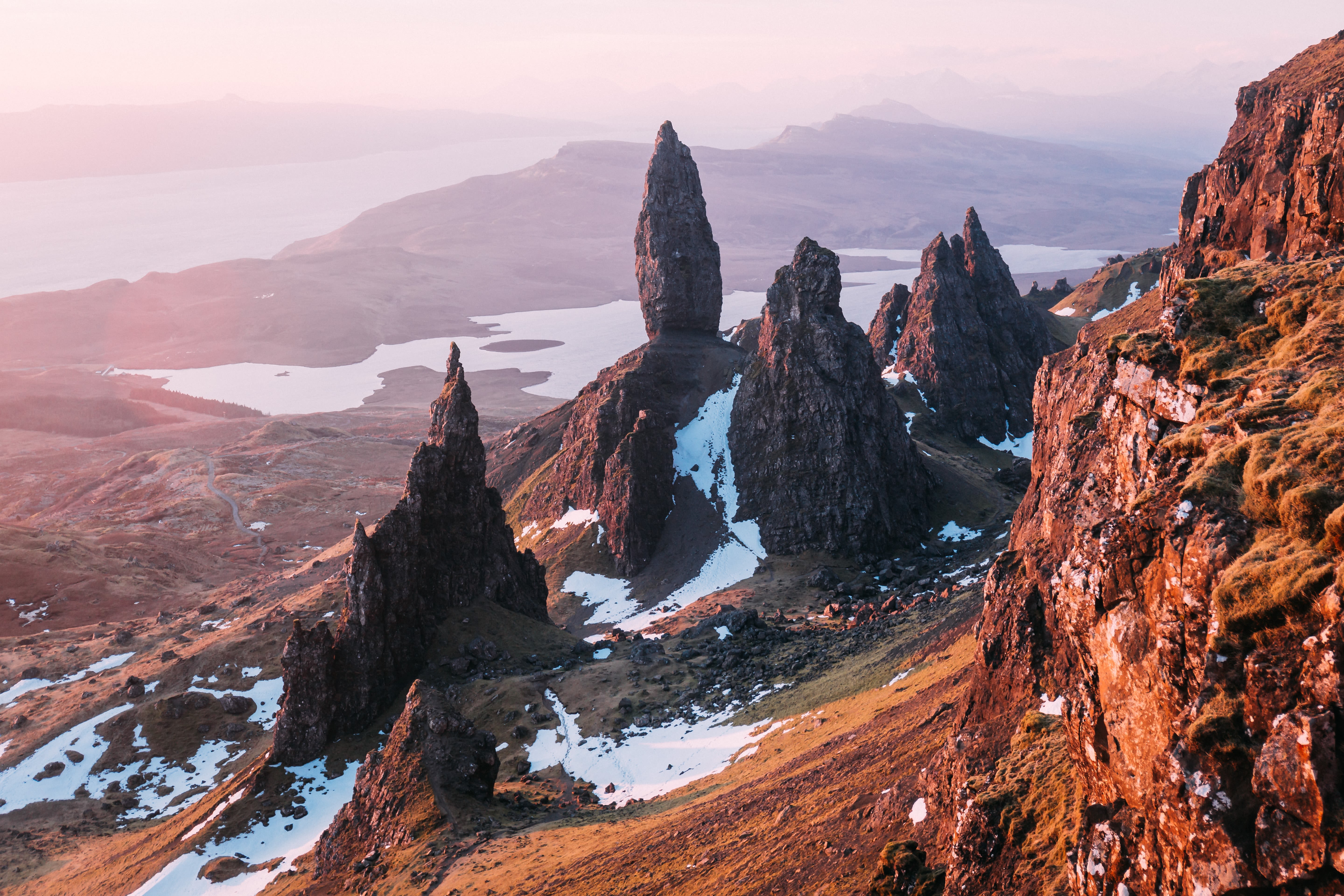 The Isle of Skye, one of the Inner Hebrides islands, linked by a bridge to the mainland, was once a hidden treasure. With its images going viral, it's become a bucket-list destination attracting countless visitors from across the globe. But as most come during the summer and early fall, if you visit in March or April, you can enjoy it without the masses. It boasts some of the most jaw-dropping landscapes in the country, with precipitous sea cliffs where waterfalls plunge into sapphire waters, towering emerald mountains and unique rock formations, coral beaches, and the famous Fairy Pools that have been featured in multiple films, including 2007's "Stardust."
One of the best things to do in Scotland is to walk to the "Old Man," a pinnacle of rock that stands out among the craggy spires and pinnacles on Trotternish Ridge in the north part of the island. The entire hike only takes about an hour and 15 minutes and when you reach the nearly 165-foot-tall Old Man, you'll enjoy an incredible view that stretches all the way to the Scottish mainland. Talisker Distillery offers one of the most popular guided whisky tours (with tastings) while Dunvegan Castle & Gardens opens for the season on April 1st for self-guided tours.
Where to stay
Skye Red Fox Retreat, luxury glamping Airbnb rental with stunning Trottenish Ridge views, 10 minutes from the Old Man of Storr
The Cottage Stein, a B&B on the Waternish Peninsula near Castle Dunvegan.
Flodigarry Hotel, a boutique hotel on the Trottenish Peninsula with extravagant suites
Orkney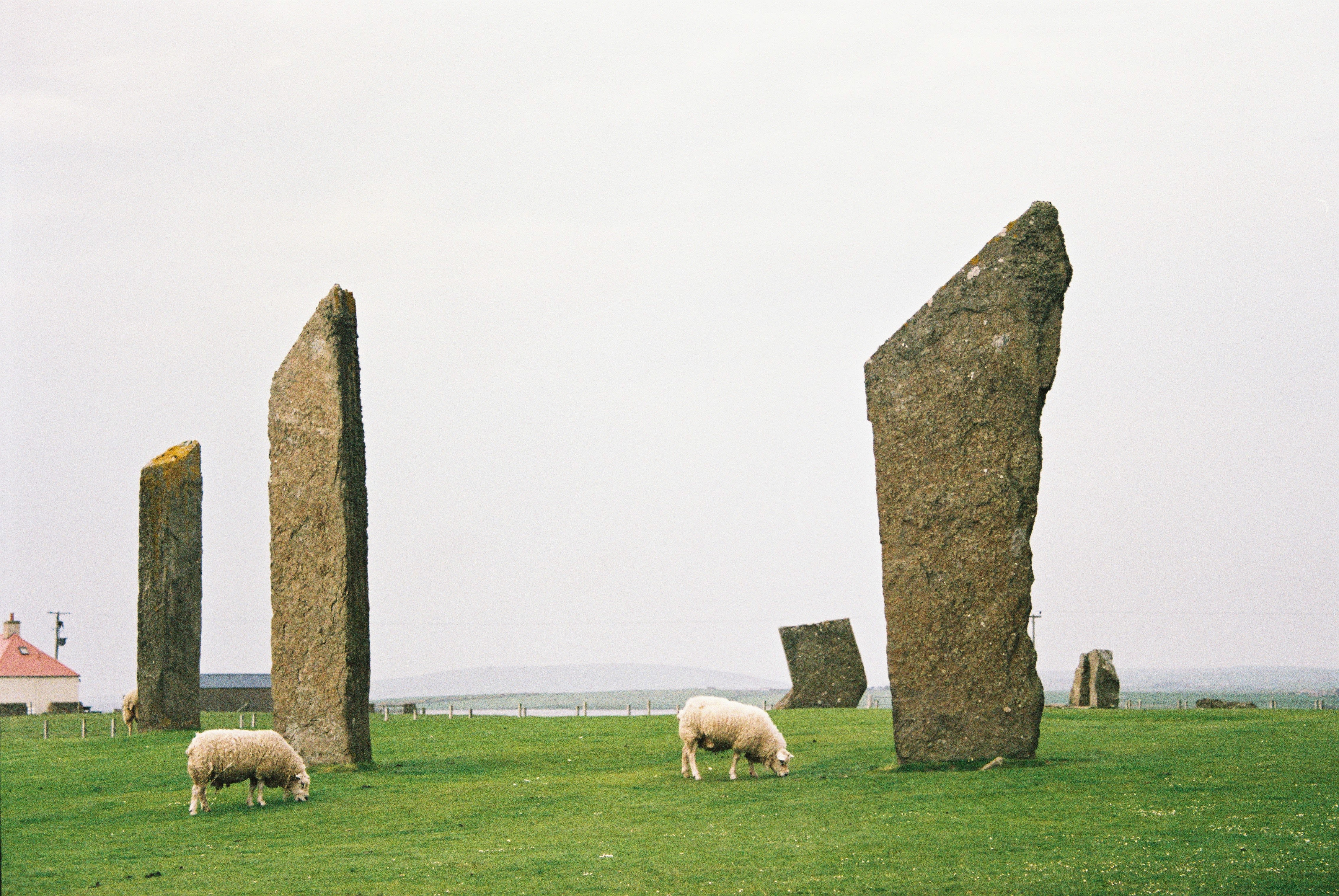 Orkney Island, the main island in the Orkney archipelago, can easily be reached by ferry from Scotland's north coast (John O'Groats, Scrabster, and Aberdeen) with more routes and departures opening up in April. There are also direct flights from Glasgow, Edinburgh, Inverness, and Aberdeen. While the island's natural attractions are available at any time of the year, early spring brings extra-special experiences.
If you visit Orkney in March, you'll have an increased chance of watching the northern lights dance across the sky. In April, colorful puffins return to the cliffs while wildflowers pop up across the landscapes, including the rare and tiny Scottish primrose with its intense purple flowers. From the island's west coast, you might spot passing porpoises or orcas.
Other Orkney highlights to enjoy include the Stone Age settlement of Skara Brae, whisky tours at Highland Park Whisky Distillery, and standing stones, including the Ring of Brodgar which dates to the 3rd millennium BC.
Where to stay
Edinburgh
While the outdoors might steal the show in Scotland, its cities have plenty to offer, particularly Edinburgh, which is often named the most beautiful in Europe and even the best in the world. The top draw is Edinburgh Castle which sits at the center atop an extinct volcano. From the highest parts of the structure, one can take in magnificent views of the city and guided tours are available that will take you through the castle rooms.
There's plenty of nature to enjoy in the city too. If you're here in late April, you'll see pink and white cherry blooms bring color to the streets, parks, and botanic gardens like the Royal Botanic Garden Edinburgh.
Where to stay
What to Pack for Early Spring in Scotland
Beanie or another type of warm hat
Waterproof rain jacket
Waterproof shoes and/or boots
Fleece sweatshirt
Sweater
Water-resistant pants
Jeans
Rucksack or small backpack to hold items if hiking
LARQ Bottle PureVis™
Early spring in Scotland can be unpredictable. March is likely to be cold, windy, and rainy, but by April's arrival, skies are often bright blue with plenty of sunny days mixed in with grey ones. If you visit this time of year, you'll want to prepare for it all by bringing a waterproof rainjacket and waterproof shoes or boots if you plan to hike. Pack clothing that can be layered for cooler and warmer days, such as a variety of short- and long-sleeve tops, thermals, a fleece sweatshirt, and a hat. It's unlikely to be warm enough for shorts, but you might want to bring a skirt or dress that can be paired with leggings.
The tap water in Scotland is some of the cleanest and tastiest in the world but bringing your LARQ Bottle PureVis™ is a good idea as you'll be able to fill it up and bring it with you on your outdoor adventures. You won't have to worry about constant cleaning and these days, there's really no excuse for buying plastic water bottles.
Good to Know
Scotland is one of the world's safest countries, but it's always important to take common-sense precautions in big cities like Edinburgh where pickpockets are common in crowded tourist places. That includes the Royal Mile, Edinburgh Castle, Edinburgh Old Town, and Princes Street Gardens.
Scottish currency is the British pound (GBP) and all notes that read "Pound Sterling" are accepted. Credit cards are most often used for payment, but other than larger hotel chains, most businesses don't take American Express. The best way to obtain British pounds, which you may need for tips and very low-cost items, is from a bank ATM.