Embarking on an adventure, especially when traveling to a new and exciting destination where you can spend time in nature, is good for the soul. In fact, adventure travel might even be called "soul food" with "nutritional" benefits that can melt stress away. Venturing outside of your comfort zone has been known to boost self-confidence, enhance creativity, and even support mental health.
While the possibilities for adventure getaways may be nearly endless, these are some of the best vacations for adventure whether you're up for a trip that will bring you to another hemisphere, or something a little closer to home.
Sea Kayaking with Orcas: Vancouver Island, British Columbia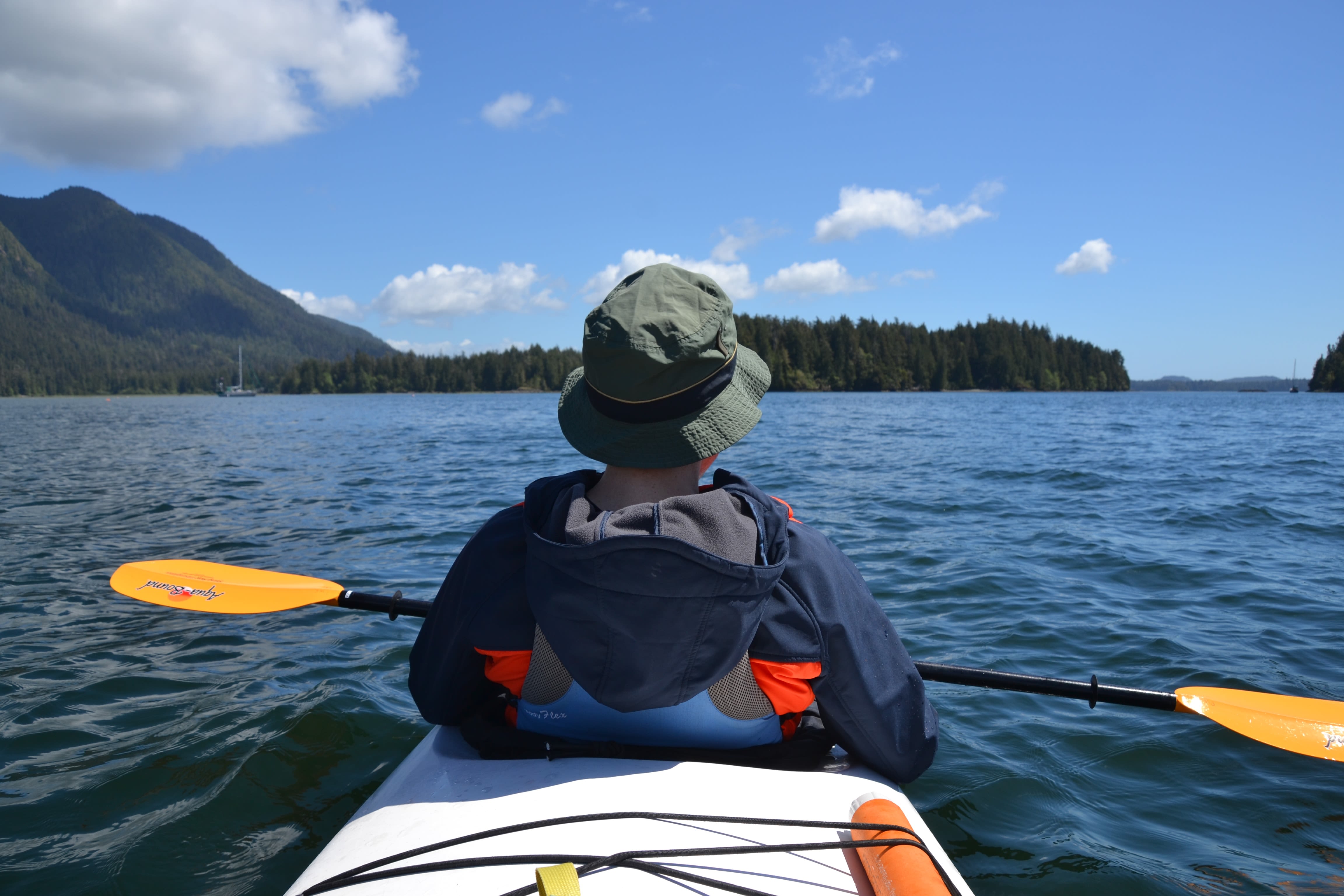 If you've always wanted to see orca whales in the wild, or if you just want to paddle through breathtaking scenery, sea kayaking off the shores of Vancouver Island is the ultimate bucket list adventure. While there are multiple outfitters and a variety of tours ranging from a few hours to several days or more, Wildheart Adventures is a top pick. This tour operator has developed a stellar reputation, operating here since 1990, and offers multi-day trips that depart from Telegraph Cove at the north end of the island. You'll paddle through Johnstone Strait, home to one of the largest concentrations of orca, with mid-July through early September the peak time for sightings.
Paddle by day watching for the orcas and an increasing number of humpback whales that have been arriving in the summer to breed and feed their calves. Bald eagles are a common sight, along with sea lions, otters, and you might even spot the occasional black bear. While camping at night, listen for the sounds of the orcas spouting as they pass by, sometimes stopping for a beach rub which involves rubbing their bodies against the pebbles.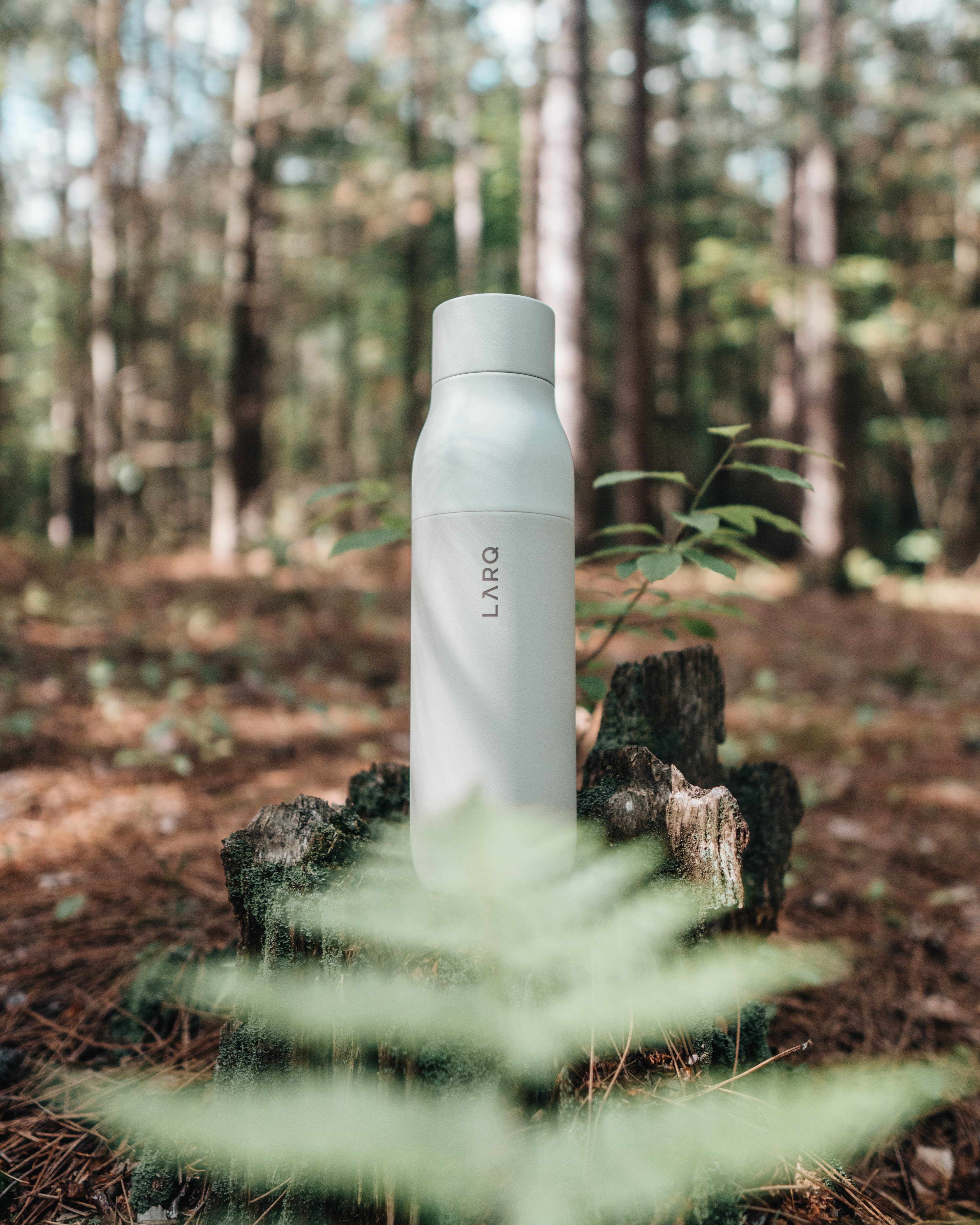 Good to Know: All meals, snacks, water, coffee, tea, and juices are included along with kayaks, paddles, and safety gear. Don't forget your LARQ Bottle Filtered which will be ideal to ensure you stay hydrated while paddling with the best tasting water that's also free from unwanted elements like chlorine, lead, heavy metals, and more.
Bungee & Other Extreme Sports: Queenstown, New Zealand
New Zealand is renowned for its scenery which includes everything from dramatic snow-capped mountain peaks and wild beaches to jewel-like lakes and many geothermal features, including hot springs, geysers, and volcanoes. It's also known as the world's adventure capital, with Queenstown on the South Island the country's crown jewel. You can enjoy practically every outdoor activity imaginable, from canyoneering, hiking, and rock climbing to rafting. Many come here to take advantage of the opportunity for extreme sports like bungee jumping with Queenstown, its birthplace. It all began in 1988 at the Kawarau Gorge Suspension Bridge and visitors today can still take the leap, plunging more than 141 feet over the Kawarau River. Other "extreme" activities in Queenstown include river surfing the rapids of the Kawarau River, jet boating down narrow river canyons, sky diving, and skydiving.
After any activity, one of the best things to do is head to the Onsen Hot Pools where you can take in the striking beauty of the surroundings while relaxing in a private spring-fed hot pool set high up on the cliffsides.
Good to Know: You can bring your LARQ water bottle to New Zealand to refill throughout your adventures, but be aware that the country is extra-cautious when it comes to diseases and pests that can potentially be transported with your items, causing serious damage to the unspoiled environment. Hiking boots are a prime target when entering the country and must be in pristine condition with not a speck of dirt.
Paddling & More: The Amazon, Ecuador
Ecuador offers it all when it comes to adventure. Fly into the capital city of Quito, one of the highest capitals in the world at over 9,000 feet above sea level, and you can explore its beautifully preserved old town with spectacular Gothic-style architecture before hopping on a short flight to El Coca, the gateway to the Amazon in Ecuador. By booking at Sani Lodge, run by the local Sani community, your journey begins with pickup at the airport followed by a three-hour motorized canoe ride and a stroll along a boardwalk through the jungle. At its end, you'll hop on a non-motorized canoe to reach the lodge. Nestled deep in the Amazon in a wildlife-rich corridor between Yasuni National Park and the Cuyabeno Reserve, you'll enjoy an all-inclusive stay in one of 10 thatched cabins. 
Wildlife can be spotted right from the eco-lodge. As it uses solar energy, there is a greater presence of animals that would otherwise be frightened away by the noise. That includes the caimans that lurk around the lagoon after dark, many different monkey species, and colorful birds like parrots. Community guides will lead your activities on the water and land, which includes an introduction to their families in a nearby village. Hikes bring opportunities to see the local wildlife and you'll visit an observation tower high above the treetops of the rainforest for a unique perspective of everything from red howler monkeys to toucans.
Good to Know: Tea, coffee, and filtered water are available 24 hours a day at the lodge. You can easily fill up your LARQ Bottle Filtered from the dispenser in the lobby to ensure you have pure, good tasting water available on all of your excursions. While delicious meals and snacks are provided, you might bring some of your own like almonds or energy bars in case you get hungry when taking part in activities away from the lodge.
Jade Hunting and Hiking: Big Sur Coast, California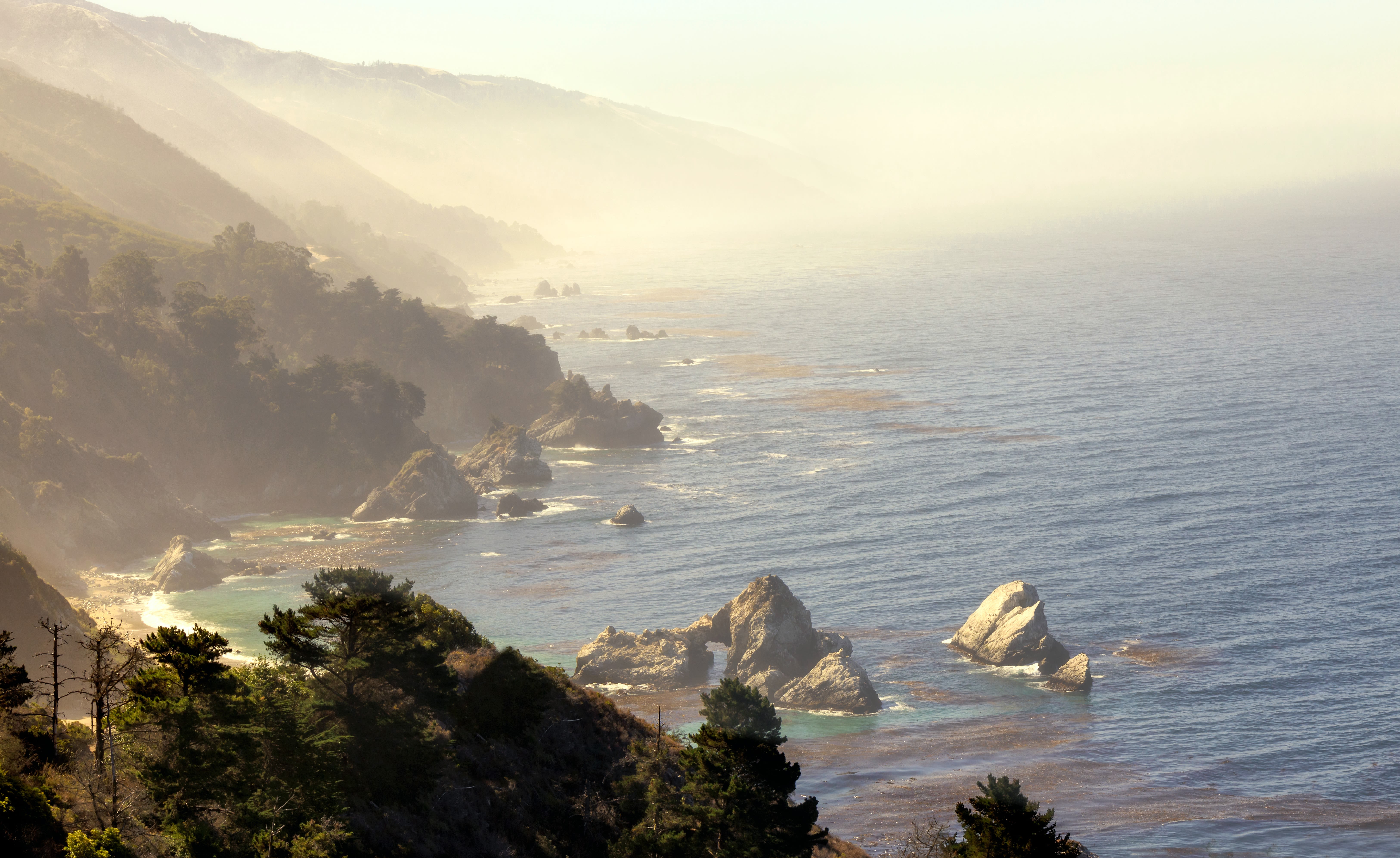 If a trip that requires flying a long distance and lots of prep work beforehand like hiking the Inca Trail to Machu Picchu in Peru isn't in the cards, there are some great adventures right in the U.S. The Big Sur coast can easily be reached from San Francisco International Airport, just 135 miles south. The road trip itself is part of the fun, bringing jaw-dropping views of the ocean while traveling the Pacific Coast Highway. You can make it more budget-friendly by camping, with numerous options like Kirk Creek Campground which sits right atop grassy cliffs overlooking the Pacific. One of the most stunning stretches of coastline you'll find anywhere, there are shaded hiking trails that wind through the redwoods.
The Big Sur coast is not only breathtakingly beautiful, but it's home to the largest deposit of Jade on Earth. Known as nephrite jade, it can be found by combing the beach at Jade Cove, an easy hike down from the campground. The best time to find it is right after a winter storm, but with the mild weather here, camping and all outdoor activities can be enjoyed in every season.
Good to Know: The jade is easy to distinguish from other rocks as it has an almost luminescent green hue which can be light or dark. Look for it beneath underhangs and large rocks as well as in between boulders along the ocean shore.
The SkyWalk & Whitewater Rafting: Grand Canyon National Park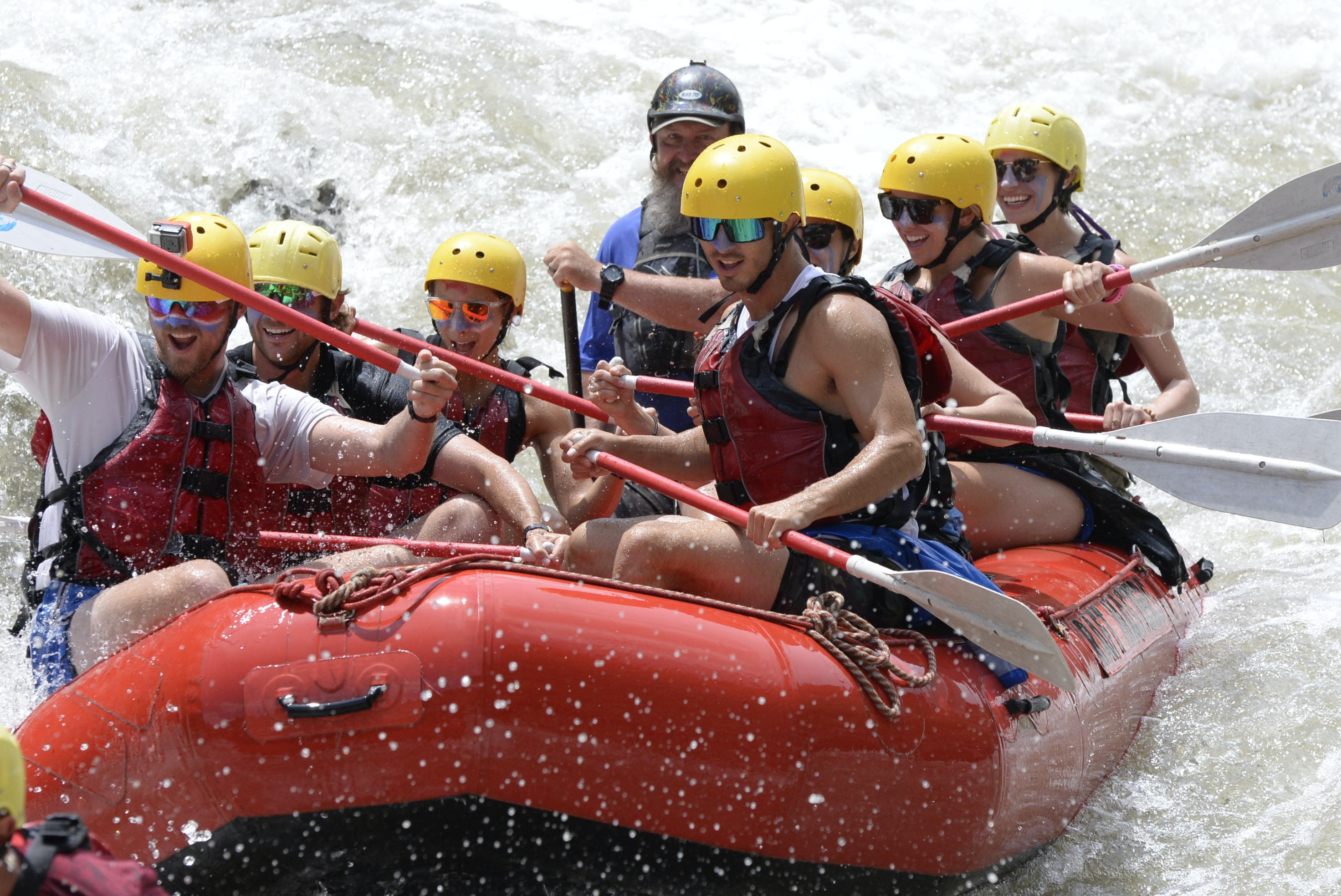 Grand Canyon National Park is another great option right in the U.S., offering one of the best adventure getaways in the country. This vast park covers more than 1.2 million acres while bringing opportunities for everything from hiking and mountain biking to rafting. If you want to get more off the beaten tourist path for an epic adventure, head to the West Rim near the town of Peach Springs, Arizona. Start with one of the most epic experiences with the legendary Skywalk at Grand Canyon West, the only place you can "walk on the sky." The SkyWalk is a horseshoe-shaped, 10-foot-wide glass bridge that provides a clear view of the canyon floor below, extending 70 feet over the rim. While it's sure to satisfy thrill-seekers, it's not a risky endeavor as Skywalk is strong enough to hold 70 loaded 747 passenger jets.
After that legendary experience, you'll be perfectly situated for embarking on another world-class adventure: a whitewater rafting trip. Hualapai River Runners is also in the Grand Canyon West region and is the only tour operator that runs one-day whitewater rafting tours on the Colorado River. Two-day adventures are possible too. You'll be guided by the native Hualapai (certified river guides) on the turbulent river that winds through the Grand Canyon, with spots to discover hidden treasures like majestic waterfalls.
Good to Know: River rafting trips are available only from March through October. Be sure to bring plenty of sunscreen and your refillable LARQ water bottle. Throughout the rafting adventure, water, juice, soda, and snacks will be available.