While many people plan their trips to Greece in the summer, with opportunities to soak up the sun and sand on one of the country's countless enchanting islands, the period between mid-September and mid-October can be ideal.
This "shoulder season" means fewer tourists, pleasant temperatures, and water that will be comfortable enough for swimming. Early fall may be the best time to enjoy the water as it's had time to warm up all summer and will typically stay that way through mid-October and beyond. Plus, the Meltemi winds, strong seasonal winds that blow through the Aegean, will have stopped.
If you're thinking about hiking Samaria Gorge in Crete or anywhere else, autumn is a great time to explore the spectacular landscapes on foot without having to worry about suffering from excessive heat. Many places will be blanketed with brilliant fall foliage and you might save a little on your accommodation and airfare too. Be sure to grab your LARQ water bottle so that you can fill up your bottle wherever you go without the waste of buying single-use bottled water. While ordinary reusable water bottles may start to smell just a couple days into your trip, LARQ Bottle PureVis™ neutralizes harmful odor-causing bacteria to keep it clean without having to wash it! This makes it our pick for travel and beyond—it's an essential when filling up in unknown places.
Things to know
The most difficult part of planning your trip to Greece is deciding where to go. This is an incredibly diverse country with everything from postcard-perfect beaches to soaring mountains, lush meadows, rushing rivers, and magnificent gorges. There are some iconic sites on the mainland, like the Acropolis in Athens, ancient Delphi, Olympia, and Meteora.
Greece is home to 6,000 islets and islands, 227 of which are inhabited. They're divided up into distinct groups. The Dodecanes and Cyclades stretch southeast from Athens, the Sporades are to the east, and the Ionians are to the west, with the mainland at its heart. Many choose to island hop, but as each one offers something unique of its own, it does require some research to choose which to visit. Some are known for drawing honeymooners and other romance-seeking couples, while others are great for families.
Do be aware that while tap water in large cities like Athens is drinkable, on most of the Greek islands, the tap water isn't drinkable as it's imported in by tanker ships and heavily chlorinated. This makes a LARQ Bottle Filtered practically essential for filtering out contaminants like chlorine, lead, heavy metals, and more so that you have fresh-tasting water throughout your island travels.
Best Early Fall Destinations
Unless you have unlimited time, there's no way to see and do it all on one trip. Many travelers choose to spend a few days exploring Athens and other places on the mainland followed by a visit to one or more of the islands. For your early fall visit, these are some of the best to consider.
Athens
No matter what time of year, exploring the capital city is a must. Most visitors fly into Athens International Airport to begin their getaway, making it easy to do. Widely regarded as the birthplace of western civilization, one can walk in the footsteps of ancient greats like Socrates on Acropolis hill while marveling at monuments that date from the 5th century BC, including the iconic Parthenon. Discover centuries-old artifacts from the hill at the Acropolis Museum and wander through charming historic neighborhoods like the Plaka district. Athens has a modern side too, with trendy cafes, upscale restaurants, art galleries, and food markets for sampling stuffed dolmas, olives, and much more.
Meteora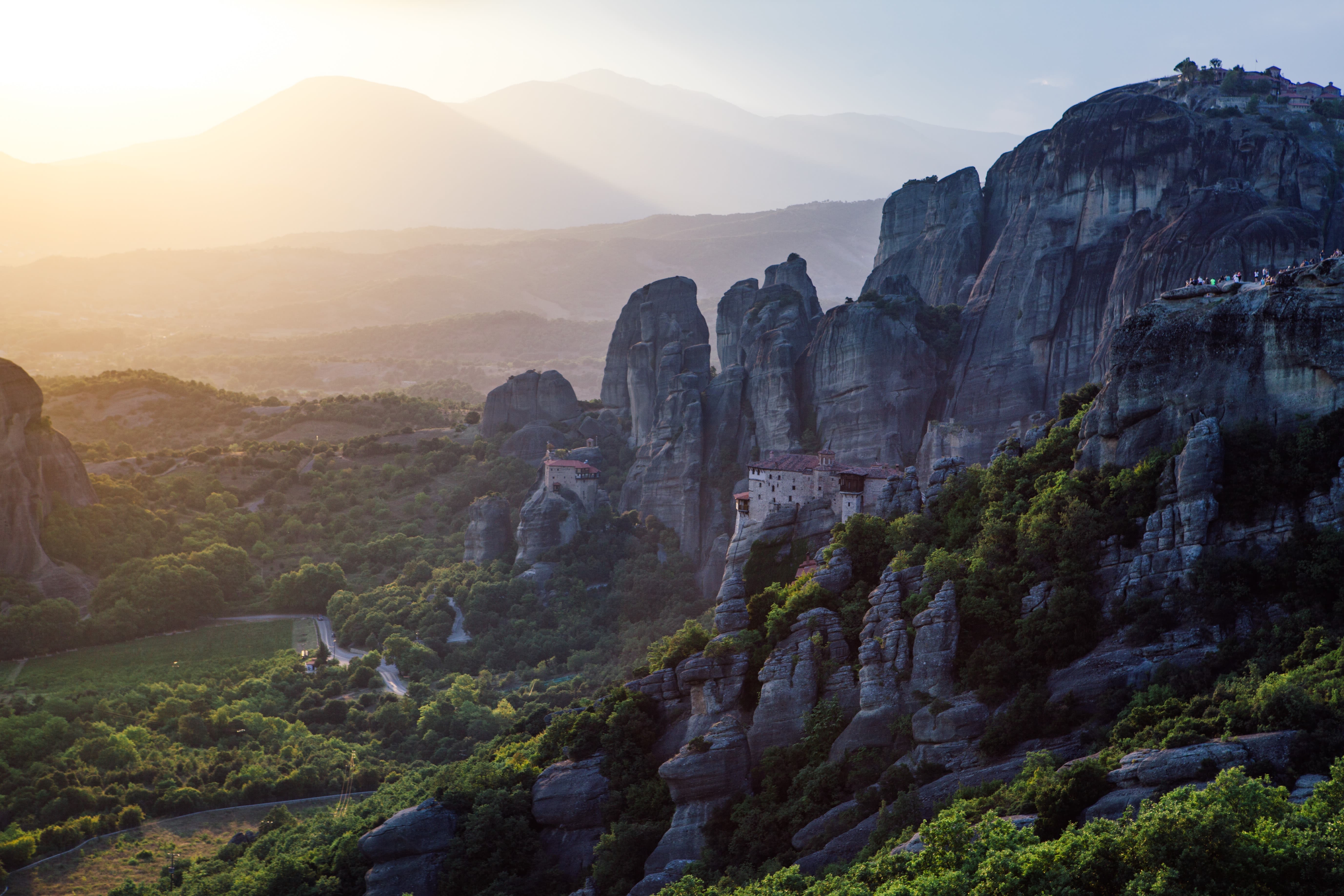 Perched high atop dramatic cliffs, Meteora is a massive Eastern Orthodox monastic complex, located about four hours from Athens. Its monasteries date back to the 14th century, constructed by monks seeking freedom from religious prosecution. Sprinkled with the vibrant golds and oranges of fall, they're even more impressive.
Olympia
Located on the Peloponnese Peninsula, Olympia is most well-known for the archaeological site nearby where in 776 BC the very first Olympic Games took place. The flame for the modern Olympic Games is still lit here today, while the Olympia Archaeological Museum holds many finds from the archaeological site providing more meaning to the experience.
Delphi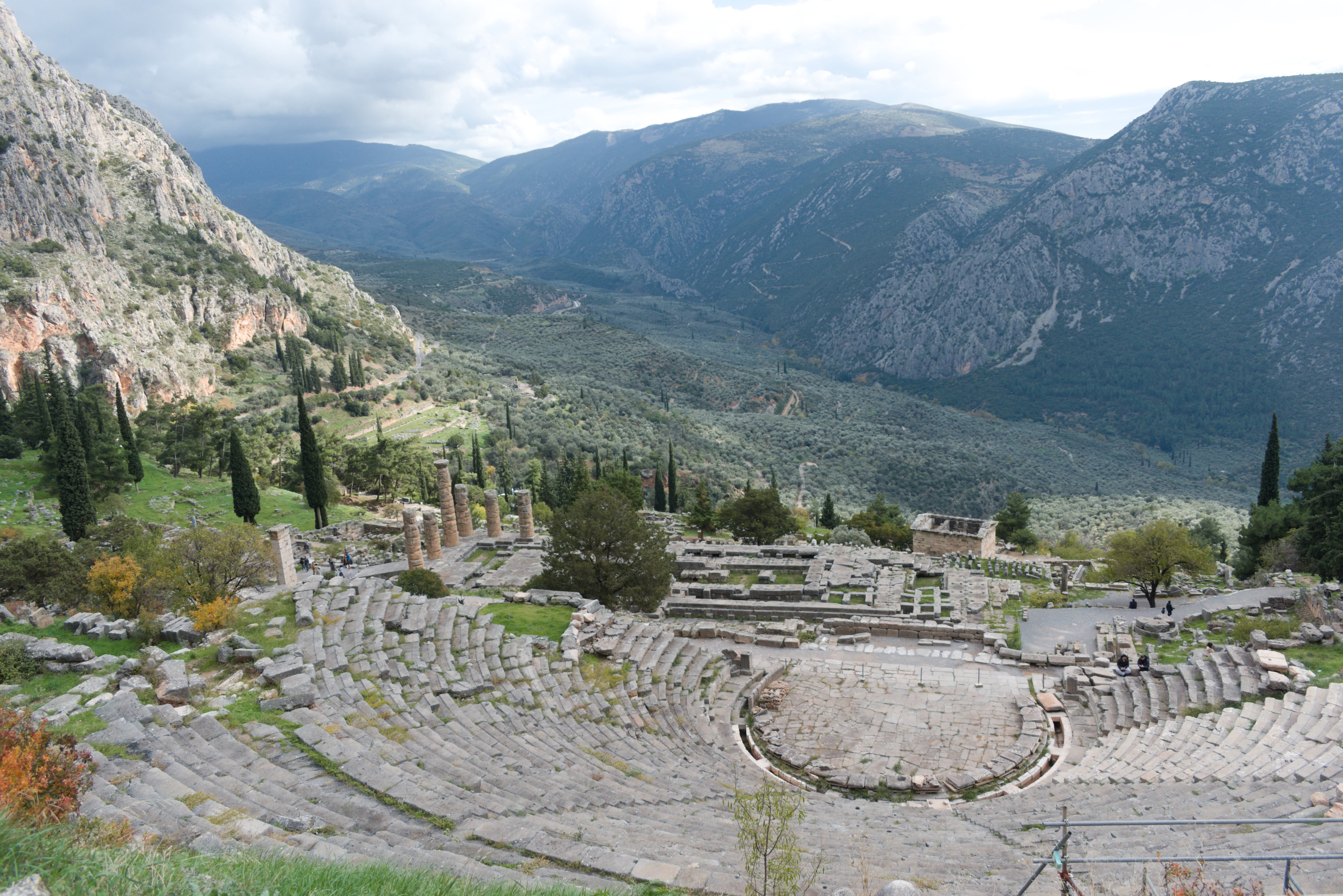 Tucked along the slopes of Mount Parnassus, Delphi offers an idyllic mix of striking natural beauty and ancient ruins, including the Temple of Apollo, the Athenian Treasuring, and the theater which once played host to the ancient Pythian Games.
The Islands
With such a long list of islands to choose from, it's hard to know where to start. Crete may be the top pick for a late September or October visit with mild temperatures, warm seas that frame stunning beaches, including stretches with pink sands, and plenty of color dotted across the mountains. October is a great time to visit Santorini to avoid the thick crowds of summer and take advantage of reduced accommodation prices, while most bars, cafes, restaurants and attractions will be open. If you'd like to enjoy the cosmopolitan air and white powdery sands of Mykonos without the wild party scene, early fall is the perfect time. Naxos is a popular choice for families, offering a little bit of everything with history, mountain villages, and spectacular beaches.
Where to Stay
You'll have a wide range of choices when it comes to where to stay, with everything from luxurious all-inclusive beachfront resorts and exclusive seaside villas to intimate boutique hotels and vacation rental properties. If you'd like to experience authentic Greece and plan to do lots of sightseeing, avoid the all-inclusives. A vacation rental can be a great option for saving money with kitchens so that you can make some of your own meals and perhaps laundry facilities that make it easier to pack light.
How to Get Around
Many people choose a mix of options for getting around, including flights, ferries, and car rentals. You'll want to research which will make sense for your particular itinerary. Some islands can be reached by ferry or a flight, which is typically quicker but more expensive. In Athens, the best way to get around is on foot, the Athens Metro, or taxi.
How Many Days To Spend in Greece
You'll need at least seven days if you hope to spend time in Athens and/or other mainland destinations and one of the Greek islands. With 10+ days, you may be able to experience multiple islands or head to Crete, the country's largest island which offers a little of everything all in one place, requiring at least five days to explore on its own.