Glamping has become increasingly popular as a great eco-friendly way to immerse yourself in nature while enjoying more upscale camping and saving your back from nights spent sleeping on the ground. You can stay in places where most hotels and resorts aren't while saving a significant amount of money too.
The top glamping destinations really run the gamut, from places with Wi-Fi and electricity to those that allow you to go totally off-grid for a disconnected escape with shelter but no running water. Thanks to the high-tech camping gear available, like LARQ's self-purifying water bottle, it's much easier to enjoy remote wilderness areas without having all the comforts of home. 
Whether you're looking for one of the more luxurious glamping options or you prefer to get as back to nature as possible, these destinations are sure to make for an unforgettable escape.
Joshua Tree, California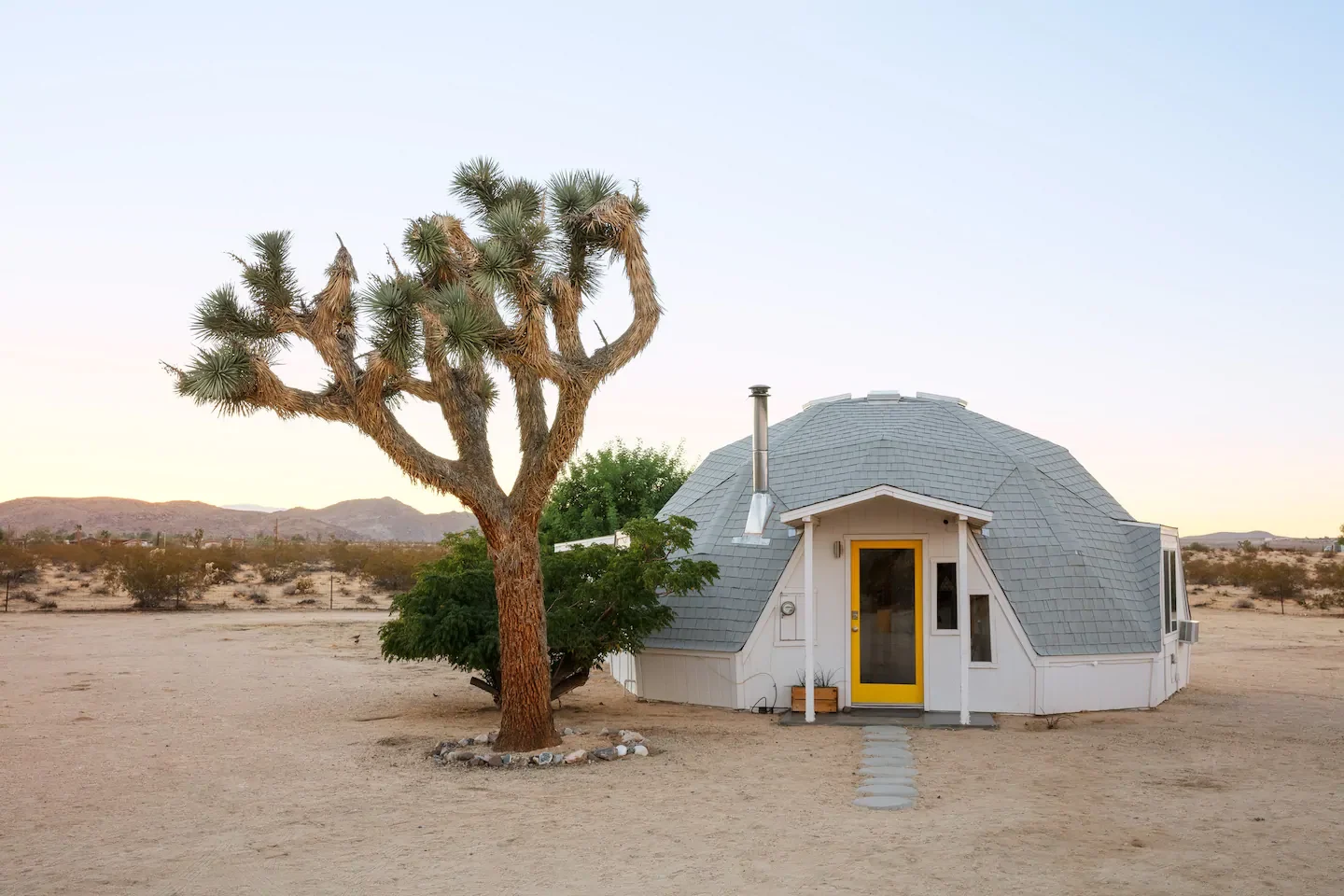 Joshua Tree is an ideal spot for glamping as the gateway to Joshua Tree National Park. Enjoy hikes on the park's miles and miles of scenic trails that wind around massive boulders, unique rock formations, and bizarre desert flora, including the namesake Joshua tree. There's even an oasis to discover on an easy 3-mile round trip trek. The 49 Palms Oasis leads to towering stands of fan palms that create a canopy over pools of water surrounded by large boulders.
Natural Sisters Cafe in town offers delicious, healthy organic fare and on Saturday mornings there's a fabulous farmer's market where you can pick up ingredients for cooking basic meals in the Dome in the Desert. It sits on multiple secluded acres, away from any neighbors yet just a few miles from Joshua Tree village. The bohemian dome also comes with a wood-burning stove, space heaters, and air conditioning. After dark, you'll be in one of the best spots for stargazing, thanks to the nearly always clear skies and lack of light pollution.
Walden, Colorado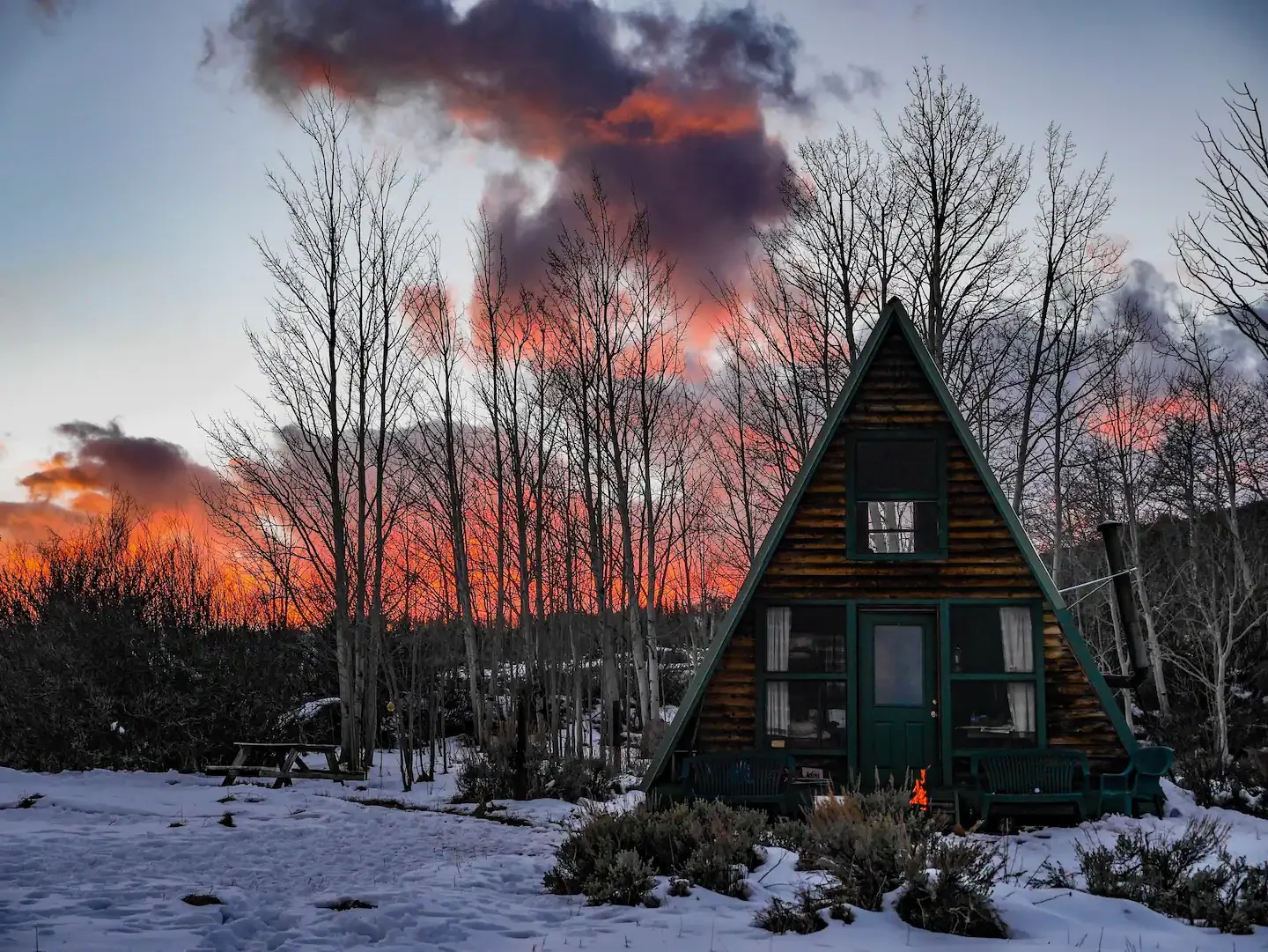 If you want to be in the heart of the Rockies without fighting the crowds in Rocky Mountain National Park, head to Walden, one of the best places for viewing moose in the entire state. There's lots of other wildlife here, including elk, mule deer, black bear, beaver, marmot, fox, and bald eagles. You'll be able to venture into the Mount Zirkel Wilderness Area and Routt National Forest, with more than 60 hiking trails and 70 lakes in the region.
The aptly named Moose Haven offers a fantastic glamping experience complete with spectacular mountain and aspen views, while hiking and biking trails are right out the door. There is no running water but well water is provided, and if you want to be sure it's pure, just use the LARQ Bottle Filtered water bottle to filter out any heavy metals, mercury, lead, chlorine, and other unwanted chemicals. You'll have solar power for chargers and lights, a flashlight and candles for backup, with a composting bathroom just 20 feet away. There's a gas grill and fire pit with wood supplied and a shower house nearby.
Navajo Land, Arizona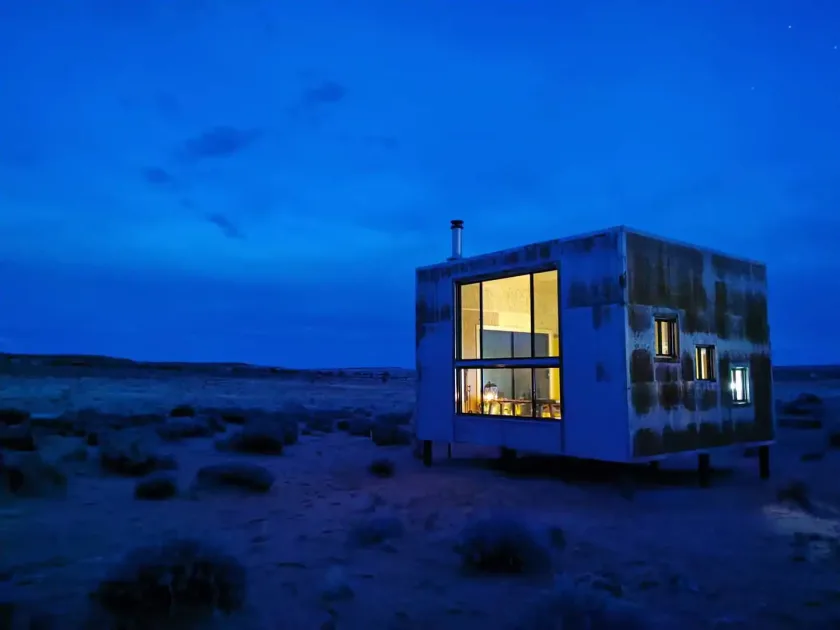 There aren't many opportunities to spend the night on Navajo Land, but a stay at Kyo͞ob Shash Dine' provides just that. You'll be perfectly situated for taking Navajo-led tours of the famous Antelope Canyon as well as visiting Horseshoe Bend, Lake Powell, and the town of Page. It's a memorable eco-retreat/glamping experience on a large, Native American-owned working sheep ranch.
The off-grid cabin doesn't have electricity, but you'll stay warm with thick down comforters, wool blankets, and sleeping bags. Candle lanterns, candles, solar light, and a flashlight are included along with snacks, juice, and water. Your LARQ UV self-cleaning water bottle will definitely come in handy here, with hiking the primary activity in the area. 
Willamette Valley, Oregon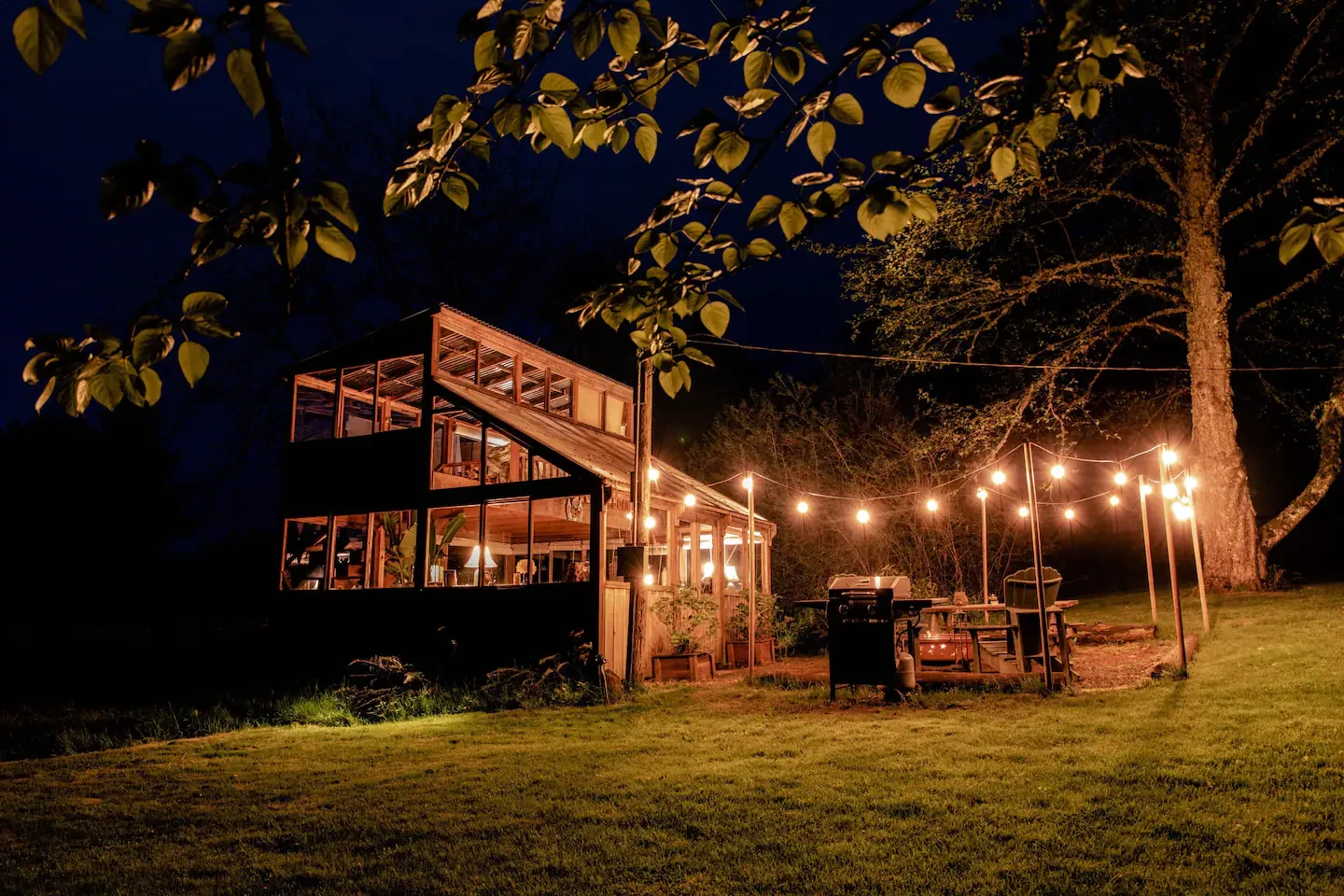 The Williamette Valley is famous for its wineries and vineyards with the highest concentration in the state, but it also offers lush waterfalls and serene hikes. Don't forget your water bottle when you're out on Trail of Ten Falls trail at Silver Falls State Park. There's also a surprising number of outstanding glamping options here, including the Bali House. 
Offering "Romantic Country Escape Glamping," it sits on an organic farm that was converted from a greenhouse and accommodates up to two. It's surrounded by windows to bring the outdoors in, with the highlight a cedar tub for a relaxing soak. You'll have a BBQ grill for cookouts, a fire pit, and a picnic table too. Your host supplies Nespresso coffee, a selection of teas, and natural spring water. Infrared heaters can be used when temperatures drop and you'll have exclusive access to the "Barn Bathroom."
Blue Ridge Mountains, North Carolina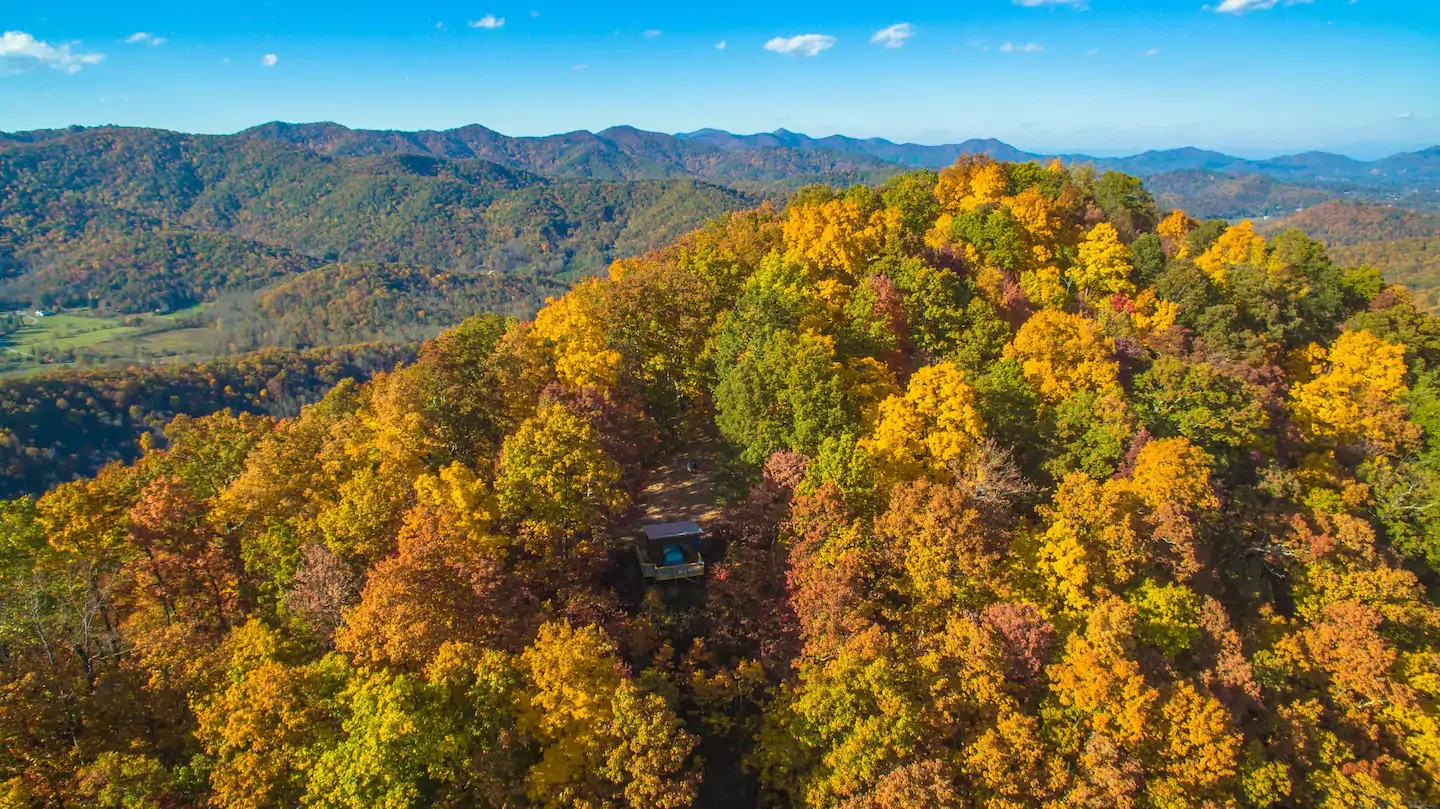 There are plenty of enticing spots in the Blue Ridge Mountains for reconnecting with nature. The Pisgah Highlands Off-Grid Cabin is like a dream, set on a 125-acre private gated private backing to Pisgah National Forest, a short drive from popular Asheville. While there's plenty to do throughout the area, including hiking and mountain biking, you might just want to spend your days on the two-person swing gazing out at the view.
The cabin accommodates two and includes a solar generator for lights and charging electronic gadgets like your smartphones, a propane 2-burner stove, a propane heater, and a water cooler for drinking and washing. This is another good spot to take advantage of the power of UV-C light LARQ water bottles to neutralize 99% of bacteria. As you're out on a trek and run across one of the many pristine streams with clear running water, you can fill it up with peace of mind.
Editor's Pick
Index, Washington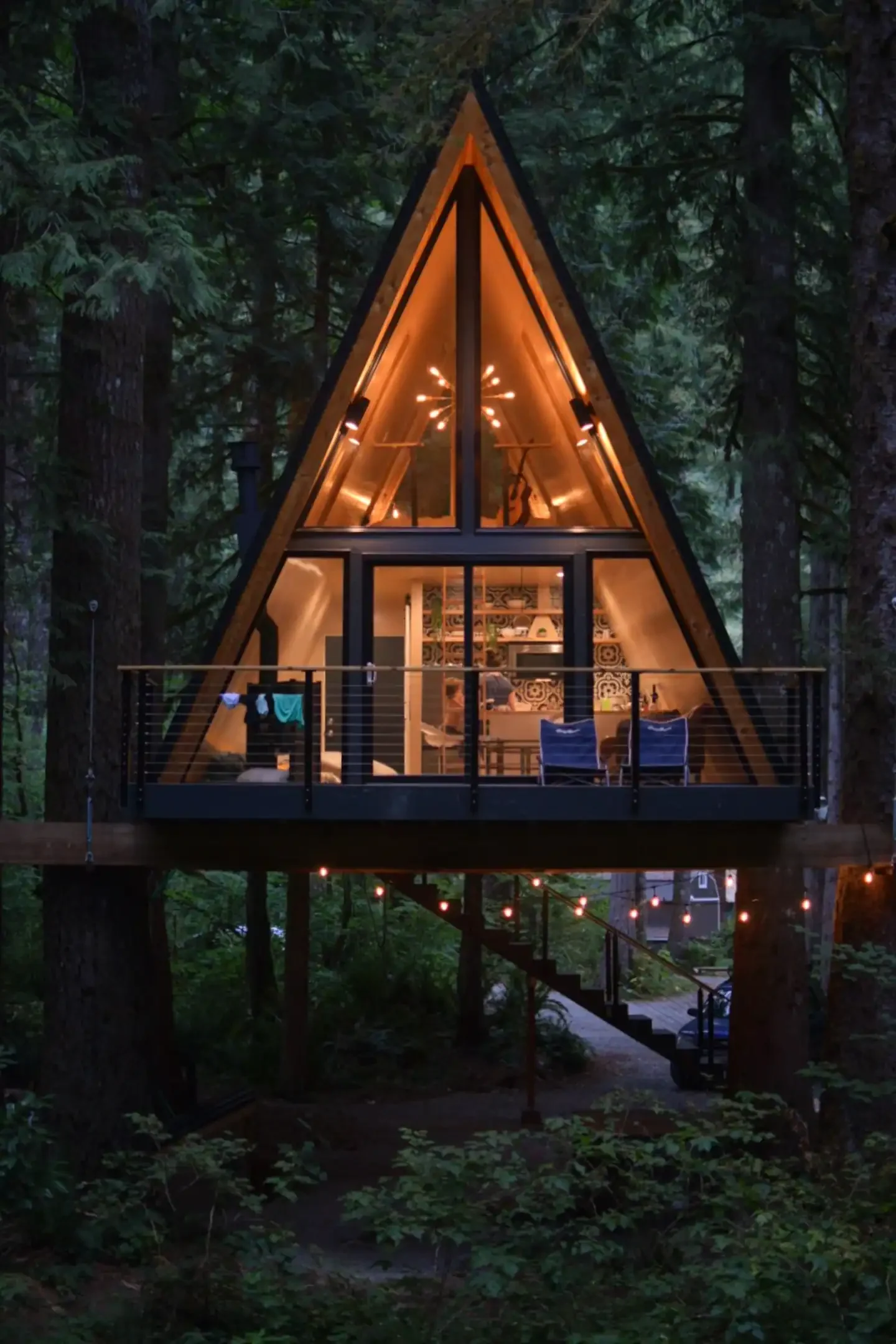 There's nothing like the pacific northwest for gorgeous trees, fresh air, and beach and river access. The Treeframe Cabin is no exception. This modern yet cozy A-frame is well designed for a couple or small family, with unique views nestled in the forest alongside the Skyko River. If you love forest views, fresh mountain air, and even hikes exploring the grounds, you're going to enjoy this relaxing stay. During the day, hike to Lake Serene, an 8.2-mile roundtrip hike will take you to the lake, and might we say, it is aptly named. Pack your filled LARQ Bottles for the adventure so you can stay hydrated the whole way through. You can also access another hike called Bridal Veil Falls, where you can take in views of the waterfalls, and stop for a snack before you head back out. The icing on the cake? You'll have your own private outdoor hot tub to enjoy the scenery while you melt away the day's excursions.