Yosemite National Park, located about 170 miles east of San Francisco, is one of the most popular national parks in the country, with 3.67 million visitors arriving in 2022. It's filled with towering mountains and steep granite cliffs that draw climbers and hikers from around the world, along with roaring waterfalls, bubbling streams that wind through wildflower-dotted meadows, and abundant wildlife. There are more than 80 different types of mammals that call the park home, including mule deer, coyotes, black bears, red foxes, big horn sheep, bobcats, and mountain lions, Birdwatchers can see everything from bald eagles to great blue herons.
Stretching nearly eight miles from east to west with dramatic granite walls soaring over twice the height of New York City's Empire State Building, Yosemite Valley is a stunning natural wonder that should be on every traveler's bucket list. Renowned photographer Ansel Adams wrote that his first impression "…was a culmination of experience so intense to be almost painful."
This Yosemite National Park travel guide will help you plan the most memorable, stress-free trip.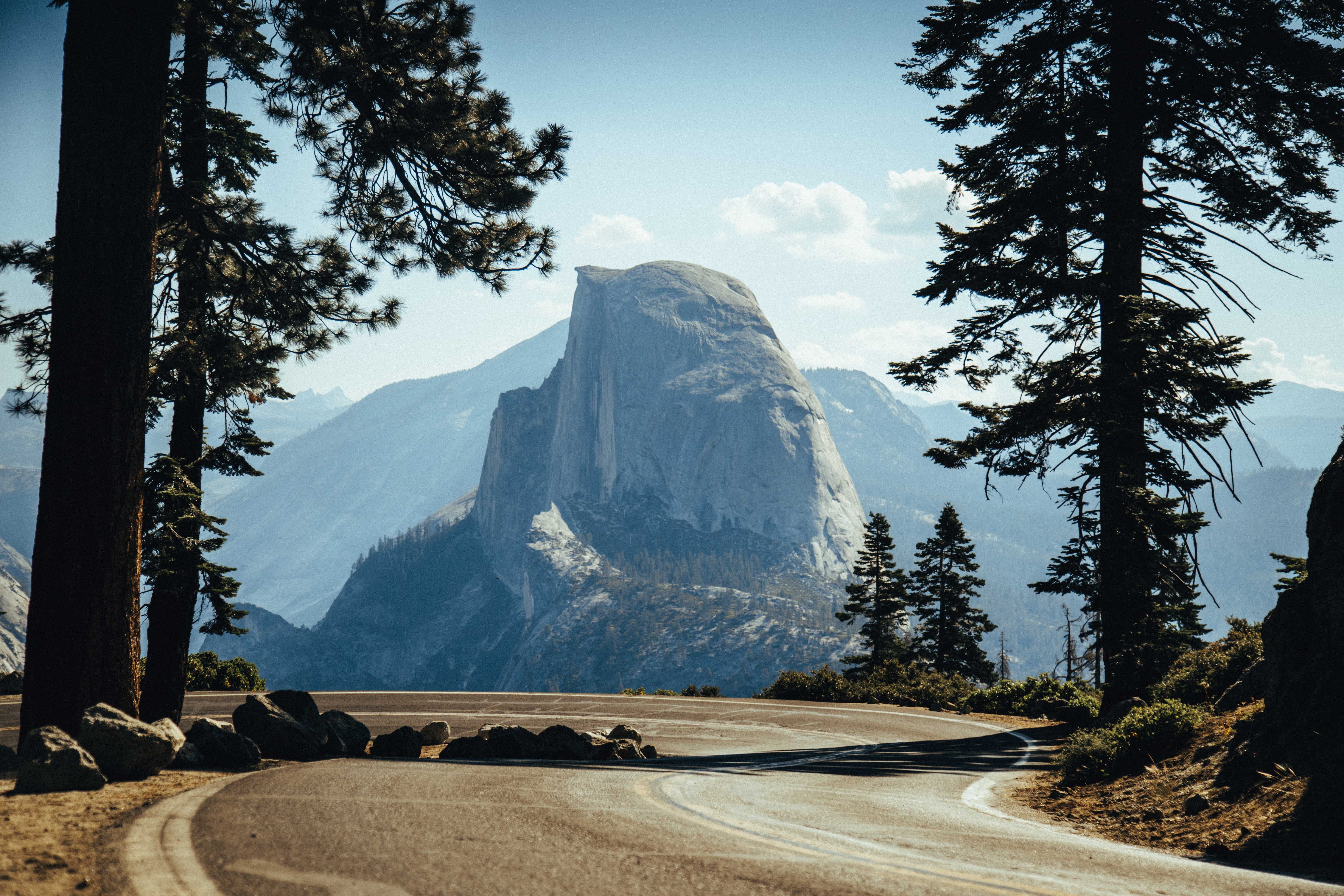 Where to Stay in Yosemite
If you want to stay inside the park, your lodging options range from developed campgrounds with primitive pit toilets or full restrooms with shower and laundry facilities to rustic tent cabins, vacation rental homes, and hotels. You'll also find a wide range of accommodations outside of the park located close enough to visit easily. All five entrances offer lodging nearby, including hotels, full-service resorts, vacation rentals, camping, and unique glamping options.
The most popular place to stay in Yosemite National Park is Yosemite Valley. It's home to many of the top attractions and Yosemite Village, which offers a number of facilities and lodging. Half Dome, Glacier Point, El Capitan, Royal Arches, and multiple waterfalls, including Vernal Falls, Yosemite Falls, Nevada Falls, and Bridalveil Falls are all here. If you want to stay in a quieter area of the park, consider the Tuolumne or Wawona areas. The High Sierra Camps sit high in the unspoiled wilderness and can only be accessed on foot or by mook, spaced six to 10 miles apart along a loop trail.
No matter which area you'd like to stay in be sure to book your accommodations well in advance if you plan to visit during the peak season, May through October.
Getting drinking water in Yosemite
Yosemite National Park has plenty of water refilling stations sprinkled throughout. Just bring your favorite water bottle —perhaps a water filter bottle to be extra careful— and refill at water fountains around the bathrooms, visitor centers, stores, and more before you embark on your adventures. Specific water filling station locations in Yosemite include:
Yosemite Valley visitor center
Inside Degnan's Deli
Ahwahnee Hotel near the restrooms
Yosemite Lodge's lobby
Glacier Point near the snack bar
Stores at the Curry Village
Any campground location
When in doubt, ask someone in an NPS uniform where you can find a water fountain to fill up!
Don't get caught without water! In any case, it's always a good idea to come prepared with a full bottle of water before you arrive at the park. Grab your trusty LARQ Bottle and fill it up at your accommodations just in case. Luckily, the water filtering bottle from LARQ removes lead, HAA5s, PFAS, chlorine and more so that water is more pleasurable to drink and you can fill up from any tap water source. It's a handy bottle to have, especially while traveling.
Top Things to Do in Yosemite National Park
Outdoor Adventure
With miles and miles of scenic hiking trails, ranging from short treks and day hikes to multiday adventures, one of the best ways to explore Yosemite is on foot. You won't want to miss Mariposa Grove, the best of three groves of giant sequoia trees with several loops ranging from .3 to 7 miles to see them.
Other popular hikes include Lower Yosemite Falls, which is just .5 miles round-trip from the trailhead, or 1.5 miles from Yosemite Village, which will bring you to marvel at the over 2,400-foot-high Yosemite Falls, one of the tallest in North America. The signature Yosemite hike on the Mist Trail leads to Vernal and Nevada Falls. You can walk to Vernal Falls and turn around for a 3-mile round-trip hike. Or continue to Nevada Falls for a trek that's seven miles total.
While hiking is the most popular activity in the park, there are many other activities that can be enjoyed as well, including biking (with bike rentals available), fishing, swimming, and horseback riding through Wawona Stable. In the winter, backcountry trails are ideal for snowshoeing and cross-country skiing. Badger Pass Ski Area offers downhill skiing and snowboarding.
Stargazing
Be sure to bring a star chart and a pair of binoculars to look for constellations and some planets as Yosemite offers very dark skies, far from city lights. In the summer, astronomy talks and walks are frequently offered in Yosemite Valley, Wawona, and Tuolumne Meadows. Telescopes are often set up on Saturdays at Glacier Point too.
Take a Scenic Drive on Tioga Road
Tioga Road (Highway 120) spans the park from the west to east gates, with Tioga Pass its highest point at nearly 10,000 feet in elevation. A seasonal road, it typically opens around late May/June and stays open until late October or November, depending on snow levels. Breathtaking views abound, with magnificent scenery revealed around every corner. Stop at the Olmsted Point parking area for one of the best views of iconic Half Dome and then make time for Tenaya Lake just a couple of miles further. Yosemite's largest natural lake, it's a perfect spot for a picnic overlooked by magnificent Tenaya Peak.
Visit Ansel Adams Gallery
Located in Yosemite Village, Ansel Adams Gallery displays the works of legendary Ansel Adams who spent much of his life photographing the park. It was his haunting images of Half Dome and Vernal Falls that transformed Yosemite into a world-famous park. Visitors can also purchase Ansel Adams prints, books, jewelry, gifts, and other items. If you're interested in improving your photography skills, photography classes and guided photo tours are available through the gallery as well.
Tunnel View
If you want to gaze out at the very same view that was made famous by Ansel Adams, don't miss Tunnel View. It doesn't require a hike, located on State Highway 41/Wawona Road, and brings that awe-inspiring vista of El Capitan, Half Dome, and Bridalveil Fall. It's at its most impressive in early spring when the waterfall will be at its peak, and again in the winter with the granite domes blanketed in snow.
Discover a Hidden Gem
Hetch Hetchy Valley is hidden in the park's northwest corner, providing a peaceful oasis that few visitors seem to ever reach. From here in the spring and early summer, you'll see two of the tallest waterfalls in North America plunge over thousand-foot granite cliffs. Hetch Hetchy Reservoir, which stretches for eight miles at full capacity, hides another 300 feet of granite cliffs within its depths.
Best Time to Visit Yosemite National Park
While it will be much quieter between October and May, your visit to Yosemite National Park may be limited due to the trail, road, and campground closures with heavy snowfall possible throughout this period. Your best bet is to arrive anytime from June through September when everything is typically open. To avoid the biggest crowds of the year, come in early June or late September. The seasonal campgrounds usually open in late May and stay open through August.
What to Pack
Breathable layers
Hiking pants
Lightweight, waterproof jacket
Hat or cap for sun protection
Comfortable hiking boots or shoes
Water shoes for river swims
Swimsuit
Sunglasses
LARQ Bottle PureVis™
If you come during the typical tourist season between late May and September, you'll primarily need clothing for warm weather. Those who arrive early or late in the season may need some items for cold weather too. In the high elevations, it can snow as late as June or as early as mid-September. Be sure to bring breathable layers, such as a t-shirt or tank for a base layer and a thinner, long-sleeve shirt for sun coverage. Hiking pants made of materials like nylon, polyester, and spandex, are preferable to jeans or any sort of denim. Be sure to toss in a lightweight, waterproof jacket too. Comfortable hiking shoes or boots are a must for exploring the trails and you might want a swimsuit for refreshing river dips.
Don't forget your water bottle. The LARQ Bottle PureVis™ will help keep you hydrated while preserving the pristine environment and preventing the need for constant cleaning.