Greece is home to around 1,400 islands, 230 of which are inhabited. That makes it difficult to decide which to visit, with each island group offering its own unique appeals, from the famous Cyclades and the Dodecanese near Turkey to the lush Ionian islands. Some islands in Greece are best for those who want to spend most of their time on a sandy beach enjoying water sports, while others are ideal for history enthusiasts who look forward to exploring ancient ruins.
Island hopping is a great way to visit several islands in one trip, with the ferry system making it easy to get around. Whatever your destination(s), keep in mind that tap water is only considered safe to drink in Athens and Thessaloniki, the two largest cities in Greece. In other areas, there is a possibility of bacterial contamination, and in many, the water flows through old pipes which can result in an odd taste. Bring your LARQ Bottle Filtered to remove contaminants and improve the taste in areas where bacteria is not a concern.
To help you plan your trip, this guide to the best Greek Islands provides a look at 12 of the most enticing destinations to make that difficult decision of which to visit a bit easier.
Crete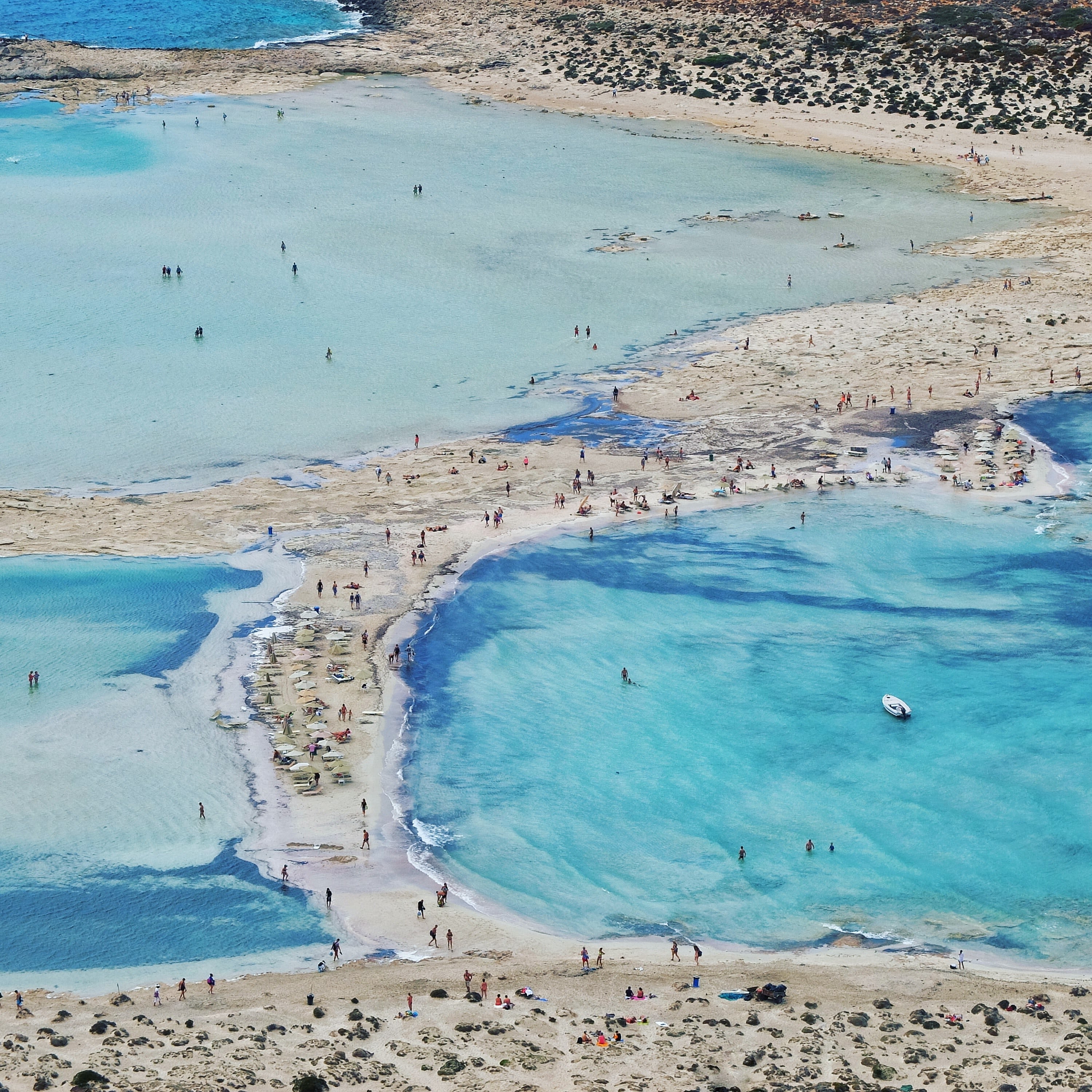 When asking, "Which islands are worth it?" you're bound to get many different answers but Crete is almost always going to be on that list. The largest Greek island, it offers a little of something for everything, with picture-perfect beaches edged by turquoise water, dramatic mountains and hills covered with vineyards and olive groves, epic hikes, and ancient sites.
The island is home to the former capital of Minoan Crete, the ancient hilltop Palace of Knossos, built around 2000 BC. The monumental complex was abandoned in 1450 BC and what remains today provides a fascinating glimpse of this civilization that was at its peak from 1700 to 1450 BC, complete with soaring columns and spectacular frescoes. You can even see the advanced water and sewing systems they had with the pipes still visible. Be sure to visit the Archaeological Museum of Heraklion nearby to view artifacts uncovered from the site and learn more about this advanced civilization.
Other not-to-be-missed destinations include romantic Chania with its historical center enclosed by 16th-century walls, complete with cobbled streets and a Venetian castle. Samaria Gorge is a top attraction, ideal for nature lovers who can hike the entire 11-mile length of the canyon and take a shuttle back to the starting point. Enjoy the rugged scenery and opportunities for stopping native wildlife like the endangered kri-kri. While it's not too strenuous, you'll want your LARQ Bottle Filtered with you to stay hydrated.
Mykonos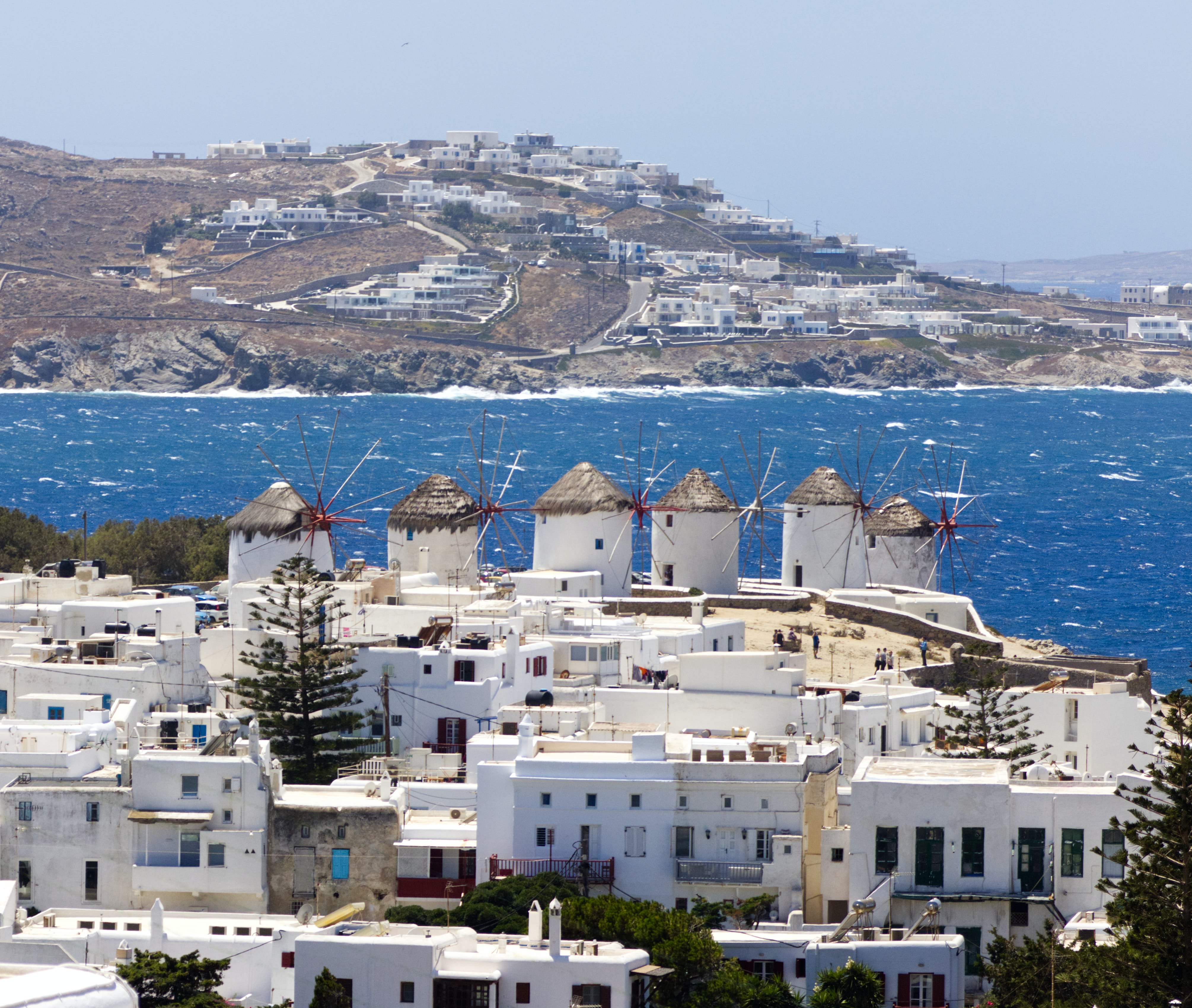 Mykonos offers an entirely different experience. One of the most popular and most cosmopolitan of the Greek islands, it's renowned for its beach parties, upscale shops, world-class restaurants, hopping nightlife, and luxury resorts that will put you just steps from pristine white sands. It's a place to see and be seen, with supermodels, Hollywood stars, and countless other VIPs drawn here. Summer is the liveliest time to come, with most spending their days at the beach before enjoying sunset cocktails and a night out on the town. Beyond taking in the scene, it's well worth joining a boat tour to the island of Delos which hosts some of the most extensive ruins from the 5th century BC, including an ancient theater and temples.
Santorini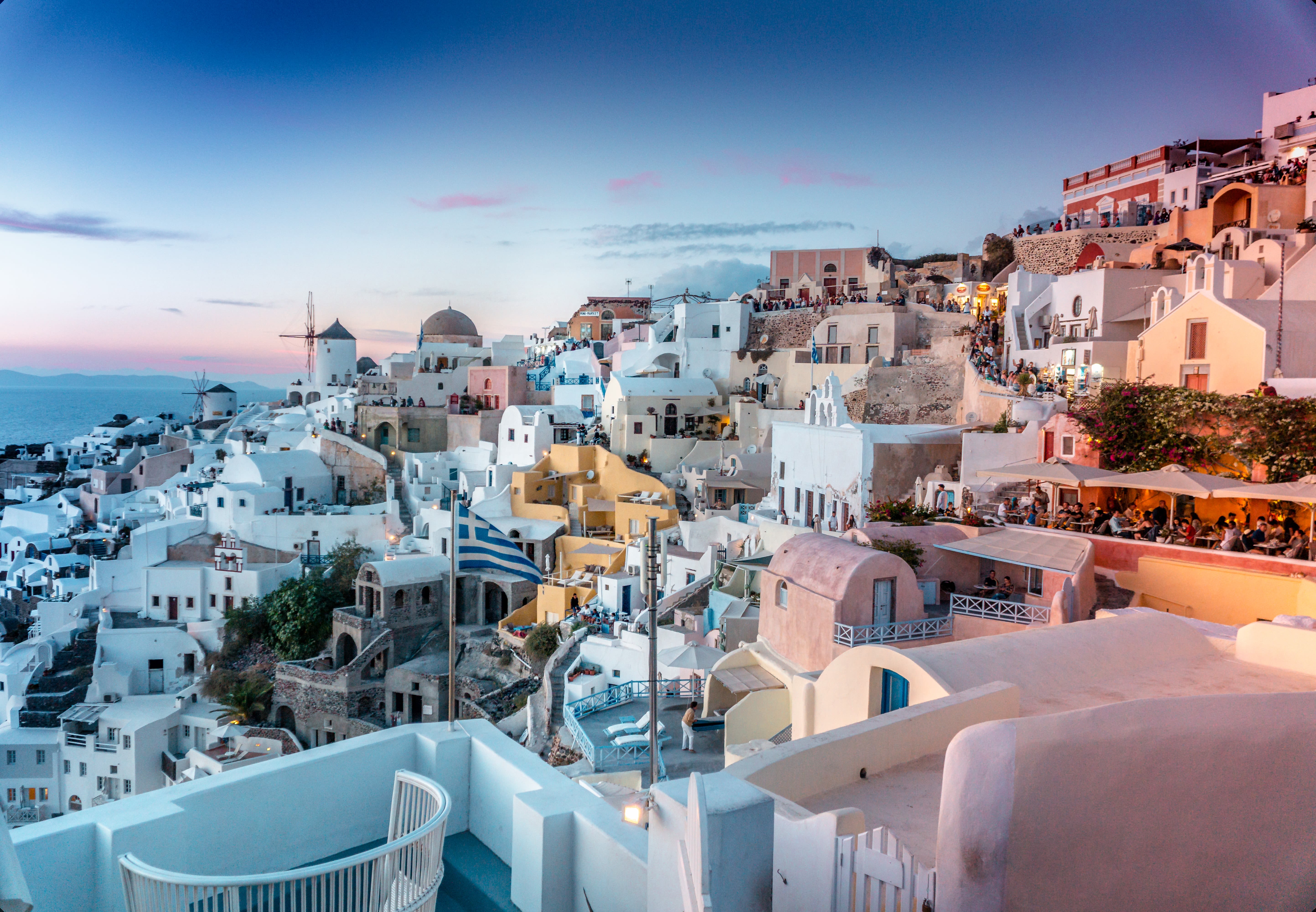 Mykonos and Santorini are the two islands most often included on travelers' bucket lists. That said, Santorini attracts over two million visitors every year whereas Mykonos sees about a half-million, so unless you visit between November and March, you won't be able to avoid the crowds here. It's still worth visiting once, if only for the jaw-dropping view you'll be presented with when pulling into the ferry terminal which sits at the bottom of the nearly thousand feet walls of the caldera cliffs. After settling in, you might hike between Fira and Oia where you'll enjoy a dazzling view of the sapphire Aegean sea the entire way. Once in Oia village, soak up the views of the blue-domed churches and whitewashed homes that spill down the cliffs.
Those interested in history shouldn't miss Akrotiri. A prehistoric settlement similar to Pompeii, it was destroyed in a massive volcano eruption in 1646 BC, which blanketed the city in 200 feet of ash. Life nearly 3,700 years ago remained well preserved, complete with elaborate drainage systems, two- and three-story buildings, loads of pottery, and much more.
Naxos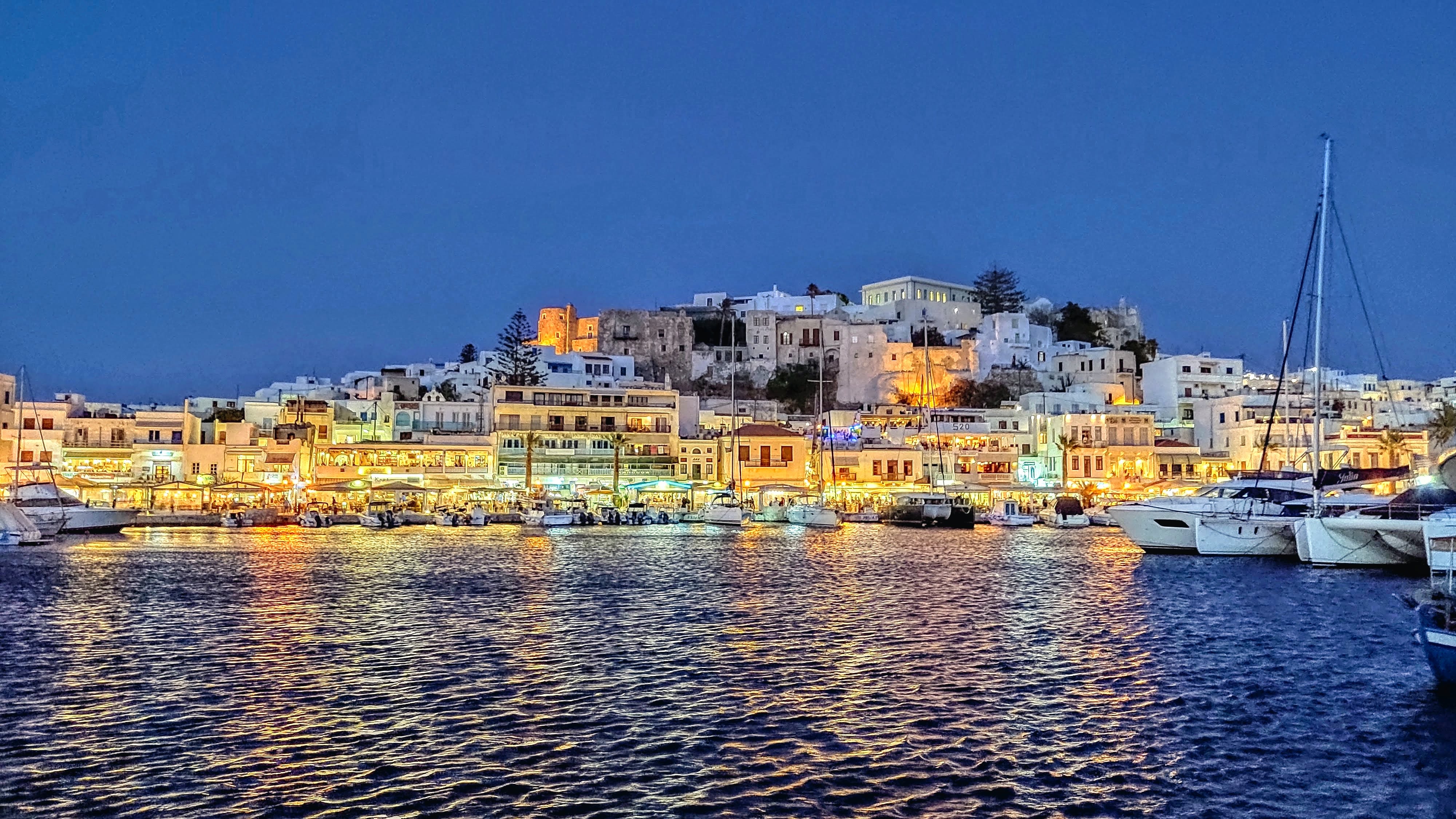 Naxos lies south of Mykonos and north of Santorini and is known for offering some of the most beautiful beaches in Greece. There are miles and miles of soft, powdery white sands, including some that edge calm, translucent turquoise waters that are like a big natural swimming pool. You'll find secluded areas for tossing down a towel as well as lively, organized stretches with lounge chairs, umbrellas, and beachside bars.
The largest island in the Cyclades, not only is Naxos ringed by stunning beaches, but it offers mountainous terrain that provides a hiker's paradise. The trek to the top of Mount Zeus is only moderately difficult and while walking the 5.7-mile out-and-back trail you'll see, and hear, many goats with bells that jingle around their necks. From the summit, the highest in the Cyclades, the surrounding islands that look like gemstones strewn across the brilliant blue sea all come into view. Naxos also boasts an alluring Chora, with Old Town Naxos a village made of marble.
Milos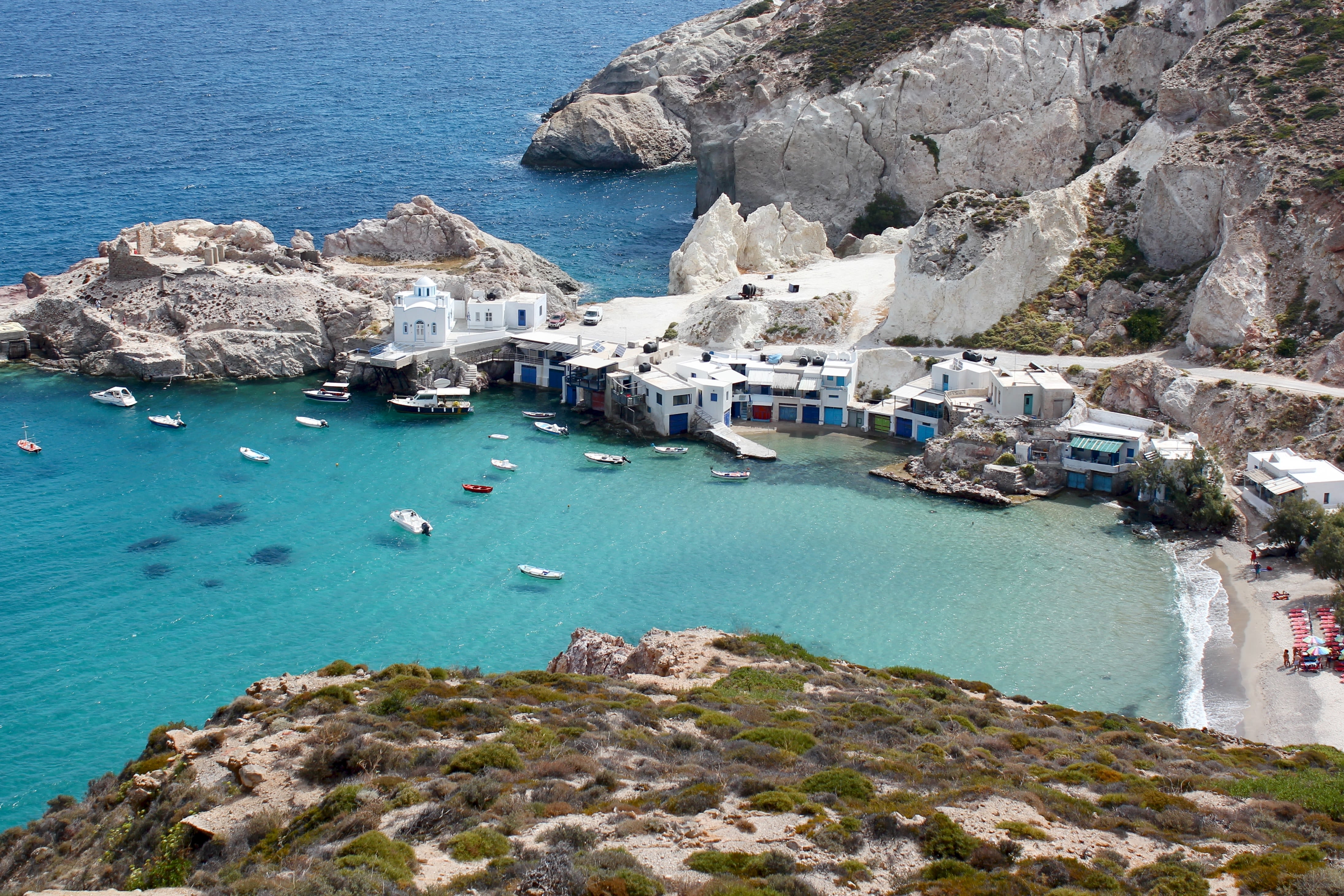 The southernmost Cycladic island, Milos is best known for its 75+ beaches, with Sarakiniko the most famous, located just a few miles from the hilltop city of Plaka. The bizarre moon-like landscape is made up of smooth, chalk-white rock formations that are beautifully contrasted against the Aegean which ranges in hues from aquamarine to emerald. Many come to enjoy sunbathing and swimming here, with the water warm enough from early June through mid-October.
Milos also offers natural hot springs for soaking right along the shore and an ancient Roman theater. The well-preserved open-air theater is made of marble, built over the 1st through 4th centuries AD. From here, you'll enjoy an awe-inspiring view of Klima's harbor and the sea.
Sifnos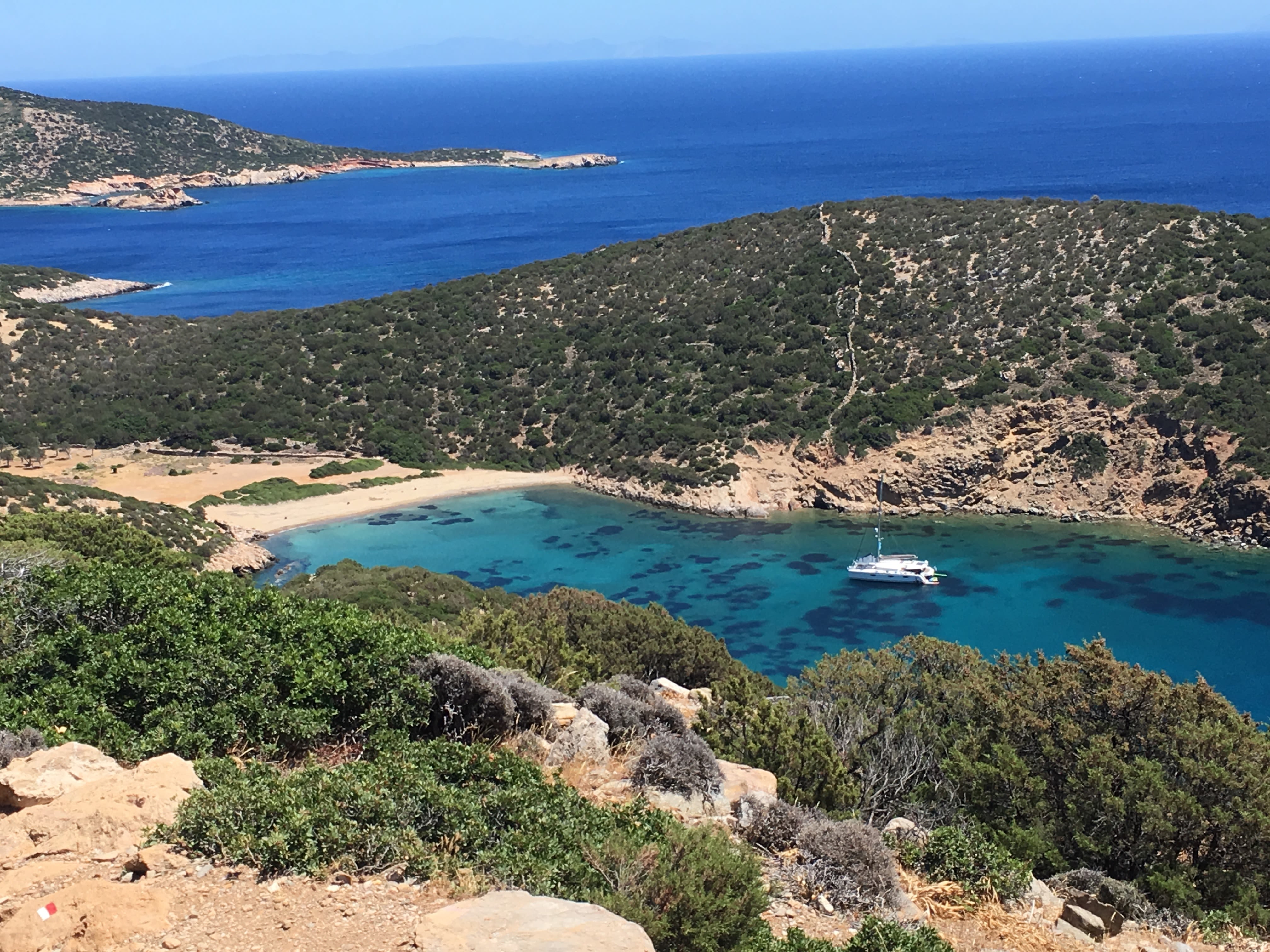 Sifnos is often referred to as "the perfect Greek Island." Located in the western part of the Cyclades, it's fringed with picturesque sandy beaches with one side lush and green and the other rugged and bare. It's ideal for those who want to avoid the crowds and enjoy mouthwatering cuisine. There are also some classic Greek windmills, standing proud on the rural, rugged landscape while offering fabulous photo ops.
There's a real love for all things gastronomy on Sifnos, with cooking classes and mouth-watering dishes featuring fresh island ingredients, making this island for foodies. Many of the restaurants serve seafood so fresh it was probably caught the same day you sit down to enjoy it. Often, you'll get a complimentary dessert afterward like halvadopita, nougat wafers with island honey and almonds, or loukoumi, which is the same as Turkish Delight, made up of walnuts, hazelnuts, or pistachios and flavored with lemon or bergamot orange.
Zakynthos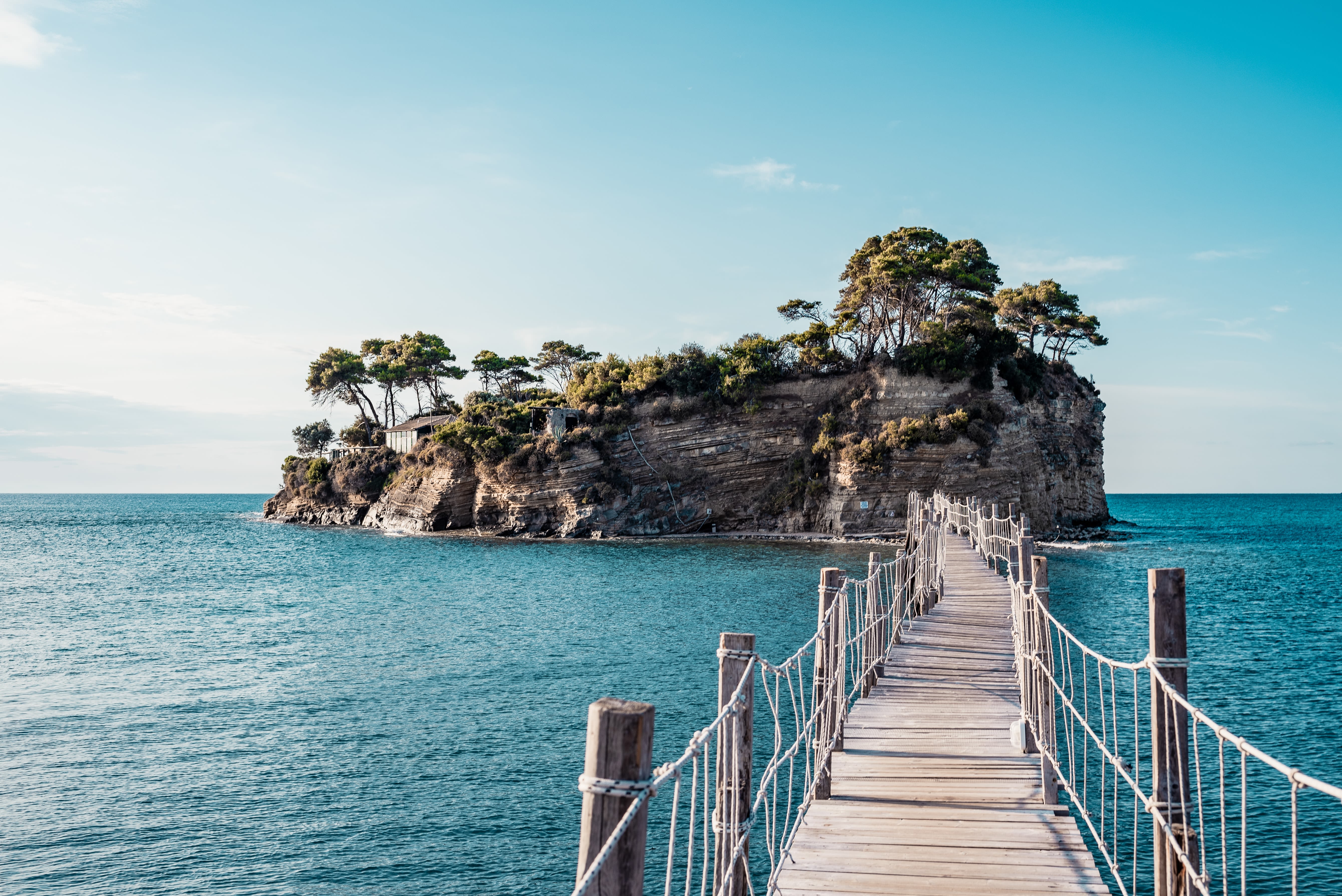 One of the spectacularly lush Ionian Islands, Zakynthos, also known as Zante, has become famous for Shipwreck Beach, officially called Navagio. Its white sands are home to the rusted skeleton of a shipwreck tucked between towering limestone cliffs and framed by electric blue waters. There are numerous boat trips that can take you there, but the best vantage point is enjoyed from above. An overlook point perfect for capturing an Instagrammable shot can be reached by car followed by a short walk. Plan to visit between about 11 a.m. and 3 p.m. during the summer when the sun is high in the sky for a postcard-perfect photo.
There is a wide range of beaches for sunbathing and swimming throughout the island, some with loungers and umbrellas, and others in secluded locations for unforgettable swims with few if any others around. Rent a car and explore to find your favorite, perhaps stopping at one of the local stands to buy homemade olive oil or wine.
Corfu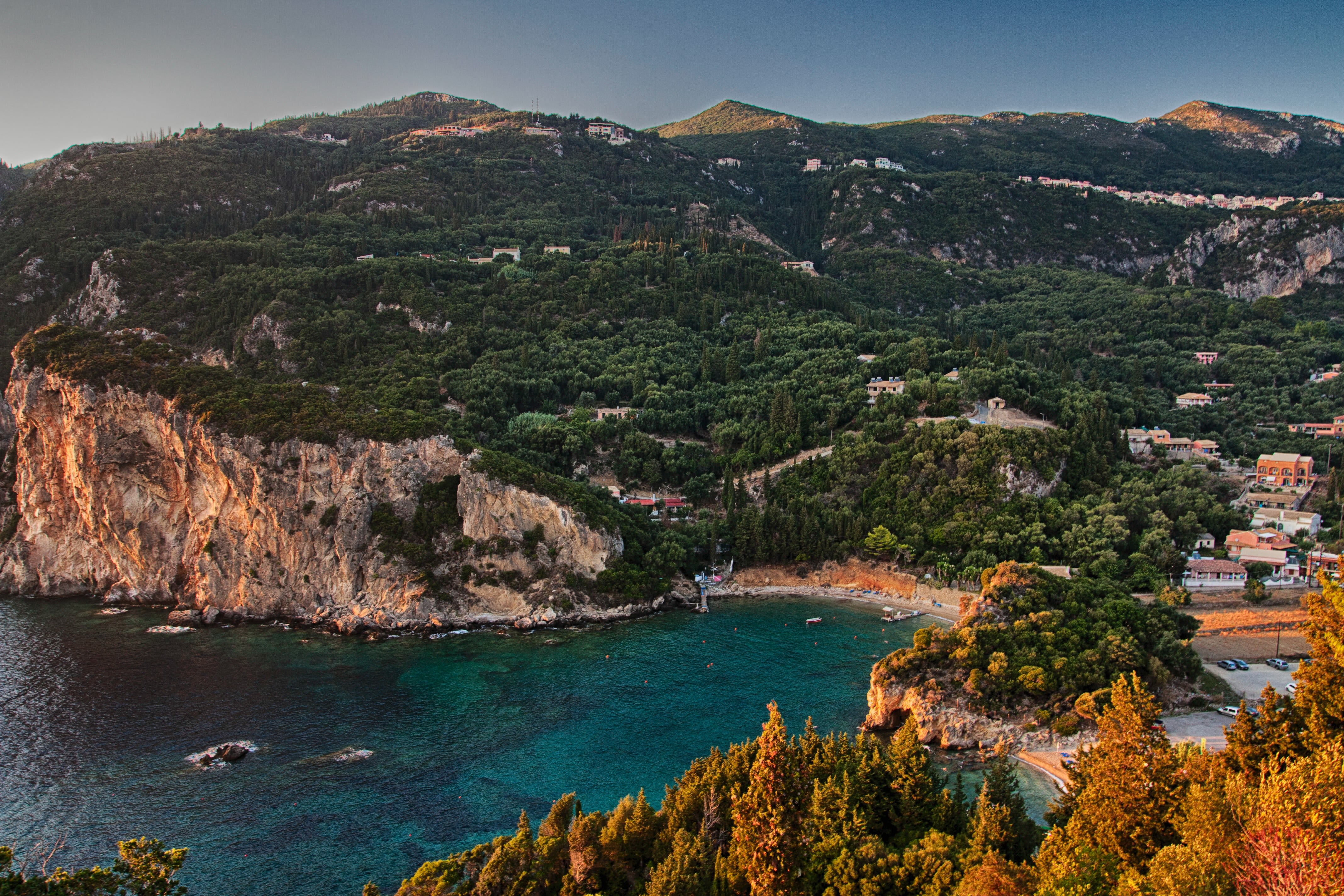 Especially popular among British tourists, Corfu is another one of the very green Ionian islands, with striking natural beauty and rich history. There are whitewashed villages to wander through while marveling at Venetian buildings and lots of nature lovers to discover. Enjoy bird-filled lagoons, magnificent waterfalls, idyllic sandy beaches like unspoiled Chalikounas, sandwiched between the sea and a lake, and even diving along the northeast coast.
The 93-mile Corfu Trail spans the entire length of the island, offering a myriad of hiking options with views of olive groves, lagoons, mountains, and beaches. One of the best historic sites is a working monastery. Paleokastritsa dates to the 13th century and visitors can even watch the monks at work in addition to enjoying a jaw-dropping view.
Kefalonia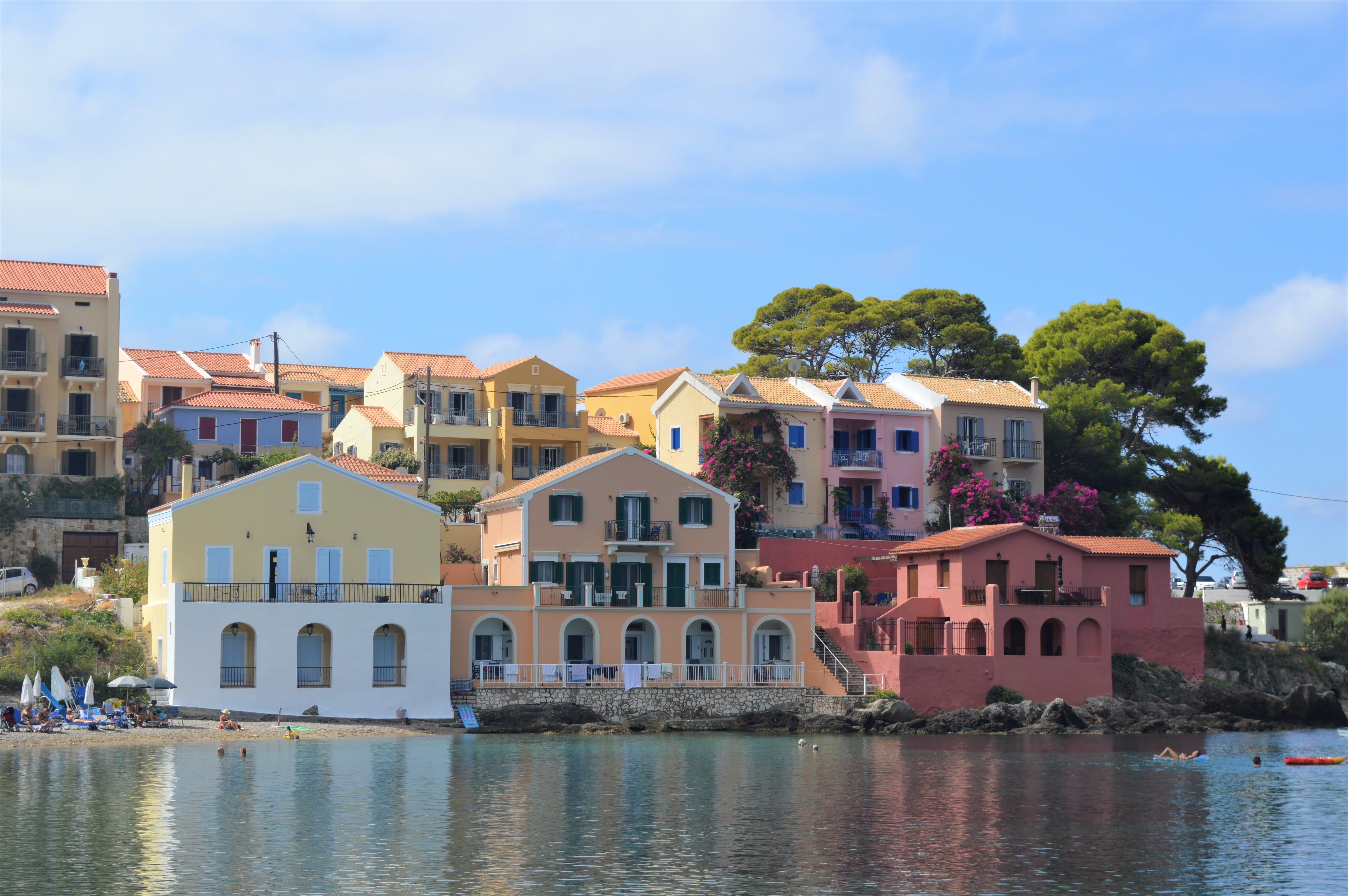 Kefalonia is surprisingly unspoiled with a tranquil atmosphere, lush foliage, and countless soft, white sands that edge brilliant aquamarine waters. One of the Ionians, it's home to Mount Ainos National Park which was made famous by the book and subsequent film, Captain Corelli's Mandolin, where both wild horses and deer roam. Head to Fiskardo's rocky coast for fantastic snorkeling followed by lunch in the well-preserved, traditional village of Fiskardo with many traditional, sea-view tavernas serving fresh-caught fish.
Lefkada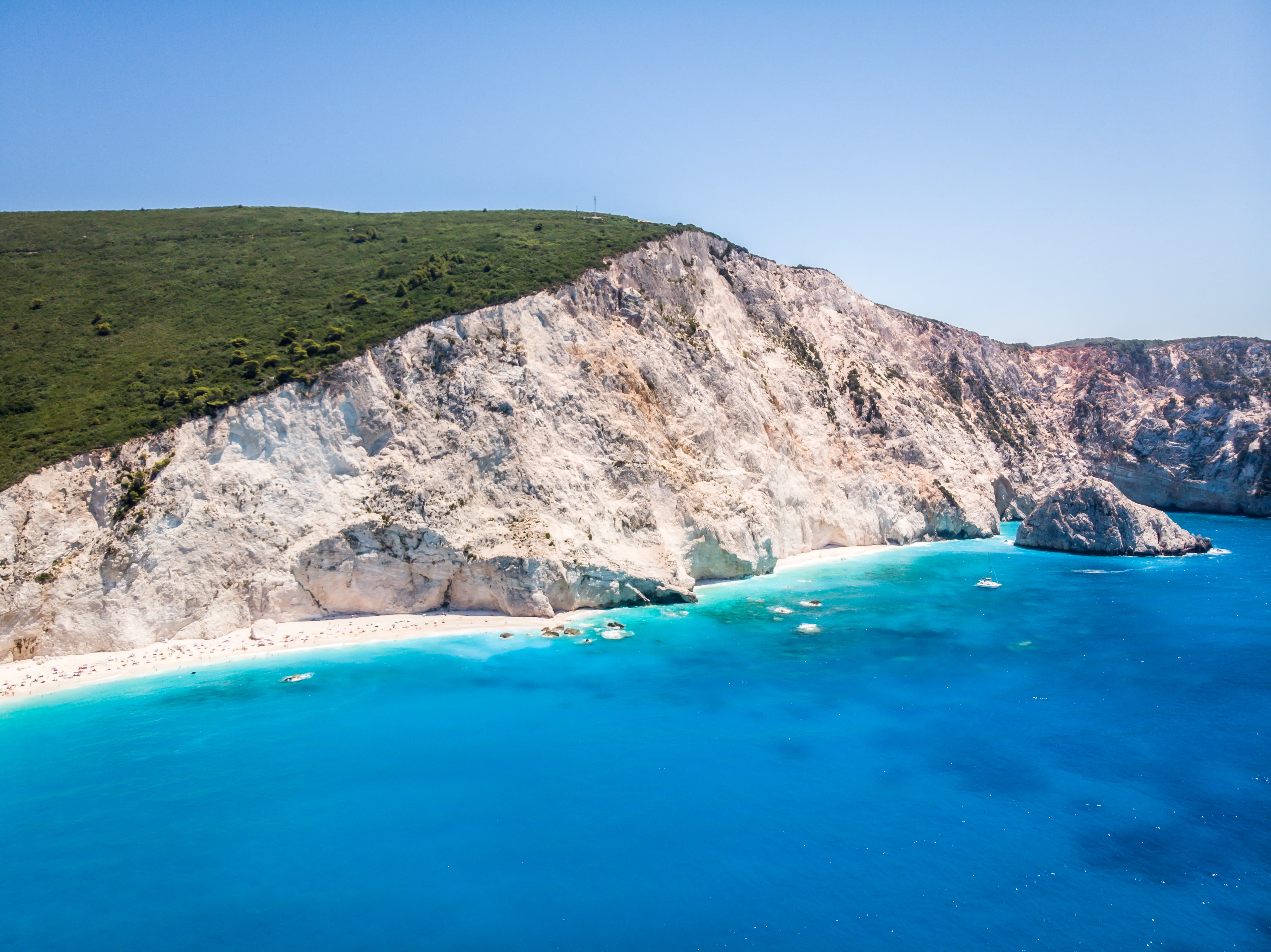 Lefkada is easy to reach as it's connected to the mainland by a floating bridge. Yet somehow it's managed to remain one of the most unspoiled of the Greek Islands. Enjoy the relaxed pace of life that includes soaking up the sun on any one of the many beautiful beaches, and exploring Lefkada Town, the sophisticated capital where traditional village life can be experienced, all with a stunning mountain backdrop.
The coastal towns of Ndyri and Vassiliki draw many kitesurfers and windsurfers to take advantage of the consistently powerful winds at beaches like Porto, Kathisma, and Egremni. You'll find plenty of authentic, waterfront tavernas offering tasty Mezze that can be complemented with wine from the island vineyards.
Rhodes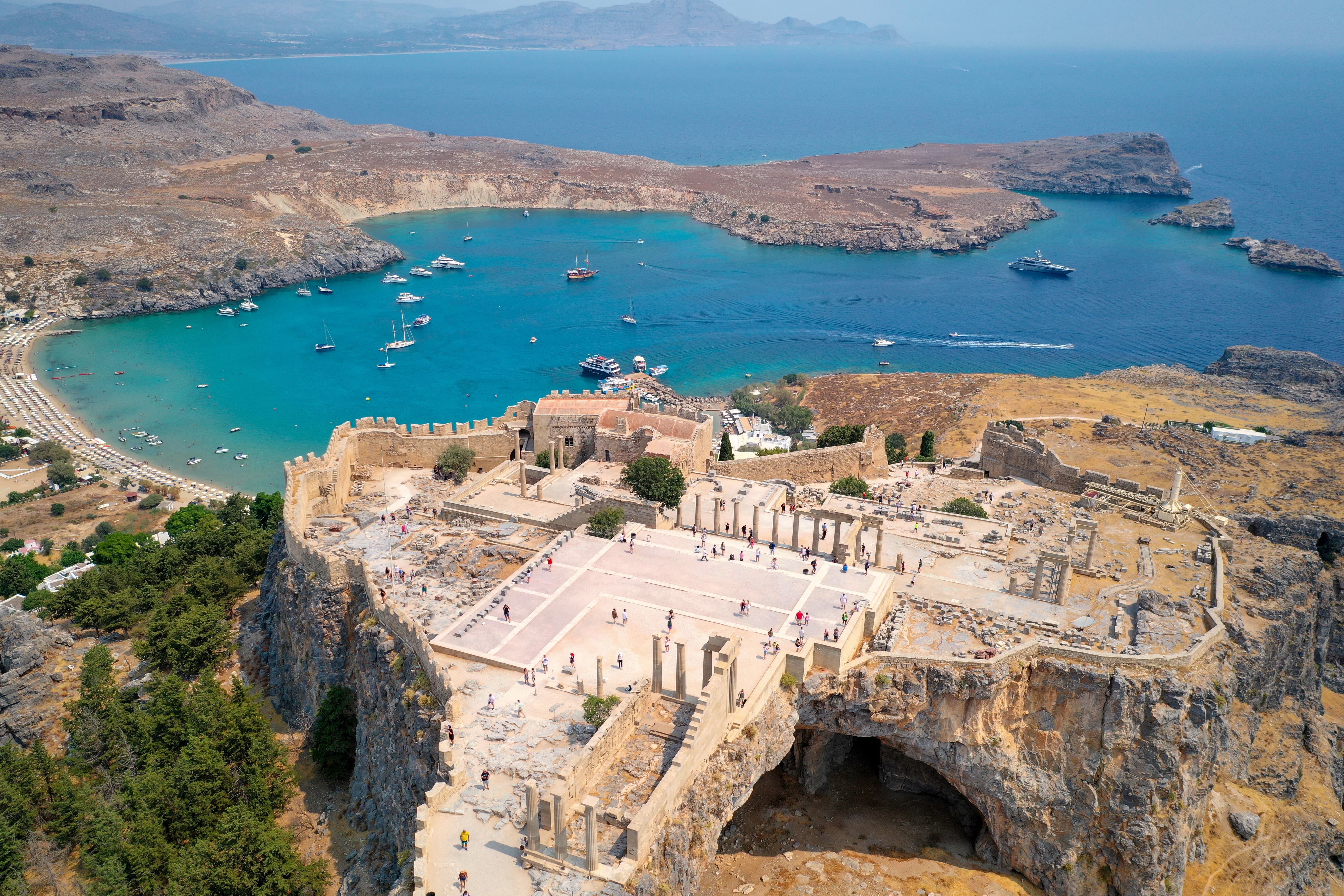 Located in the Dodecanese island group, Rhodes is one of the best Greek islands for those who want to explore archaeological sites as it's home to many, including the ancient city of Kamiros and the former acropolis that overlooked it. The Palace of the Grand Masters is the top historic landmark in medieval Old Town Rhodes. It provides one of the few examples of Gothic-style architecture in all of Greece and its more than 150 rooms are open to the public. From here, you can walk a section of the approximately 2.5-mile-long city walls, with impressive gates that contain Venetian coats of arms, bastions, and towers, constructed in the late 15th and early 16th centuries.
Nature enthusiasts won't want to miss Butterfly Valley, with trees, tranquil streams, and in the summer, countless colorful butterflies. Nearby is Seven Springs, an oasis for a cool dip with seven springs surrounded by trees, and inhabited by peacocks, ducks, and geese.
Symi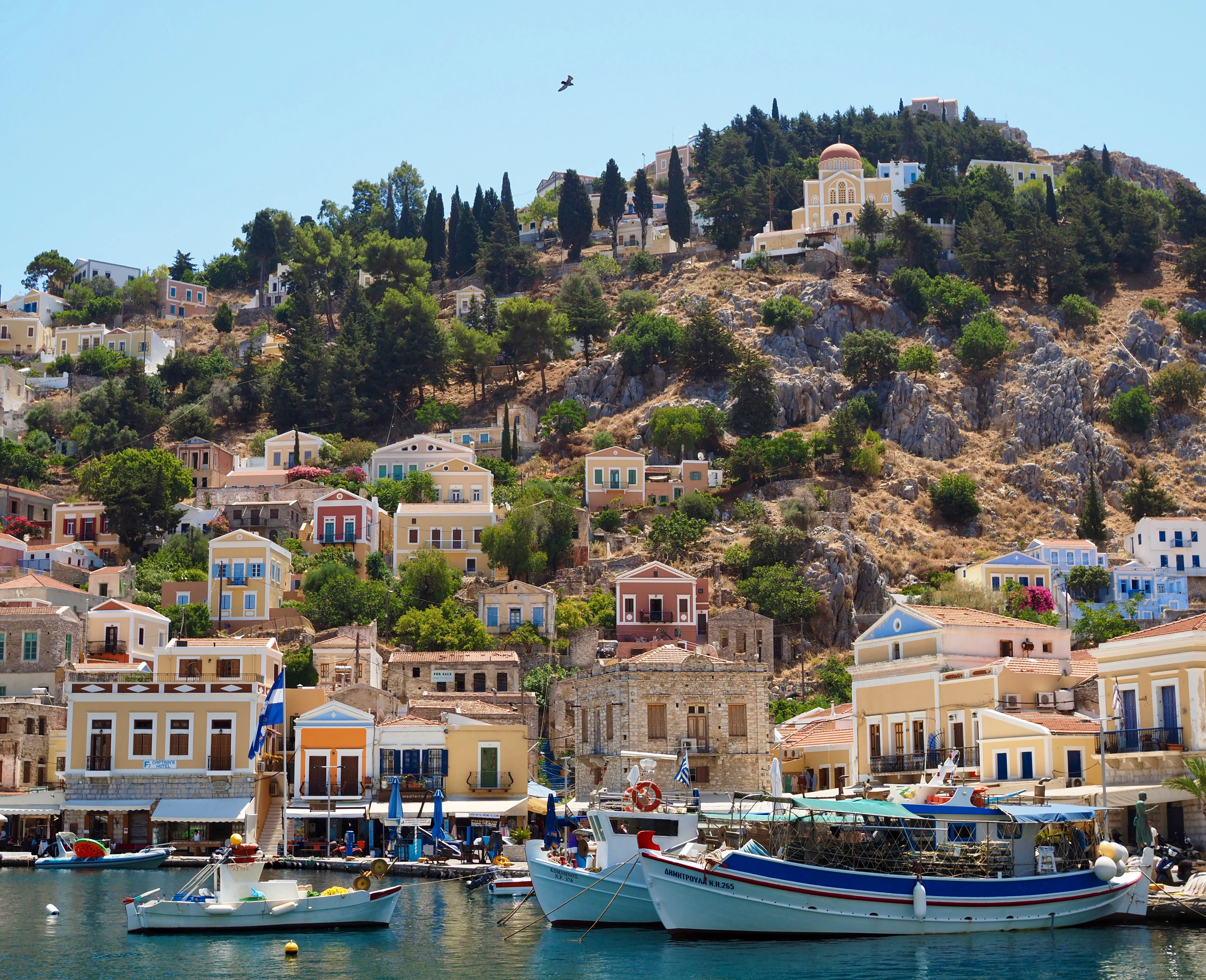 A small and mountainous island within easy reach of Rhodes by ferry, just 25 miles northwest, Symi is the place to go for those seeking an authentic, traditional island experience and a peaceful atmosphere. There's no lively nightlife, but plenty of inspiring scenery that draws everyone from photographers and painters to hikers. There are no big crowds to get in the way of your view, rather it's all about old-world glamor.
On this island, look forward to scenic strolls, time on gorgeous beaches with pebbly and sandy stretches framed by clear turquoise water, and browsing unique shops that sell locally made goods, including handmade leather items. Symi's famous shrimp are a highlight on the dining scene and can be enjoyed everywhere from seaside tavernas to fine restaurants alongside chickpeas with dill, goat cheese, and other local delights.