*Cue Jaws theme music*

We're excited to announce that LARQ will be appearing in Season 12 Episode 21 of Shark Tank on Friday, April 16th, 2021, at 8 PM EDT on ABC! Tune in via your television or on ABC.com (with cable subscription) to catch our co-founder and CEO, Justin Wang swim with the Sharks! 
The episode will also be made available for free the next day on ABC.com (without the need for a cable subscription). You can also watch Shark Tank on Hulu (subscription required).
"Shark Tank" is a critically acclaimed and multi-Emmy Award-winning reality show that features entrepreneurs in America seeking funding from esteemed investors — known as the "Sharks" on the show. The Sharks are tough multimillionaire and billionaire tycoons that are searching for the best businesses to invest in. The show is packed with emotional stories from founders, bickering between the Sharks, inspiring pitches, deal-makers, and so much more.
We sat down with Justin to reflect on the crazy months leading up to our Shark Tank premiere — from audition to making the pitch.
Journey to Shark Tank
The first step to getting on Shark Tank was to submit an audition video featuring Justin Wang, our co-founder, and CEO. We had so much fun with it and discussed the benefits of the LARQ Bottle and why we created it.
Our mission is to eliminate the need for single-use plastic bottled water for good. We hope to do that with our proprietary non-toxic (mercury-free) PureVis™ UV-C LED technology. Our innovative technology allows anyone to access clean water anytime, anywhere — whether you're at home, on the go, or even traveling abroad — by eradicating bacteria, viruses & even preventing mold growth. With LARQ, you don't have to worry about waterborne bio-contaminants again.
In addition to the LARQ Bottle, we've also been working on something really exciting for the home — the LARQ Pitcher. Justin was stoked to pitch this brand-new product to the Sharks. LARQ Filters eliminate physical contaminants such as mercury, chlorine, lead, VOCs, and more, but it doesn't stop there. The LARQ Pitcher offers a complete hydration solution that goes beyond filtration using our proprietary PureVis™ UV-C LED technology. Ever notice mold or algae growth in your current pitcher? Funky taste you can't quite shake? PureVis™ prevents mold and other bio-contaminants so you can worry less about what's in your water and focus on your hydration goals.
We're confident in our technology and we were so excited to share this with the Sharks. After months of waiting, we finally heard the good news — we were accepted as contestants!
We were ecstatic to be selected for the show. As huge fans of Shark Tank, to be selected for it was a huge opportunity for us to grow our brand and advance our mission of eliminating single-use plastics and helping people access clean water easily and sustainably. It's also an amazing opportunity to get our name out there and to connect with more people around the world. So, hello to newcomers and ride-or-dies alike!
How did you feel after being selected for Shark Tank?
Justin: The anticipation during those few months made the news all that much better. We knew a deal on Shark Tank could be potentially game-changing for us and so much was at stake!
We were confident that we had an amazing product, innovation, and mission, but we just had to fine-tune our pitch to pique the Sharks' interests. Naturally, we all binge-watched the episodes — for research, of course.
How else did you prepare for the show?
Justin: To help prepare for the intensity of the tank, our team put up Shark mannequins to crank up the pressure for the rehearsals. Anything to recreate the pressure of the tank helps!
We even carefully studied the negotiation tactics and Q&A patterns of the sharks and overall, tried to do our best to be prepared. This helped us tailor our pitch to communicate our product innovation, mission, and brand effectively. Justin was doing "Shark Tank Bootcamp", if you will, to prepare for the taping of the show.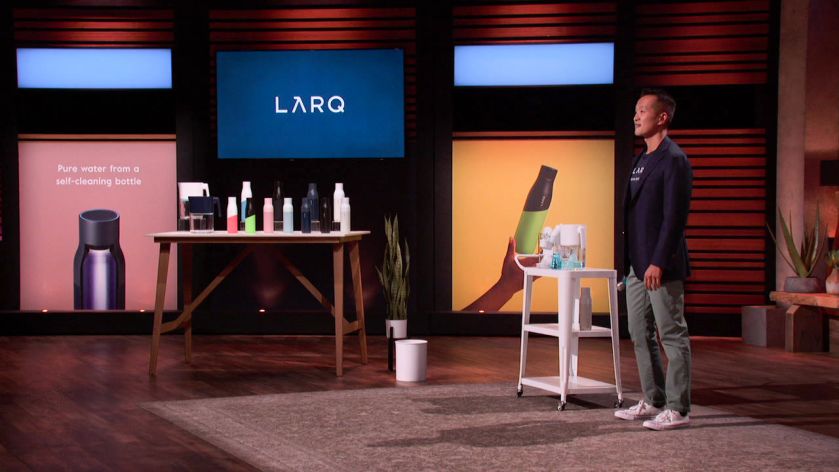 How did you feel about being on television?
Justin: As someone who has never been in front of the camera before, the pressure was on to be a good representative for LARQ on TV. I dedicated 2-3 hours a day to Shark Tank Prep over the next couple of months.
Just like anything else during the pandemic, there were quite a few hoops to jump through and adjustments to make in order to appear on Shark Tank, but we got through it.
What was it like balancing your co-founder/CEO duties while taking on a project like Shark Tank?
Justin: Preparing for Shark Tank during a pandemic and juggling the job of a startup founder was no small feat. The whole team hustled to put together a beautiful set and a flawless pitch. I practiced so much in front of my family that my partner can still recite parts of my pitch almost 9 months later.
What was it like to be on Shark Tank?
Justin: The experience of being on Shark Tank was great. No matter how much you prepare, the experience the day of is hard to replicate, but that's also what makes it so unique.
After a few months of preparation, we were all of a sudden backstage and waiting for our cue to step out.
Just like that, the lights were on, the pitch flew by, and the tough questions started coming from all the sharks.
What tips would you give to anyone preparing for Shark Tank?
Justin:
Bring your energy! TV energy needs to be like 200% – make people understand why you are passionate about your mission and product
Think through and prepare for all scenarios. Expect the Sharks to ask the tough questions and not give you a pass on anything (that's why they are the Sharks).
Know your Sharks and the types of deals they like to make.
Don't sweat the details. A deal with the Sharks could be life-changing, know your bottom line, and don't worry so much about negotiating every little detail.
As for the deal itself? You'll have to tune in to ABC on April 16th, 2021 at 8PM EDT to find out!