Educating your guests about your eco-conscious soiree will be your contribution to the Earth this month. Events surrounding the holidays can be extremely wasteful–holiday parties, gift wrapping, travel and creates a larger footprint than needed. Although some are unavoidable, there are ways to reduce waste for a more sustainable holiday.
Buy a real Christmas tree instead of an artificial one

A real tree can be composted after it has served you through the holidays, but an artificial one–although reusable year after year–uses a lot of resources to produce, and when you inevitably throw an artificial tree away, it's going straight to a landfill where it will take tens of thousands of years to disintegrate. So if you buy an artificial tree, hopefully, you're keeping it forever–or opting for a real tree (the experience is better anyway).
Reuse packaging for gift wrapping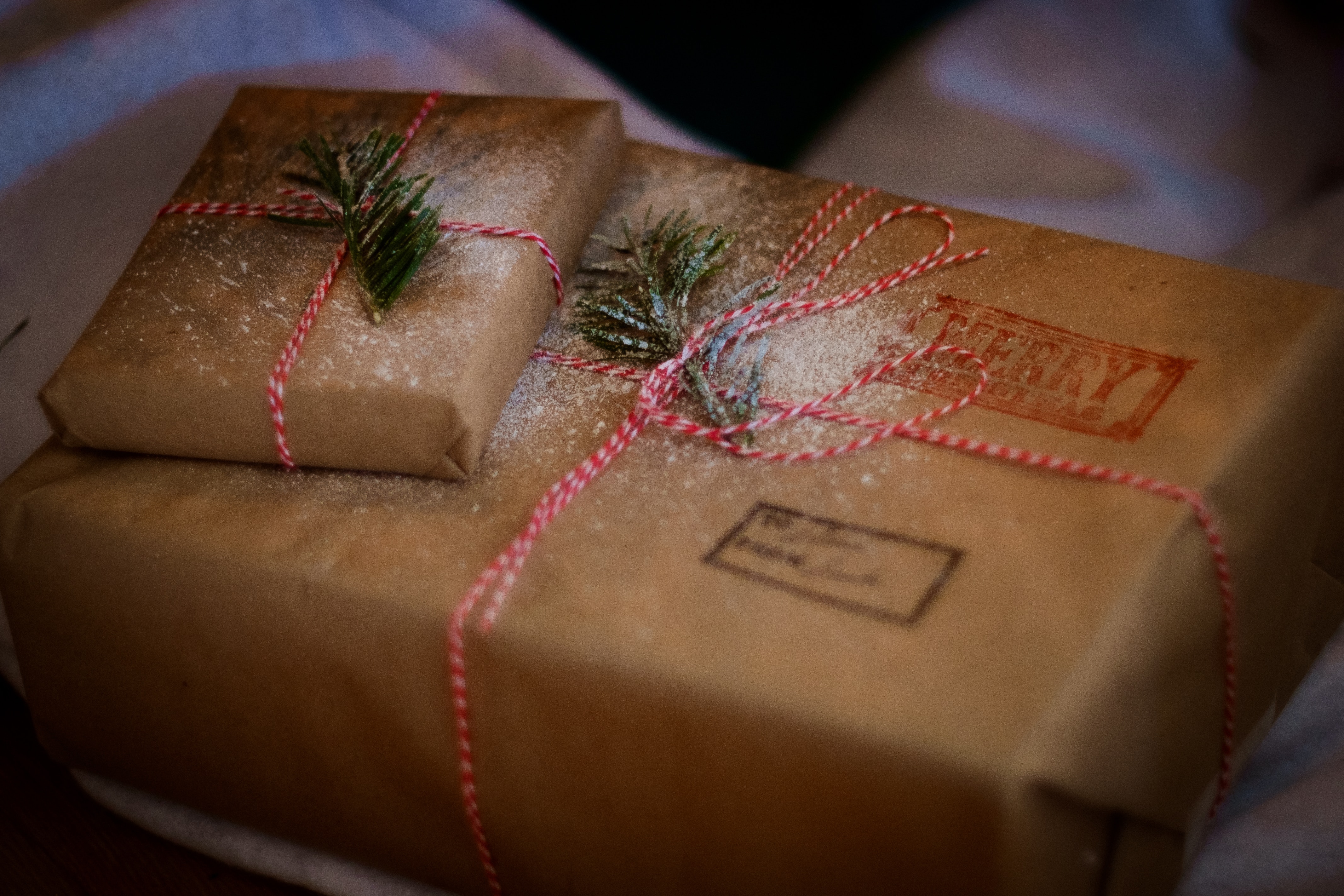 You know all those boxes you've opened in Christmases past? We hope you saved them because now's the time to bust them out to reuse! Hopefully, your recipients reuse these boxes too–extending the lifespan from single-use to reused.

If you don't have gift boxes from previous years, use shipping boxes from packages. You can easily dress them up with kitchen twine, ribbon, or string you have lying around. Add some fresh greenery and a handmade tag, and your wrapping is complete!
Send gifts directly to recipients to minimize waste
To minimize waste from wrapping paper–and avoid wrapping altogether–let the experts do it! Have your gift shipped directly to your giftee! If you're online shopping for gifts anyway, this will be a nice surprise they'll love, sans wasteful wrapping paper.
Wrap gifts in reusable bags
Instead of using wrapping paper or gift bags for your presents, put them in reusable bags that your giftee can reuse in the future! It's a great nudge to get people to bring reusable bags with them everywhere they go. It's like a gift within a gift.
A gift that doesn't need to be wrapped
Isn't it always great to say a lot without having to do a lot? If you're attending a holiday party and don't want to show up empty-handed, a bundle of wintery greens or florals is an amazing gift and, you guessed it, doesn't need to be wrapped. Wine, chocolate, homemade cookies, candies, and toys or treats for the host's pet, are just a few examples of gifts that don't need to be wrapped!

Use things you already have around the house
A lot of us have things around the house that would be great for wrapping or decorating around the house. Avoid buying new holiday decor by reusing things around the house or hitting up the local thrift stores. In fact, you might score some amazing finds that you forgot you had–or some cool antiques that are sure to strike up a conversation.

Twine can be used to wrap around gifts, scrap paper for tags, magazine paper as wrapping paper–you name it. If you're lacking holiday decor, it might be a good idea to ask your parents if they have things lying around that they could lend or give to you. Our parents or relatives could potentially have old things they've accumulated over the years that will make gorgeous (and nostalgic) holiday decor. Plus, if you're hosting the festivities this year, they'll be great pieces to reminisce on with the entire family.
Use dinnerware or opt for compostables
If you're hosting a gathering that's more manageable (4-10 people), you could get away with using your nice dinnerware and washing dishes later. However, for large holiday parties, there's a reason why disposables are so popular. They're convenient, cheap, and fuss-free–BUT they're plastic, and not the recyclable kind. If you can't avoid using disposable dinnerware for your next event, try compostable options (easily accessible via Amazon). Don't forget to keep a marker nearby for guests to write their names on their plates and cups! As you may know, lost dinnerware is how waste starts to build up.

Items from nature make excellent decor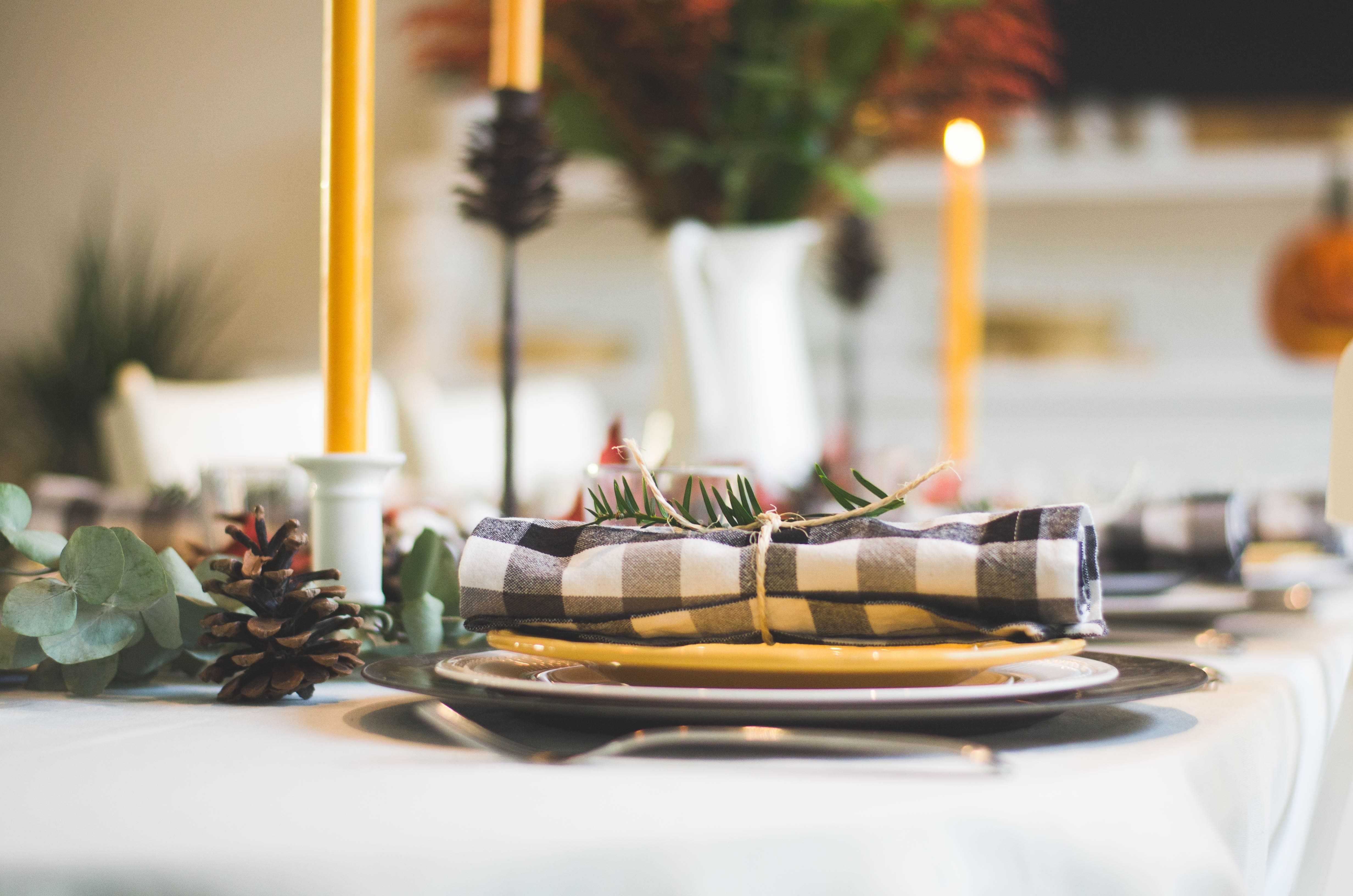 A nice winter drive around town with a friend or two looking for cute holiday decor in the wild can be a really fun activity. Pine cones and branches that have broken or fallen off trees make a beautiful tablescape or fireplace decor. You could even try making a wreath if you can find enough of them!
Ask to keep the trimmings from your Christmas tree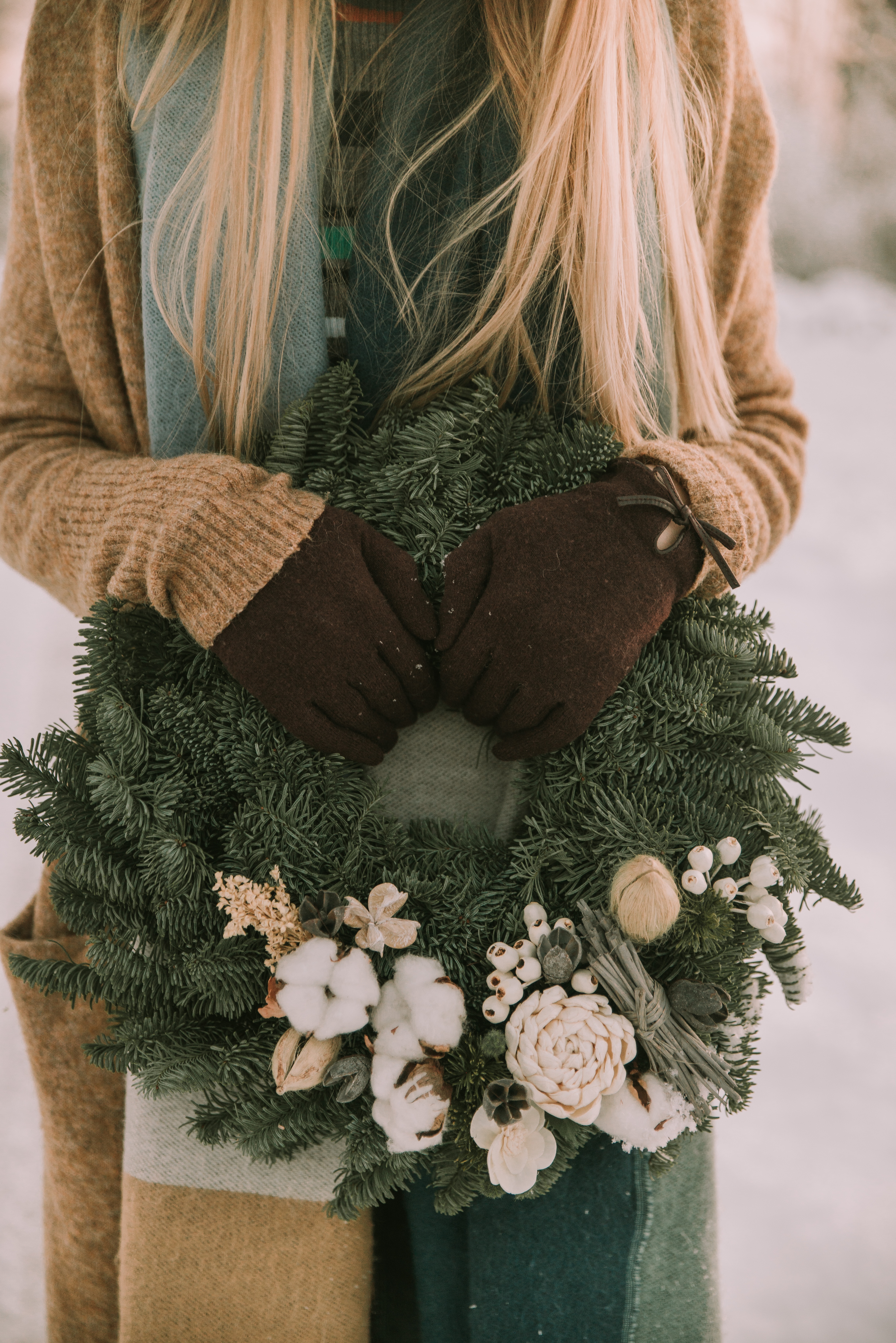 If you buy a real tree, chances are they will trim off the straggling branches to create a clean trunk to sit in your tree stand. Ask them for the trimmings, which are usually free since they'd throw them out anyway. The trimmings can be used to decorate a mantle, a dining table or even used to create a DIY wreath.

Energy-saving outdoor lights
Instead of stringing a ton of lights up for the holidays, there's a much easier way to decorate and reduce your footprint–light projectors. These save time, energy (yours and the electricity kind), and take holiday decorating to a new level. LEDs are way more efficient and energy-saving than incandescent lights so it makes a whole lot more sense to buy LEDs.
Whatever you're celebrating, remember to keep your footprint in mind, seek to reduce and reuse, and don't forget to spread the holiday cheer. Oh, and don't forget to pack your LARQ Bottle with you to skip out on any single-use plastic bottles.