Looking for some fail-safe gifts? While you can't actually please everyone, you can come really close to it. Here's a lineup of practical and nifty gifts the special people in your life never even knew they needed. That's how you know you're winning already. 
Stress-relieving Weighted Blanket
Weighted blankets have been gaining a lot of traction lately because they've been shown to reduce anxiety and help people sleep better. Who knew having some weight on top of you could do all that? Gift this to anyone who's having trouble sleeping or can use the extra help to relax–a.k.a all of us.
Shop the Bearaby Velvet Weighted Blanket, $249 – $279
An external battery that fits in your wallet!
At this point, pretty much everyone has an external battery, but we typically go for a pretty hefty amount of mAH to get more bang for our buck. For someone who's always on the go and tends to use their phone a lot, this is a great gift! It's super slim and fits into a wallet–plus, it has an attached lightning cable that seamlessly fits into the battery. Yep, no more carrying around a bulky battery and cables. Your loved one is gonna love this.
Shop Plusus Lifecard Lightning External Battery, $49.99

Light-up wall panels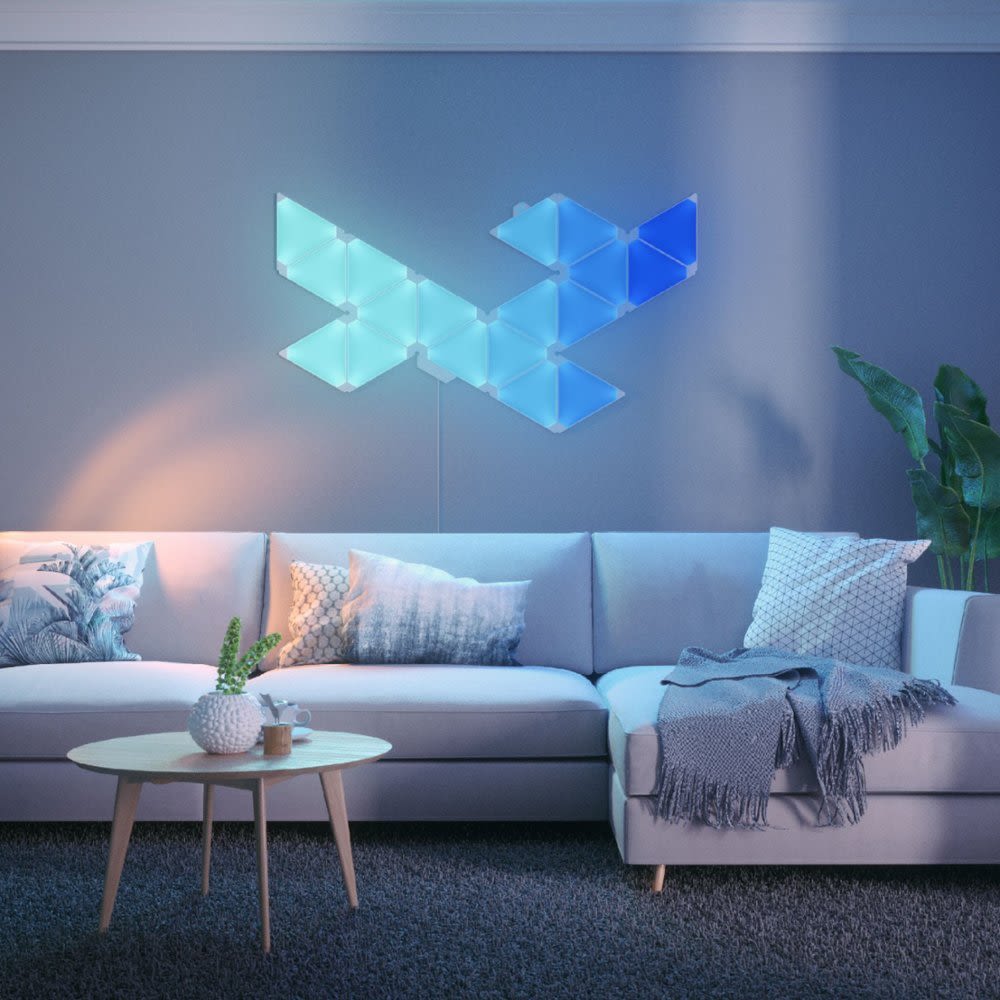 This one is a wild card for sure. For the techy person who is always blasting music at home, DJing at parties, and loves things that light up (yes, it's a thing!), they'll absolutely love this. The Nanoleaf Rhythm are panels that you stick onto your wall and respond to the rhythm of the music you play. There are varying options for colors, types of movement and more so your friends or loved one can enjoy them for a long time to come.
Shop Nanoleaf – Rhythm Edition – 9 Panels, $199.99
A water purification bottle

For people who love things that light up, or basically anyone who drinks water, a LARQ Bottle makes the perfect gift. With built-in UV-C LED technology that neutralizes bio-contaminants in the water and inner surfaces of the bottle, your giftee will love having a stink-free bottle. With every purchase, 1% of proceeds will go to 1% for the Planet too, so you and your loved one can feel good about this gift inside and out.
Shop LARQ Bottle – UV-C purifying water bottle, $95
Waterproof Speakers
For the music-obsessed and life of the party, these highly-rated waterproof speakers are a wonderful gift and their design-forward monochromatic look is truly speaking to us. These are highly-rated for their impeccable sound and bass and boasts a 15-hour playtime so the party can keep on going.
Shop Ultimate Ears Portable Bluetooth Waterproof Speakers, $149.99
Sustainable spa shower
Feast your eyes on the shower system that will take your home to new lengths by saving you money, water, and energy–for a more sustainable home. The Nebia 2.0 provides 3x faster droplets and 2x greater coverage while saving 65% more water than a standard shower. We talk a lot about preventing plastic waste here, but another concern is conserving water. The Nebia is an innovative product and a luxurious gift even the person-who-has-it-all doesn't have yet. Plus, it's stunning design is sure to please–and continue to please–well into the future. Did we mention it comes in Matte Black? (Hint: Pairs well with your Obsidian Black LARQ Bottle.)
Shop Nebia Spa Shower 2.0, $499
Fully functional Carryall
For someone who travels a lot, needs a new gym bag, is always on the go, a new carryall is a thoughtful gift–and this one's a stylish one to boot with plenty of compartments so there's a spot for all their things. This carryall even includes a trolley sleeve that effortlessly slides over your luggage handle making traveling extra easy!
Shop Dagne Dover Landon Carryall, $95-$215
Smart garden
For people who love to cook at home or love organic produce, this smart garden makes a great gift that keeps on giving! Even if your loved one doesn't have the greenest of thumbs, Click & Grow makes indoor gardening easy with Nespresso-like biodegradable pods containing different herbs and vegetable seeds that make planting new produce easy!
Shop Click & Grow – The Smart Garden 3, $99.95
Wireless charging dock
Although most new smartphones are equipped with wireless charging nowadays, most people don't have them yet! Get your giftee a sleek looking wireless charger that'll make life a little easier and keep their cables in check at home or at the office. The Catch:3 is our top pick as a sophisticated and delightfully techy catchall for the nightstand. Perfect for wirelessly charging your Airpods and iPhone at the same time–no plugging necessary.
Shop Stay Courant Wireless Charging Accessory Tray- CATCH:3, $175

Airbnb Gift card

When in doubt, get a gift card, but not just any random gift card–an Airbnb gift card. Why? Whether you're gifting to your avid traveler friends or to that friend that doesn't even have a passport yet, or your parents who are long overdue for a weekend getaway–this gift is thoughtful and easy as pie to get for a loved one.
Shop Airbnb Gift Card
Luxurious bathrobe

Loungewear is even better when it's gifted. A bathrobe is certainly a taste of luxury for some people and a gift anyone can use! Your giftee will love lounging around the house in this because of its surprisingly silky texture. The waffle knit gives it a spa-like feel that anyone will enjoy.
Shop Ettitude Lyocell Waffle Bathrobe, $80
Cashmere sweater
A classic holiday gift is a sweater–but not your Aunt Joanie's cable knit sweater–a cashmere one. This is one luxe gift people will really appreciate. It's like a hug they can wear.
Shop Everlane – The Grade-A Cashmere Crew Sweater, $120-130

Spafinder gift card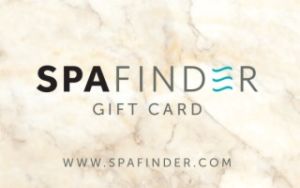 Have a friend who loves massages and all things relaxation? Get them the Spafinder gift card! They'll be able to select their own services at any local spa that's partnered with Spafinder so they can relax however they want when they want. Just make sure to check your giftee's local area to make sure there are plenty of options for them!
Shop Spafinder Gift Card