It's easy to fall head over heels with Lisbon. Portugal's capital is one of the world's most picturesque, spread across hills just above the Tagus River. No Lisbon travel guide can truly prepare you for its sheer beauty, but it is often compared to San Francisco which was also built atop seven hills. Lisbon's 25 de Abril Bridge is painted the same color as the Golden Gate, and it also stands at the same height: 746 feet. Both cities have been nearly destroyed by earthquakes, are home to impressive architecture, and offer lots of mouthwatering cuisine, including fresh seafood.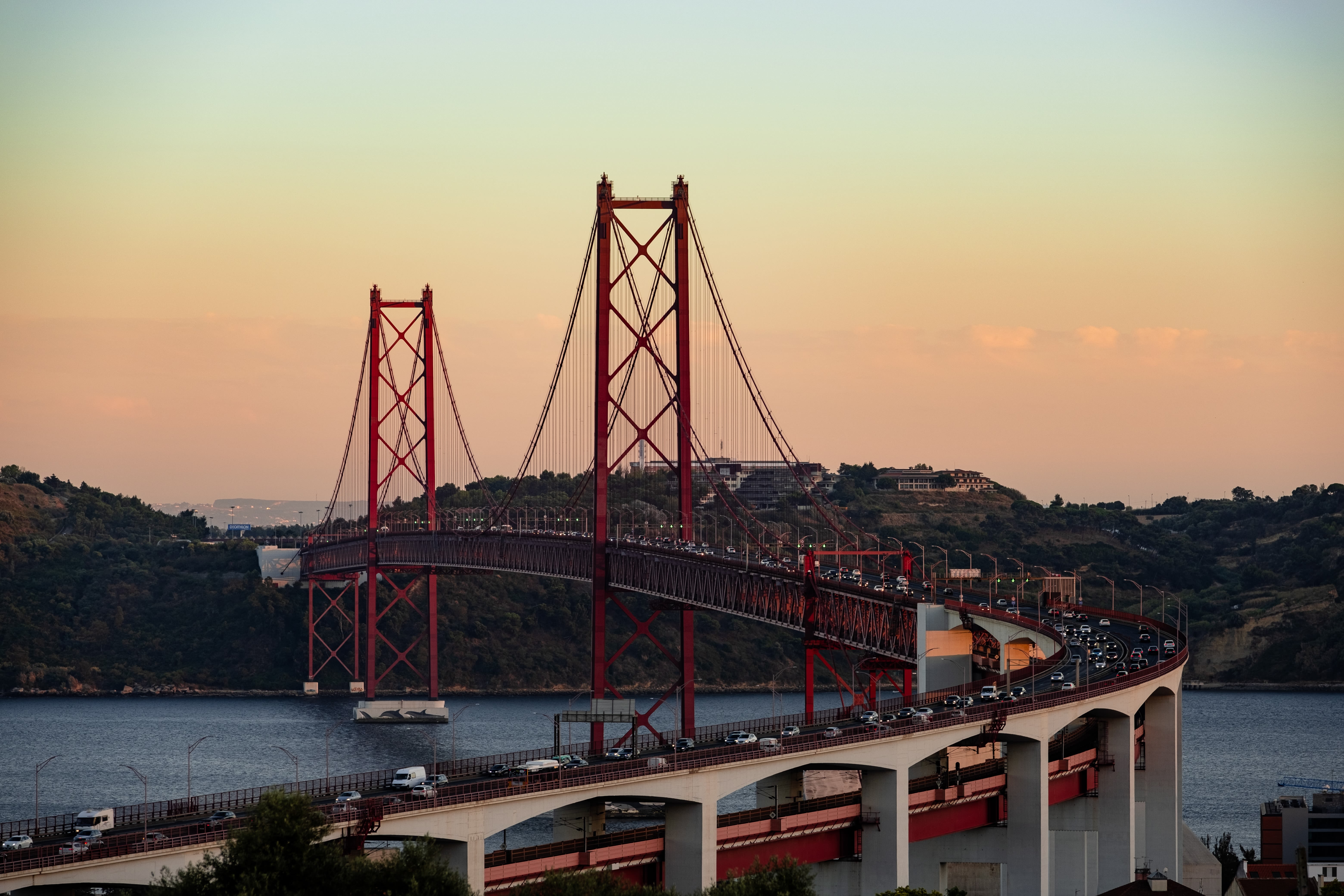 Of course, Lisbon is much older than San Francisco with a history that dates back at least 2,700 years. You'll see its past in the historic neighborhood of Alfama, with winding cobbled lanes and alleyways. But its higher perch also means spectacular views that can be glimpsed from many vantage points.
If you're wondering where to stay in Lisbon, the best things to do in Lisbon, how to get around, and what to pack, this travel guide will answer all of those questions and more.
Where to Stay in Lisbon
Lisbon offers a wide range of hotels from budget-friendly to luxurious, along with many short-term vacation rentals, but the first thing you'll want to consider when deciding where to stay are the neighborhoods. There are many distinct options, varying when it comes to activities and atmosphere. There is no one "best" neighborhood for tourists, but you'll find most of the high-end hotels in Chiado and along Avenida da Liberdade. The Baixa neighborhood is best for budget and midrange accommodations. The oldest neighborhood, Alfama, is very photogenic and offers lots of historic charm. It's watched over by São Jorge Castle with its steep medieval streets cascading down to the Tagus River. Accommodation options primarily include boutique hotels and apartment rentals. It's highly walkable but as it's one of the most visited areas of Lisbon, it can get very busy. The loud calls of the peacocks that roam freely on the castle grounds (and beyond) can be a bit alarming and interrupt sleep.
Belém is the historic riverside area, home to many UNESCO-listed sights and popular museums. Here you'll find midrange accommodations along with some luxury hotels. Families and those seeking a more tranquil setting might want to consider the Parque das Nacoes area about six miles north of the city center along the Tagus estuary. It offers many upscale hotels and it's home to the city's popular aquarium.
Is the water safe to drink in Lisbon, Portugal?
The worst thing you can do as a traveler is to go to a country and product unnecessary waste. This is further aggravated when a destination country doesn't have the best reputation for their tap water. Lisbon is one of the places that lags behind when it comes to tap water. They've had issues with EU regulations for coliforms, a bacteria that can cause waterborne illnesses. In addition, Lisbon is an old city and chances of the pipes being changed in the last few decades are slim. There are concerns for lead, microplastics, and other unwanted contaminants in the tap water because of this.
The solution is to bring your own filtration bottle and UV purification. We recommend the LARQ Bottle Filtered paired with the PureVis™ Cap. The PureVis™ cap first eradicates waterborne bacteria like E.coli and the Bottle Filtered Cap will filter out lead, microplastics and other contaminants while you sip. This way, you can avoid contributing to plastic waste whilst staying hydrated and saving money on bottled water purchases. Since it's common for tap water to have a different taste abroad, these are a worthwhile investment to stay hydrated wherever you travel next.
Top Things to Do in Lisbon
Visit Castelo de São Jorge
São Jorge Castle can be visited independently or on a guided tour. It sits on the city's highest hill in the Alfama neighborhood and boasts nearly a thousand years of history. Human occupation of the hill itself dates to at least the 8th century BC while the castle itself was built in the Moorish period in the 11th century. Over the years, it's served as a royal palace and military barracks. Today, it's both a museum and a national monument. There are gorgeous gardens, lots of free-roaming peacocks, and an on-site restaurant.
Explore Belem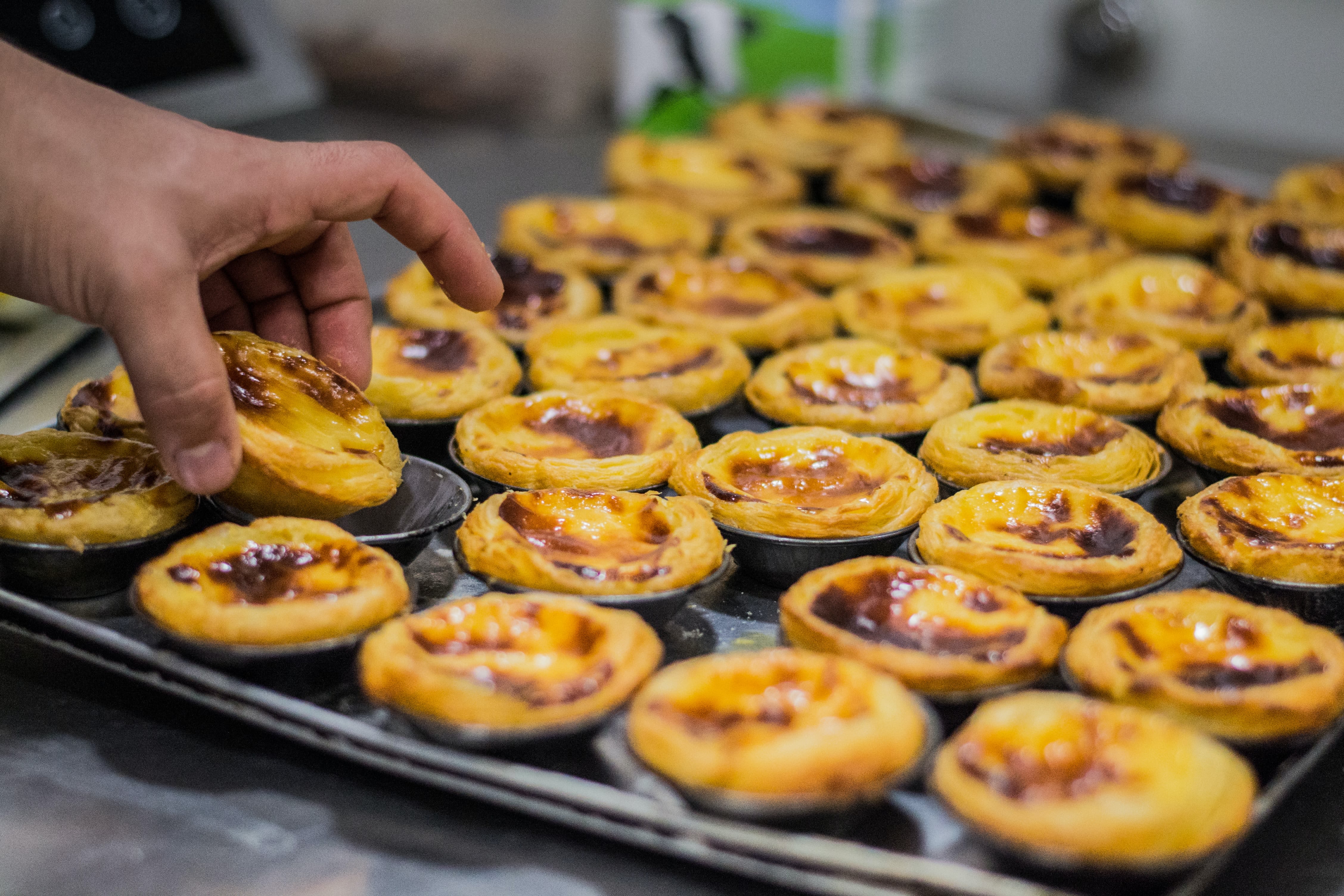 Belem is Lisbon's historic waterfront district, home to some of the most important monuments in the city and an iconic Portuguese tart shop: Pasteis de Belem. It's said to be the inventor of the egg tart, a type of cream pastry dating back more than 180 years and a favorite traditional Portuguese delight.
Be sure to take a stroll along the Tagus River to see two UNESCO-listed sites, including the 16th-century Belem Tower that has become a symbol of the city. Jeronimos Monastery is here too, an impressive symbol of Portugal's wealth and power during the Age of Discovery. It's a fine example of the late Gothic Manueline style of architecture.
Listen to Fado in Bairro Alto
Bairro Alto is the place to be after the sun goes down. Watch a glorious sunset from the
Miradouro de Santa Catarina lookout point and then let the sounds of traditional fado music that spills from the bars lead you to an authentic night out. The roots of fado date back to the early 19th century and the music is even included in UNESCO'S Intangible Cultural Heritage list.
Check Out LXFactory
LXFactory is made up of former warehouses that were converted into art galleries, concept stores, charming shops, and restaurants. It also hosts a dynamic calendar of events from art exhibitions and film screenings to fashion shows and live concerts. This is a hot spot for nightlife on weekends with parties that include dancing attracting an art-enthusiastic crowd.
Sample Lisbon's Best Eats at Time Out Market
A collaboration of food and culture, foodies won't want to miss the Time Out Market. Located in the Mercado da Ribeira, it offers the very best food in Lisbon under one roof. It includes a large food court with stalls selling samples created by some of the country's Michelin-star chefs.
Embark on a Sunset Sailing Trip
There are few better ways to end a day than by taking in a sunset from the water with a glass of local wine in hand. There are multiple options available for the experience, including romantic, private trips. No matter which you choose, before the sun goes down you'll be able to admire many of the city's landmarks like the 25 de Abril Bridge, Belem Tower, and São Jorge Castle. Your captain will provide insight into Lisbon's history along the way.
Day Trip to Pena Palace
The most popular day trip from Lisbon is Pena Palace in Sintra. Just 40 minutes from Lisbon, it's easy to reach via public transport and looks as if it came straight from the pages of a fairytale. A magnificent architectural work of pure Romanticism, the UNESCO-listed palace has a vibrantly colored facade with elaborate Moorish and Manueline details while surrounded by a lush park.
How to Get Around Lisbon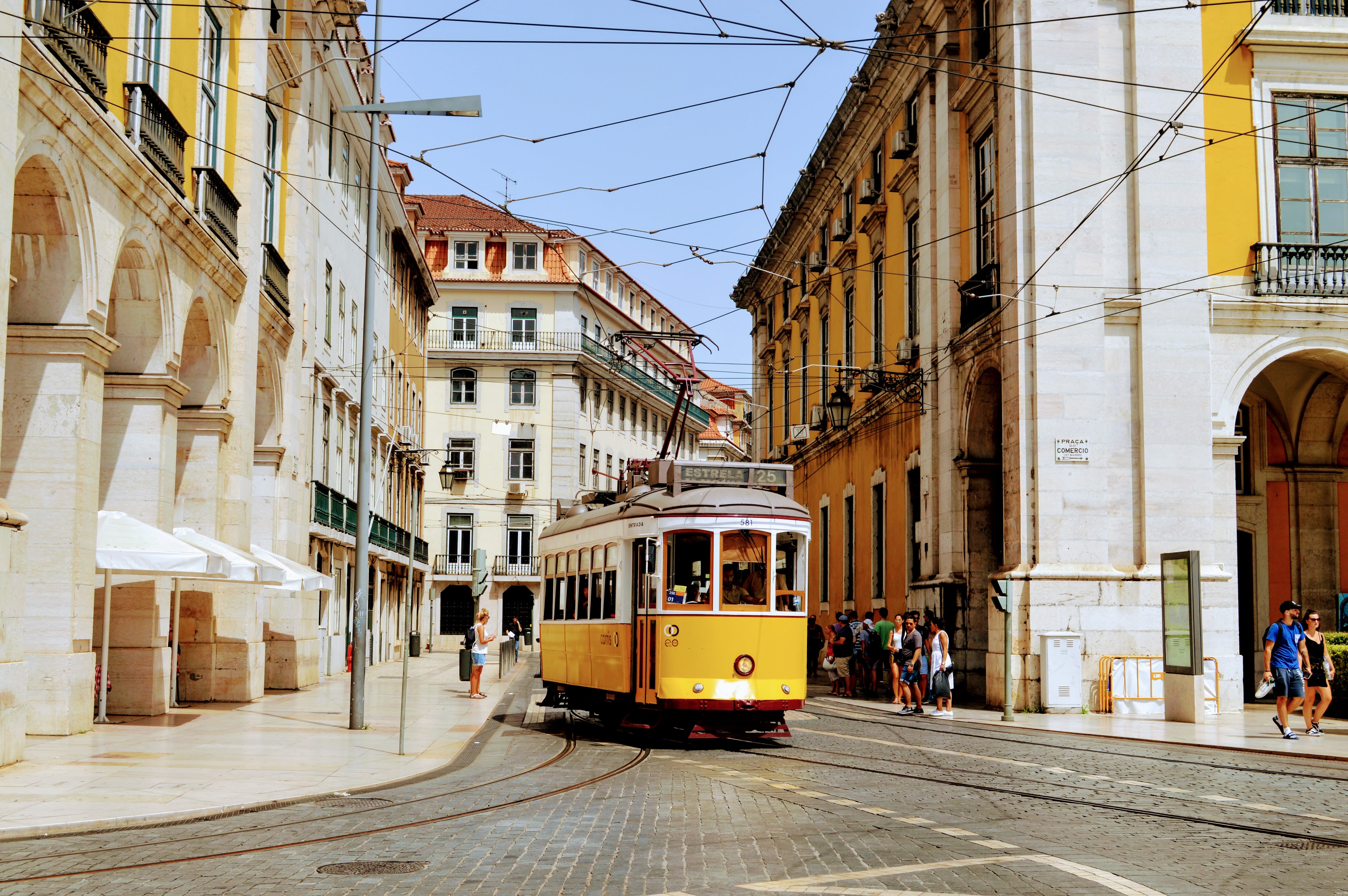 One of the best ways to get around Lisbon is also the most scenic. Historic Tram 28 connects Praca Martim Moniz Square with Campo Ourique and travels through many popular tourist districts, including Bairro Alto, the shopping districts of Chiado and Baixa, and historic Alfama. If you want to avoid climbing the steep hill in Alfama, ride it up and then walk down to wander through the neighborhood.
With an extensive bus and tram network, public transport is efficient throughout the city and surrounding areas, making it easy to get around without your own vehicle. Ticketing machines and signs are typically in both Portuguese and English.
What to Pack
A light jacket or sweater
Rain jacket if visiting in the winter
A bathing suit if visiting in the summer
Lightweight clothing that can be layered
Comfortable walking shoes
Sunglasses
Wide-brimmed hat
LARQ Bottle PureVis™
Lisbon enjoys a mild Mediterranean climate with abundant sunshine throughout the year, although some rainy days are likely in the winter. No matter when you visit, pack lightweight clothing that can be layered so that you'll be prepared for warmer afternoons as well as the cooler mornings and evenings. Even during the coldest months of the year (December through February), there's no need to bring a heavy coat. Toss a light rain jacket into your suitcase instead. You're unlikely to see anyone in high heels here with comfortable walking shoes a must due to the steep and winding cobbled streets.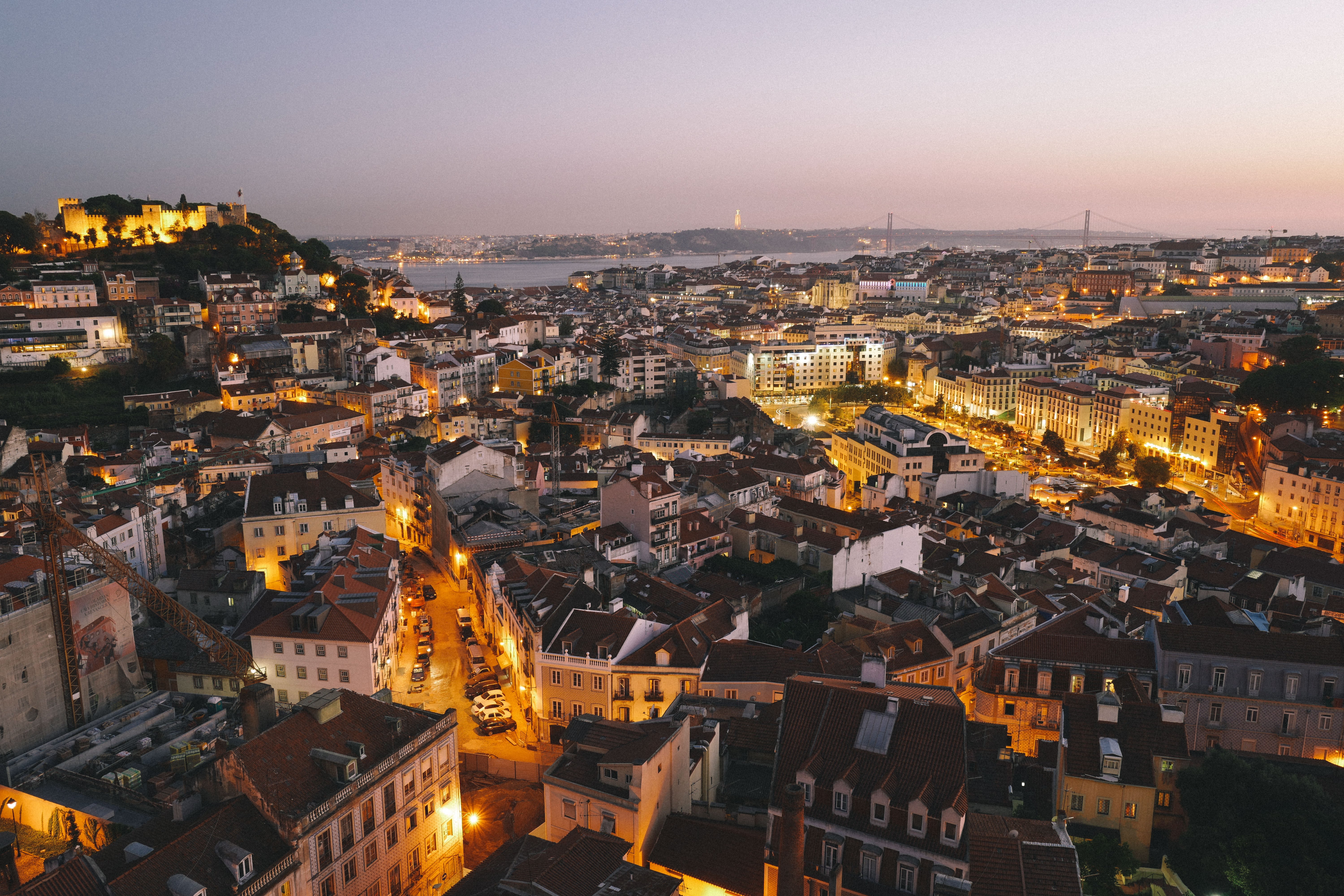 Good to Know
Portugal is a very safe country to visit. It has one of the lowest violent crime rates in the world, although as with any large city, there are some areas that should be avoided at night, including the Belem area. Pickpocket can occur, especially in areas frequented by tourists which means you should never place valuables in a back pocket. Instead, hold them tight or keep them in a crossbody bag.
The official language of Portugal is Portuguese although nearly everyone you meet that works in an establishment serving tourists will speak English. You'll find most young people have at least a basic grasp of the language as they are required to learn English in school and are exposed to both English and American films. Still, if you want to endear yourself with the locals, it's a good idea to master some basic Portuguese words and phrases, such as olá which means hello, por favor (please), and obrigado if you're male or obrigada if you're female which translates to thank you.
The euro (€) is the country's sole currency, but most credit cards are widely accepted, especially in popular tourist areas. While the tap water is technically drinkable and required to pass a series of stringent quality checks to meet EU standards, it can have an unpleasant taste and there are no guarantees that it isn't contaminated. You'll avoid contributing to the many problems that come with plastics and enjoy better tasting water while ensuring it's pure by bringing your LARQ Bottle PureVis™.