In honor of World Water Day, we are bringing attention to solutions that will help us build a cleaner, more sustainable, and more hopeful future. We're excited to announce our partnership with Draymond Green and 501CTHREE to bring clean water (without the plastic) to those affected by the Flint Water Crisis.

The past year has kept so many of us at home, with it bringing its own unique challenges and focuses. But for the residents of Flint, Michigan, USA, the challenge of access to clean, lead-free water has been happening since 2014. Corroded pipes poison the city water with lead, a neurotoxin causing developmental delays exposed to more than 17,000 local children, and forcing residents to wait an average of five hours a day for only four cases of water per family. Cases of single-use plastic bottles.

At LARQ, our mission is to close the gap on access to clean water, which disproportionately hurts people of color. We've teamed up with Draymond Green, whose hometown of Saginaw, MI is also affected by this water crisis. Together, we're kicking things off by donating $20,000 to 501CTHREE, a non-profit organization co-founded by Jaden Smith, to get clean water to these communities — but we need your help!

From March 16th-22nd, we're bringing back our Take $20 and pay it forward offer so that you can help us bring clean water to thousands of families and enjoy portable water purification in a self-cleaning bottle for yourself too. Our goal is to raise $50,000 to build a Water Box that will provide clean water to those affected without the need for single-use plastic water bottles.
How it works:
Add any LARQ Bottle* to your cart
Receive $20 off and automatically donate $5 to 501CTHREE. Want to give more? Simply adjust to a different amount ($10, $15, or $20) at checkout.
Share your impact and spread the word!
---
LARQ x Draymond Green x 501CTHREE
At LARQ, we believe that clean water should be available for everyone and our mission is to help people access clean water easily and sustainably — not only from our beautiful products but from our philanthropic initiatives as well. That's why we teamed up with Draymond Green and 501CTHREE to focus our efforts on getting clean water to people affected by the Flint Water Crisis.
We collaborated with Green on the limited edition LARQ Bottle DG23 Edition in the Fall of 2020. This retro color block design is a nod to old-school cool and pulls in fresh blues that remind us of pure water. 1% of all proceeds from the DG23 Edition, available at livelarq.com, goes directly to 501CTHREE, an organization that Green chose to help his hometown with their ongoing water crisis. Green grew up in Saginaw, MI, USA and with its close proximity to Flint, MI, USA, it really hit home to see these communities relying on bottled water donations to survive.
I refuse to accept that communities like the one I grew up in are still facing lead-contaminated water and having to rely on bottled water donations in order to survive. They deserve more, and with the help of our friends at LARQ and 501CTHREE, we can make a difference in their lives and on the environment.

– Draymond Green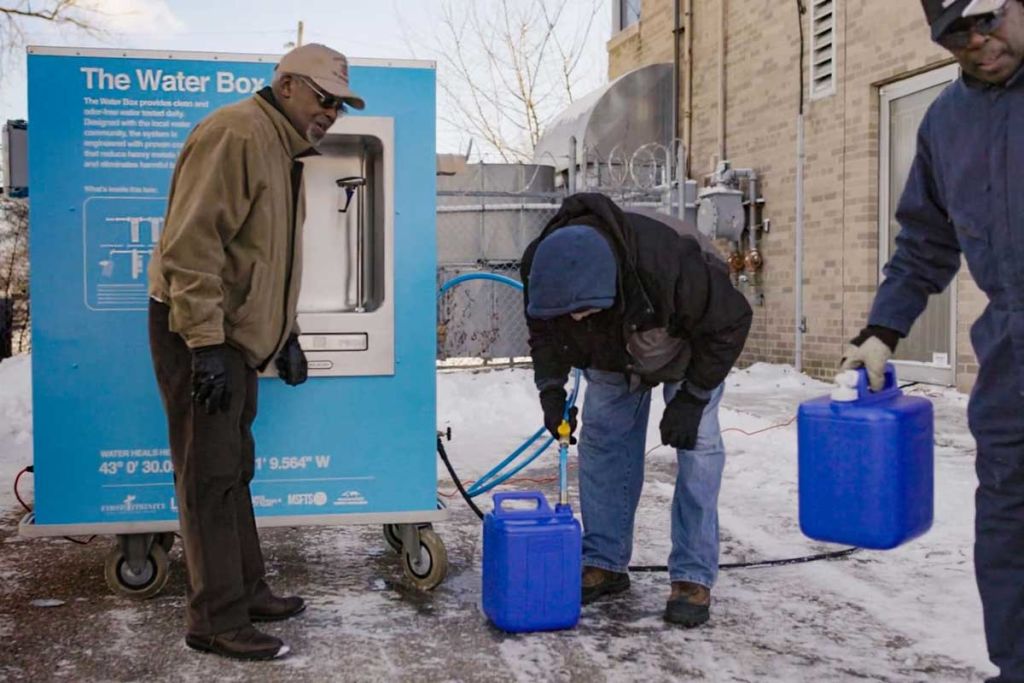 501CTHREE, co-founded by Jaden Smith, makes a direct impact on the communities they seek to help. 501CTHREE provides "safe, free, limitless water" with the Water Box, a portable water station that was designed in response to the water crisis in Flint, MI. The Water Box is a solution to help get water to Flint's residents without the high cost, heavy logistics, and plastic waste of single-use water bottles.
To date, over 306,264 single-use 16 oz. plastic bottles have been replaced with 501CTHREE's Water Boxes and 38,283 gallons of free water have been distributed. All residents need to do is get to a Water Box and fill up jugs of free, clean water for drinking, cooking, personal hygiene, and more. With your help, 501CTHREE and provide even more Water Boxes for even more communities, making clean water more readily available for the people who need it. To donate directly to 501CTHREE, click here.
About the Flint Water Crisis
The crisis began in 2014 when in an attempt to save cost, decision-makers switched the drinking water supply from Detroit's system to the Flint River. Many of the issues were ignored, overlooked, and seemed to be discounted from government officials even as residents reported on discolored, foul-tasting, and foul-smelling water. The tens of thousands of families in Flint were also reporting symptoms like skin rashes, hair loss, and itchy skin from the water. There were so many warning signs that were left ignored, and as time went on, people were reportedly exposed to dangerous levels of lead, and outbreaks of Legionnaire disease killed at least 12 people and sickened dozens more. The Michigan Civil Rights Commission concluded that the poor governmental response to the Flint crisis was a "result of systemic racism" that repeatedly led to "disparate racial outcomes".
Even before the current water crisis, Flint has been familiar with contaminated water. Leading up to today's issues, the Flint River has been the unofficial waste disposal for many local industries as it was a booming industrial hub. Waste from meatpacking industries, to car factories, and even raw sewage from the city's treatment plants among toxic chemicals leaching from landfills.
As Flint fell under state control with a $25 million deficit, Michigan Governor Rick Snyder appointed an emergency manager to oversee the policies to help cut costs. This led to the 2013 decision to temporarily switch the drinking water supply from Detroit's to the Flint River until a new pipeline from Lake Huron was built. The water from the Flint River was so contaminated from years of runoff and waste disposal, and lead leached out from aging pipes into the thousands of homes of Flint's residents. This led to many getting sick or even dying from exposure to the water.
Residents affected by the water crisis spoke up and lugged bottles and jugs of discolored water to show what they were dealing with and urge officials to take action. However, officials maintained that the water was safe to drink despite overwhelming evidence that it, in fact, was not. After years of debate, and help from people and the press spreading awareness of the debacle, things have turned around and those involved in causing the years-long water crisis have been charged with criminal offenses.
Despite the reparations the US government has made for the city and its residents, there are irreversible damages to the long-standing water crisis — breaking the trust of the residents and families that have lived there and suffered physical, emotional, and psychological pain from facing contaminated water and having relied on donations of bottled water for so many years. Although the water in Flint is "better" now, the city is still in the process of replacing aging lead-lined or galvanized pipes that may be leaching lead and other harmful contaminants into tap water, and residents have no peace of mind. The project is extremely involved and requires excavation in order to replace the pipes; it is a slow and grueling process. This leads residents of these communities to continue to rely on bottled water for drinking, cooking, and personal hygiene. During this pandemic, the lack of access to clean water is even more detrimental to their lives and to the environment.
Help us build a Water Box for Flint
The Water Box will bring limitless clean water for free to the residents in Flint so they can rely less on single-use bottled water. There's a direct impact we'll be making on these communities in improving wellness, health, and personal hygiene — even more paramount in today's climate.
We're taking action and we hope you join us in bringing clean water — a basic human need — to those affected. Head over to livelarq.com to shop for clean water for Flint.

Don't forget to follow us @livelarq on Instagram for exclusive content and follow your impact there!